5 Tips for Getting Around Ibiza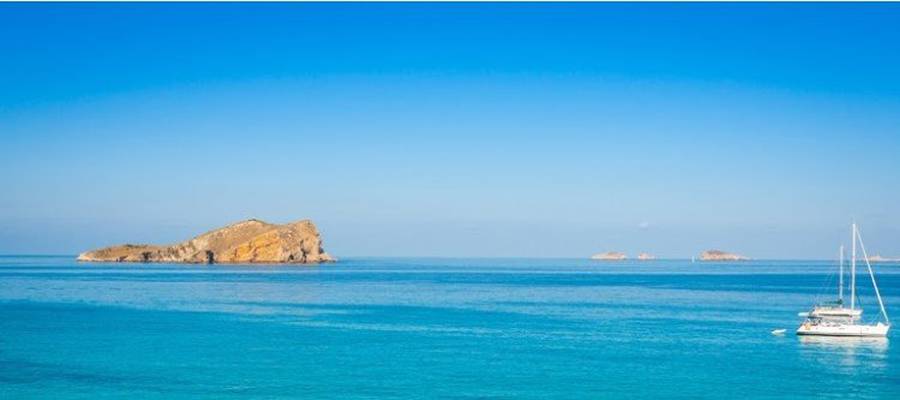 Whether you need to get to and from the airport, across the island to spend a day at the waterpark or perhaps you just want to spend a sunny afternoon exploring one of the most beautiful islands on planet earth, you'll need to do some planning on how to get around Ibiza.

Luckily for our guests, the Ibiza transport network is well-connected, very easy to understand and above all, very affordable. If you're thinking about how to get around Ibiza on your next visit to us, look no further than our five top tips for navigating Ibiza transport.

How to get around Ibiza – the ultimate guide

Ibiza may be packed full of great things to do, beautiful scenery and countless happy holiday memories, but it is a surprisingly small island at just over 550 square kilometres of land. And given that you can easily drive across most of the island in less than an hour, there's really no excuse not to see as much of our wonderful Ibiza as you can.

1. Affordable car rental to explore Ibiza

Perhaps giving holiday makers the most freedom of all Ibiza transport, if you decide to rent a car in Ibiza you'll be able to get out and about and explore the island at your own pace. Go wherever the wind takes you, from the bustling old town of the island's capital, to the secluded and deserted beaches to the north and east. You could also plan some exciting Ibiza excursions right down to how you like to travel.

Because of the huge amount of companies offering you the opportunity to rent a car in Ibiza, prices are very competitive all year round. Make sure to book in advance online, rather than waiting until you arrive at the airport or in your resort, as you'll be able to benefit from the best deals that way. Then, once you're here, you'll be able to leisurely explore the island, from Playa d'en Bossa to San Antonio and everywhere in between!

2. Take the disco bus to party in style

For a novel way of how to get around Ibiza, you can't find a better or more fun way than to book yourself a seat on a disco bus! A great way of getting around if you want to enjoy a bit of that famous Ibiza nightlife, the disco bus is a fabulous quirk that many visitors to Ibiza take advantage of.

Book your place and the party bus will pick you up at your hotel or in the centre of your resort, and whisk you stylishly to a variety of clubs and bars, especially the super clubs and the party resort of San Antonio. For affordable, safe and – more than anything – a fun mode of Ibiza transport, be sure to give this a try.

3. Enjoy a boat trip to Formentera from Ibiza

For some Ibiza transport that's not only going to get you from A to B but also be a magical journey of sightseeing, fun and full of great holiday memories, try taking a boat trip to Formentera from Ibiza!

Ibiza's sister island, Formentera, is a jewel in the crown of the Mediterranean Sea, a glistening spot where you can while away a few hours in the sun exploring this fabulous holiday destination. Less than an hour by boat and with departures round the clock in high-season, it's a great Ibiza excursion you can enjoy with the whole family. You can even party on the boat!

Maybe head over to Formentera to spend a day on one of their stunning beaches, or perhaps explore the shops, restaurants or just get to know this beautiful Balearic island. The ferry to Ibiza is just as easy as getting there and very affordable too.

4. Rent a bike and explore our glorious coastline

If you're one of our more active guests, then a great way to get around is to hire a bike when you're here and really get to know Ibiza. Treat yourself to some wonderful Ibiza excursions like a coastal bike ride or head up into the hills, or simply use your bike to check things off your to-do list when you're here.

Because Ibiza is a small island, there's a huge amount within reach if you choose your mode of Ibiza transport to be on two wheels rather than four! Roads are generally bicycle-safe and pavements are wide-enough to accommodate bikes if you'd prefer to ride at a slower pace. Bikes can be rented very cheaply from a lot of places in your local resort, although a security deposit is usually required, and make sure to rent safety gear like helmets, too.

5. Get around the island by public bus or taxi

If you prefer others to take care of the driving (well, you are on holiday, after all!) then you can easily rely on Ibiza's public transport system to ferry you around whilst you're with us.

For all your Ibiza excursions, you'll be able to easily get around by public bus, which are frequent, comfortable and very cheap. Ask your hotel staff for a map or information on where to get on and off the busses, and about where you should purchase tickets, and so on. Whether you're heading to the marina or all the way over to San Antonio, public bus options are there for you.

If you prefer to travel at a time that suits you in peace and quiet, then you can always grab a taxi, which are a common sight on the island! Ask hotel staff at reception to call you a cab, or simply find one at a local taxi rank at the airport or in your resort.

We're sure you'll agree, Ibiza is certainly not difficult to get around!
Back
Book in the official website Invisa Hotels
And enjoy exclusive advantages as a My Invisa Client
Upgrade
room*
Free Wifi
in the room
Sea View
room *
Exclusive
Offers
* According to availability