7 plans to enjoy Easter in Ibiza in 2022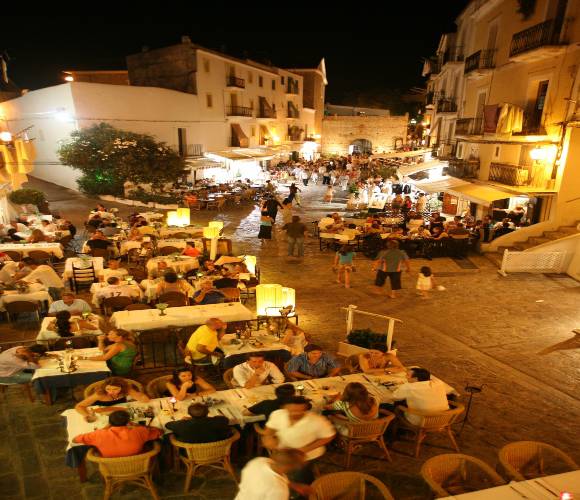 Spring has sprung and the good weather is inspiring summer holiday shopping!
But why wait until Summer? Now is a gorgeous time of year in many Mediterranean islands and the weather in Ibiza in April is especially ideal for travelling.
Around the Holy Week in Ibiza, there are lots of Easter events geared around local culture, history and the natural environment that's currently blossoming. You'll never be stuck for ideas of what to do in Ibiza if you visit at this time of year.
In this article, we'll give you 7 ideas of plans you can make at Easter in Ibiza. Keep reading!



Holy Week in Ibiza: Beautiful streets lined by magnificent processions



This year, Holy Week in Ibiza takes place from April 8 to 17 and there's a busy program of activities to arouse the curiosity of devout and atheist travellers alike.
If you have planned to travel to Ibiza at Easter, there's no better plan than to explore the old streets of the walled city and soak in the history. Each day of the week will see Catholic masses and exciting processions for all faiths. Here in Ibiza's old town, you will learn about the customs of the island specifically celebrated to commemorate the life and death of Jesus Christ.
Not only can visitors take in processions on the streets of Ibiza's town centre, there will also be several events in other beautiful surroundings such as the town of Santa Eulalia and the island of Formentera.
After two years of being unable to celebrate the processions due to the pandemic, this 2022 we are beyond excited to welcome the festivities back, so expect to see everyone doubling down on their parties and generosity to street vendors, restaurants and religious ceremonies. Don't miss it if you decide to spend Holy week in Ibiza!



Hippy markets in Ibiza: Easter handicrafts and charming stalls



Many would say that an excellent way to learn more about Ibizan culture is by visiting the most famous markets on the island. We recommend, first-and foremost, the Punta Arabí hippy market. Now let me tell you something: you're in luck if you visit Ibiza from now on, because April 6th saw the reopening of this charming market, with more than 40 years of history behind it.
Every person wondering what to do in Ibiza needs the Punta Arabí market on their list of activities, especially given the weather in Ibiza in April being ideal for strolling around the markets that can get a little heated in summer.
This market has different areas, including a children's area. Even a place for the little ones, isn't it unusual in a hippy market! They'll have the space and supervision to create their own crafts, paint their faces with fantasy makeup and have fun with other kids.
Along the street of the artisans, another distinct area, you can enjoy live music while you watch artists craft their original pieces. This is right next to a thematic music tent, home to a feeling of true hippy spirit every Wednesday from 2 pm to 4 pm, where there are live music renditions to spend a relaxing and pleasant afternoon.



Cinema Festival: Fun for Moviegoers' at IBICINE



Not a shopper but love culture and art? Well, here's the perfect suggestion of what to do in Ibiza: the celebration of the 5th edition of the IBICINE Festival will take place this April. It's just in time for all the Easter processions and the return to socialising openly!
This, a short film event that promotes and rewards talent, will be sponsored by the international actors Paz Vega and Jon Plazaola. The latter has already been a sponsor in previous editions of IBICINE. Come and revel in this cultural event from April 16 to 23, 2022. You can buy tickets from only 3 and 5 euros.



Sunset watching: Coves and sea views at sundown



If what you want is an escape to the sea and sand of the white island, for peace and reflection this Holy Week in Ibiza, we recommend taking a day trip to Cala d'Hort. While this is only one of dozens of stunning, near virgin coves, this particular spot is known for being among the top sunset watching locations in the area.
Thanks to the location being somewhere to see the best panoramic views, you can appreciate the sun going down behind the rocky silhouettes of Es Vedrá and Vedranell, two majestic islets just off the coast. Both have been declared a nature reserve because of the great biodiversity they're home to. At sunset, Cala d'Hort becomes a warm atmosphere of authentic magnetism.
This being said, almost any beach on the western side of the island is brilliant to watch the sun go down! Why not try a different cove each evening?



Gastronomy galore: Year-round and Easter-only menus



For food lovers, Ibiza has a wide variety of restaurants, for all wallets and palates. The leading role does go to the local chefs, however. Restaurants that offer their guests a traditional Ibizan experience usually do so with the best products of the island, grown in local fields and transported that same day to the kitchen.
The typical Ibizan dishes are warming stews and puddings, strange for those of us that associate the island with sunshine and scorching temperatures! Luckily, the weather in Ibiza in April is still cooler in the early hours and evening so a night out could be perfect for the Bullit de Peix, or the even more old fashioned Guisat de Peix. For dessert, order a Greixonera pudding and finish the night off with the cherry on top.


Mountain biking is back: Adrenaline-fueled routes with Ibiza MTB 2022


If you like adventure, this is right up your alley. The XXI MTB Route around Ibiza Scott by Shimano is a mountain bike race that welcomes hundreds of cyclists every year, not to mention all the pent-up demand we expect in 2022.
Take a tour on wheels of the island's most popular trails, as well as off the beaten track. Whether you hope to participate with your own mountain bike or simply cheer on the racers, head down between April the 15 and the 17 to watch an unforgettable experience.


Luxury accommodation: The best hotels in Ibiza at Easter


How could we leave out the most important part of a trip, your rest? Travelling can be tiring, all that adventure works you up to a good night's sleep! So choose a reliable resort so that all you need to do is reach the hotel and relax. Invisa Hotels brings you the best experience, whatever plan and activities you have planned in Ibiza this Easter.
To exemplify the extensive offering, the Hotel Club Cala Blanca, on Es Figueral beach, is ideal whether you go as a with friends or family, there are facilities for everyone. We also have the Hotel La Cala, our 4-star resort in the quiet town of Santa Eulalia. All our hotels in Ibiza are perfect for spending a few days in their beautiful outdoor spaces, swimming pools, and gardens.
On the other hand, if you're looking for an adults-only spot, Hotel Es Pla in San Antonio is ideal for time with a partner or grown up friends. This hotel is also close to plenty of nightlife so you can easily get out clubbing if the Easter activities leave you with any energy!

Some of Invisa's hotels also have a spa and other wellness services to help you recharge. Simply check out all the resorts on offer to you and discover all the different services to choose from.
Back
Book in the official website Invisa Hotels
And enjoy exclusive advantages as a My Invisa Client
Upgrade
room*
Free Wifi
in the room
Sea View
room *
Exclusive
Offers
* According to availability