7 reasons to make Ibiza your new Covid-proof honeymoon destination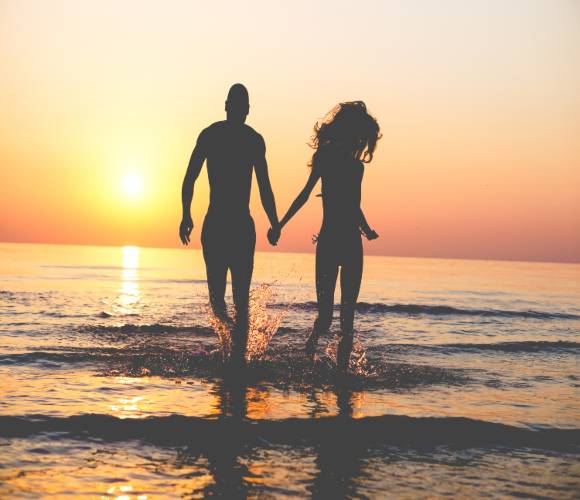 The world has changed in the last two years, but love stops for nothing and weddings will go on no matter the state of Covid around the world. That said, honeymoons have undergone changes in order to keep them alive mid-pandemic.
For example, many couples have switched the far-flung destinations that some newlyweds choose, for an Ibiza honeymoon. Being a well communicated island makes Ibiza a safe option for all — there's no need to take informal transport or risk visiting a country with lax health and safety laws surrounding Covid — plus, it has all the important honeymoon ingredients. Incredible beaches, majestic sunsets, Mediterranean cuisine, and easy relaxation are nothing if not romantic, and all can be part of Ibiza holidays for couples.
Still need convincing? Here are seven reasons why you should book an Ibiza honeymoon.
1. Comfortable, safe, and close-by
With what looks to be an ongoing health situation that's constantly in flux, planning a honeymoon in a distant corner of the world is a headache that's best avoided. Save yourself one less stress during wedding preparations and check out Ibiza honeymoon resorts. Ibiza's easy to get to, so you won't have to use up several days of your trip on the outward and return journeys, nor will you need to rely on unreliable transport. Ibiza's airports, bus services and car rentals are extremely well adapted to visitors.
Hop on a direct plane to the charms of the Balearic islands, where health and safety is a priority. A Tier system, not unlike those employed in the UK and European states, is updated every two weeks in accordance with epidemiological indicators. Currently, no quarantine is enforced on travellers, but a negative PCR test is required prior to embarking a plane if you're travelling from a high-risk country. So, contrary to some destinations, in Ibiza you can get on with your honeymoon knowing you're safe, protected, but not limited to your resort for the first few days.
2. Sunsets galore
Any honeymoon needs romance. Whether it's straight after a wedding or for your diamond anniversary, Ibiza holidays for couples will be decorated by sunsets. This is a memorable experience and an activity you can enjoy from your hotel, a cliff edge, the beach, or a city bar.
Highly recommendable spots from which to watch the golden and rose hues that grace the island's skies at sundown include the northern cove Cala Benirrás with its hippie atmosphere, Es Canar beach to the east and the magical islet of Es Vedrà. Many people would tell you to take your partner and watch the sun go down over the natural park Ses Salines, for uninterrupted views of the skyline and nature. In San Antonio, you could also enjoy the sun going down over the Mediterranean. A sunset spot for every day of your trip — what more could you want from an Ibiza honeymoon!
3. Adults-only hotels for total relaxation
Child-free accommodation is undoubtedly where to stay in Ibiza for couples on their first holiday as a married couple. Find the disconnection that makes a honeymoon in adults-only hotels like Invisa Hotel Es Pla in San Antonio.
Stress and noise-free, you can put your feet up at the pool, connect over cocktails in the warm night or take a stroll around the safe and calm resort in a mature environment.
4. Hop over to Formentera
If you are in Ibiza, taking a short ferry or private boat ride over to Formentera is beyond easy. The two islands are separated by only two nautical miles, a distance that you can cover by ferry in about 30 minutes.
Formentera is the smallest inhabited island of the Balearics, measuring only 83.2 km2, but with a uniquely curved shape that gives it a long coastline, covering 69 km. It is essentially an island made of beaches! So many coves and beautiful coastal corners mean that some sunbathing, swimming, and one-on-one relaxation characterise the atmosphere in Formentera. This haven of peace that makes you feel separated from the entire world.
As well as virgin beaches, you can take a walk through the famous markets of Formentera, where you will find handicrafts, clothing and crafted souvenirs. Some of the most famous are the La Mola Craft Market, the Es Pujols Market and the Sant Francesc Market.
5. Romantic beaches making sunkissed couples
On the island of Ibiza, there are more than 50 beaches, endless coves, and marine life-filled corners. Some beaches are less visited as they're further removed from the populated areas, so if you want that "far from everything" feeling without going to another continent, schedule some romantic walks along Aigües Blanques, Cala Tarida, Cala Salada, Cala Saladeta, Es Portitxol and Es Canaret as part of these Ibiza holidays for couples.
6. Adrenaline-inducing water sports
Now that you know how to curate private and calm moments in nature during your Ibiza honeymoon, it's time to get your heart rate up with some excitement out on the waves! Water sports in Ibiza are adapted to all levels of ability and comfort in the water.
People who want that adrenaline hit can swim like a dolphin by renting a seabob, or rent a jet ski tour to learn some tricks and explore the open ocean. If you're not fearless but want to exercise, laugh and learn with your new spouse, try out paddle surfing, also known as SUP, which is available in many of the best areas near Ibiza honeymoon resorts.
To name only a few more fun activities, you can rent equipment and instruction for water skiing, windsurfing, flyboarding and diving in many places around the island.
7. Explore the coastline in the lap of luxury
Start yearning for your honeymoon in Ibiza by reserving the top activity to look forward to. Book a boat trip along the main Balearic island or Formentera, and spy the stunning marine life that gives the shoreline here that characteristic turquoise blue colour. It is thanks to the presence of posidonia oceanica, a plant that filters the waters surrounding it, which extends across the maritime zone, totalling 700 m2 between the two islands.
If you choose to do a loop around Ibiza, we recommend renting a boat in the ports of Portinatx, San Antonio, San Miguel or Punta Xinxò. These are some of the most popular points from which to start a guided tour by boat. Through boat trips you can easily access the most characteristic caves on a tour of the coast, such as the Islet Nature Reserve, the Es Vedrá rock formation, Sa Pedrera de Cala D'Hort and Lobster Cave to name just a few. Although we have already recommended places to watch sunsets on land, spending sundown on a catamaran could be the most unforgettable moment of an Ibiza honeymoon.
Now you know where to stay in Ibiza for couples, what to do and how to make the most of the fresh air and sun in Ibiza, you'll see that romance needn't happen in isolated or uninhabited parts of the planet. Ibiza has all the elements needed to get a marriage off to the best start, and with a bang. Book now and start planning your dream Ibiza honeymoon trip!
Back
Book in the official website Invisa Hotels
And enjoy exclusive advantages as a My Invisa Client
Upgrade
room*
Free Wifi
in the room
Sea View
room *
Exclusive
Offers
* According to availability