7 tips to save on your summer vacation 2022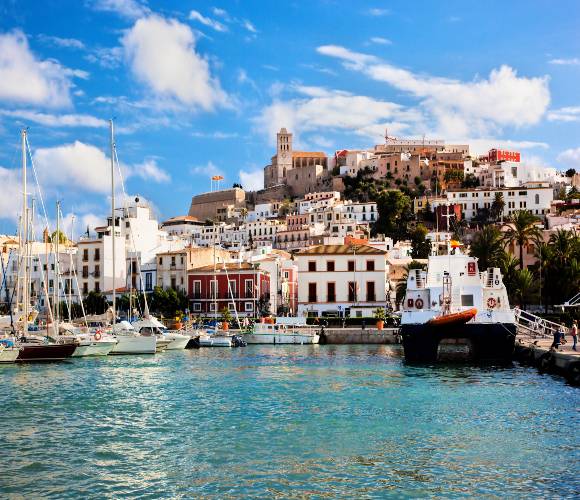 Already thinking about your summer vacation 2022? We know the feeling!
There is no better motivation to face the dreary end of winter than to imagine, even for just a moment, a beautiful pool under a warm blue sky somewhere exotic. We would suggest you go beyond fantasising, however. Now is the time to make sure you have your summer holidays booked, well organised, and your budget planned.
Many of us are worrying about our wallets this year. In all fairness, it's always good to be careful with the pennies, because "the pounds will look after themselves" (as our grandparents say) so, where to go on holidays this summer? A great value trip to Ibiza is waiting for you!
If budget family holidays are your thing, keep reading to learn how to save money on holidays abroad, and especially in Ibiza.
Business owners are beyond keen to receive visitors
International tourism took a hit in 2020. So this year, many businesses are so pleased to see travellers, and understanding that family travel budgets are not what they once were, that they offer packages to help tourists cut their spending. It's fair to expect that prices will readjust in all tourist destinations, to cater to those who faced difficulties during the economic downturn.
But whether business owners change prices or not, we want you to make the most of summer 2022 in Ibiza. Savvy holiday-goers can find plenty of ways to further trim their spending.
How to save money on holidays abroad

Just for you, we're going to detail seven tips on how to save money on holidays abroad, especially tailored to the coming summer holidays 2022. Grab your calculator and notebook! Here's how to tighten the purse strings during summer 2022 in Ibiza.
1. Lay out a realistic holiday budget

For a UK family of four taking a one-week break, the average holiday cost is £2396. Perhaps due to the increasing number of restrictions and safety requirements that travellers must meet, the average spending on summer vacations increased in 2021, by 42%.
Before making any decision about where to go away this summer, the first thing you need to do is research and set a maximum budget, and keep it realistic. With a figure down on paper, you can start preparing your savings strategies and planning for activities within your means, so that the holiday outlay is kept under control.

Reserving a percentage of your salary every month, placing fixed amounts of money into a savings account is a great measure to avoid everything going on the credit card. Covering the cost before, not after your summer holidays 2022, will mean the long-awaited trip won't be a source of stress for the rest of the year.
2. Set a daily spending limit
Based on the budget you chose, set a daily spending limit. This capped amount doesn't have to be the same every day, since you won't be doing the same activities throughout your trip, but it must be consistent with your overall budget.
If one day you manage not to spend everything, the spending can carry over to the next, so you can treat yourself! This will ensure you don't worry every day about overspending, as it's easier to control a daily spending limit. Also, you'll make the most of your time by spending the planned amount, and not less through paranoia.
3. Book flights at the right time, day, and month
Wondering how to travel and where to go on holidays this summer? If your budget family holiday destination can only be reached by plane, you can stick closely to (or come in under) budget by booking at the right time. Many studies into when and how to reserve a flight indicate that those wondering how to save money on holidays abroad, should pay close attention to the calendar.
Avoid weekends because, as workers have more free time on Saturday and Sunday, flight prices usually rise. But if you take the weekend to plan, you can take action the very next day! This is because it is best to book between Monday and Tuesday.
Monday or Tuesday at 3:00 pm have proved, in multitudes of studies into the matter, to be the best times to reserve. Many airlines post offers on Mondays and, depending on how well these work, airlines might modify their prices mid week.
Booking in advance is an ally to your savings account too, whether you travel to the sunny island of Ibiza or elsewhere. How far in advance you book a ticket is a huge factor for getting a cheaper flight. For short-haul flights, the best savings can be obtained when booking seven weeks in advance. For long-haul flights, the ideal reservation period is five to seven months before the travel date in order to see a discount between 10 and 20%.
In summary, a Monday or Tuesday afternoon, seven weeks in advance is the right time to book a plane ticket if you're travelling Heathrow to Ibiza, for example.
4. Beware of excess weight charges
Excess luggage is not only a hindrance when travelling — a deterrent to moving around quickly. They also imply much greater expense. As soon as you book a plane ticket, you have to take into account that there are charges for carrying more weight than they stipulate. Beware the changing rules and variations between airlines: sadly, there is no consensus between brands that guarantee you'll know what to expect. Check restrictions on size and weight carefully before packing!
This advice also extends to car trips. The more weight the vehicle is carrying, the higher the fuel consumption, which can be around 5% higher than an efficiently loaded car. So, when packing, be sensible and practical about what to take, and what might be best to buy on arrival.
5. Locate a well connected hotel

As you investigate where to go on holidays this summer, look into hotels at your destination that would allow you to travel by car as little as possible. This means you'll be able to walk, cycle and use public transport, which can mean huge savings.
If you're thinking of travelling to Ibiza this summer, have a look at the hotels we offer, as they are all well located close to different attractions, beaches, and transport links. Just ask for directions at reception on arrival.
6. Rely on public transportation
Buses in Ibiza are air conditioned, and bike rental is available in many nearby locations. So if you're keeping an eye on your expenses, choose to travel in public transport over car rental. In most tourist destinations, transport links are easy to use, designed for locals and new visitors to find their way in. Simply make sure you have an updated version of the train or bus schedules at the destination you are going to visit.
Of course you can always grab a taxi if you decide you're tired from walking one day, or to the airport, but this will still work out cheaper than renting a vehicle for your entire stay.
7. Shop like a local
"When in Rome, live like the Romans." Take this advice wherever you go, and go to shops or markets that sell local produce. This means you'll be getting better quality products, supporting the local economy, and also saving money in most cases.
Asking at your resort, if you stay with us at Invisa, or checking with the locals are the best ways to find cost-effective places to spend.
Holidays usually only last a few weeks per year, but savvy spenders can extend that time even further. Plus, by preparing well you can have an unforgettable trip, without pushing the boat out.
Decided where to go on holidays this summer? Now you know how to save money on holidays abroad, book your budget family holidays in Ibiza and enjoy the Mediterranean island in all its glory.
Back
Book in the official website Invisa Hotels
And enjoy exclusive advantages as a My Invisa Client
Upgrade
room*
Free Wifi
in the room
Sea View
room *
Exclusive
Offers
* According to availability