A Foodie's Guide To Ibiza's Most Famous Desserts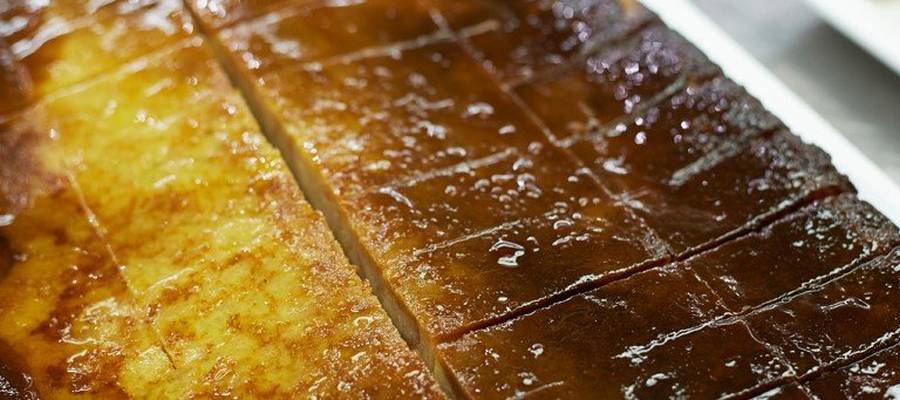 What's the only thing better than spending a fabulous holiday in Ibiza under the hot Spanish sun? Well, it's the even more fabulous food you can eat there, of course! And not just food in general, the desserts are simply out of this world.

Spanish food is varied and delicious and the perfect outlet to include all your senses when you're relaxing by the pool or lounging on the beach. But there's a special type of food that makes Ibiza extra splendid, and that's their famous desserts... their world-famous desserts that have inspired chefs and amateur cooks right around the globe. From Cataluña's excruciatingly delicious cheesecakes to their flans and crepes - not forgetting the wonderful Balearic ice creams and tarts - desserts are what make holiday dining in Ibiza simply unforgettable!

Ibiza's best desserts

Flaó
A beautiful slight variation on what most people know as cheesecake, Flaó is a delicious delicacy that originated on the islands of Ibiza and her little sister, Formentera.

The traditional Flaó subtly blends mint and aniseed to create a scrumptious dessert. If you were to ask to sample some traditional sweets from Ibiza in your hotel or restaurant, you can be guaranteed the waiter will think of this! Spanish food doesn't come better than this sweet, aniseed pastry with a lovely mascarpone or ricotta cheese centre, mixed with egg and chopped mint. Add a little sugar and you've got one sweet dessert!

Greixonera
Ask any native to the Balearic islands, specifically Ibiza, or any adopted natives for that matter, and they'll tell you that no family gathering or evening around the dinner table with friends is complete without a delicious Greixonera. It may look like another traditional Spanish food - the tortilla - but this dessert is made with bread and is a perfectly filling yet tasty way to end a meal. The recipe simply requires bread, sugar, eggs and milk, with a dash of lemon and cinnamon to top it off. Beautiful typical Spanish cuisine!

Buñuelos ibicencos
Buñuelos or Bunyols, depending on who you ask are a sort of doughnut prepared with potato dough and cooked in hot oil with a sprinkling of sugar. What to eat in Ibiza? These, of course! A fantastic snack for kids and very popular with tourists, these tasty little treats are a perfect choice any time of day.

You'll see them at the flea markets in Ibiza, being sold by street vendors or at any great Ibiza restaurant; they're simply delicious and certainly refreshing. Pick up a bag in the airport before you get back on the plane - they're certainly a souvenir your friends will appreciate.

Orelletes
Another wonderfully tasty Spanish desert particularly dear to Ibiza and the Balearic islands are orelletes, or orejas. They are very delicate and thin fried sweets served in the shape of ears... They're much tastier than they sound and covered in sugar!

Very popular during carnival time and with tourists looking to sample a little bit of traditional Spanish food during their time on the island, this great sweet from Ibiza is perfect for any foodie who wants a tasty memory of their holiday.

Crepes con dulce de leche
Dulce de leche crepes symbolise great Spanish desserts, refreshing snacks on a hot summer day and just a little bit of extravagance thrown in for good measure. They may be one of the simplest and easiest to prepare desserts in any Spanish recipe book, but they're also incredibly popular right across the Spanish-speaking world, from South America to Ibiza and everywhere in between.

The dulce de leche is simply spread across thin pancakes, which are then rolled up and enjoyed. Some vendors will dust them with cocoa powder, others will offer strawberries and cream and any variety of other delicious treats. If you're struggling to decide what to eat in Ibiza on your holiday - you've found the right answer here.

Helado de licor de hierbas
The scrupulous helado de licor de hierbas - or ice cream with herbal liquor, to those who haven't quite brushed up on their Spanish yet! -is one of Ibiza's best exports to the world.

Traditional ice cream on the Balearic islands is prepared fresh in a huge variety of flavours and is light and fluffy, the perfect way to cool down under the warm Spanish sun. Traditional Spanish food doesn't come cooler, fresher or more refreshing than its ice cream.

So there we have just a few of Ibiza's best desserts and an introduction to just some of the fantastic Spanish food you'll see on your holiday to Ibiza. The beautiful island of Ibiza has much more to offer than simply sun, sand and plenty of fun in the sun... we've got amazing food here too! Have a look online for some amazing recipes and give these a try yourself, you'll be able to enjoy a taste of Ibiza in your very own home!

Still wondering what on earth to eat in Ibiza? Didn't think so!
Back
Book in the official website Invisa Hotels
And enjoy exclusive advantages as a My Invisa Client
Upgrade
room*
Free Wifi
in the room
Sea View
room *
Exclusive
Offers
* According to availability