Advantages You'll Enjoy in an All Inclusive Hotel in Ibiza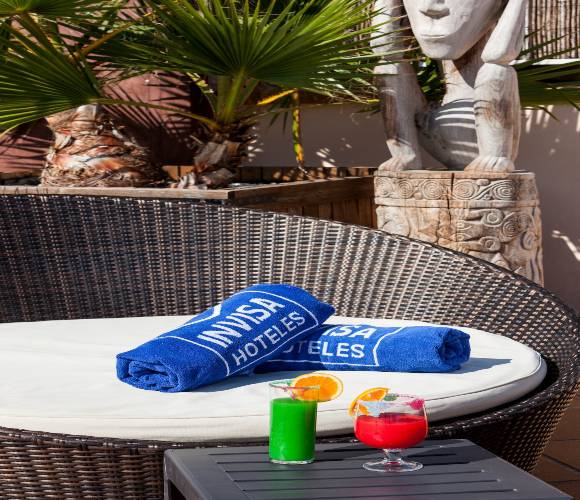 If you are someone who, when it's time to take a well-deserved vacation in Ibiza, planning starts to stress you out and your dream of relaxing fades into a persistent headache, forget your worries at an Ibiza all inclusive hotel!
You can enjoy this enchanting island lined with world famous beaches, disconnect from work, escape from the routine, rediscover your freedom and different plans, without any strict rules. There's a way to lie back and let the experts organise everything for you, in a click!
All inclusive hotels are available in many tourist locations, but the reason Ibiza's all inclusive hotels are the right place for you comes down to three things: the island's gorgeous weather year-round, the variety of all inclusive hotel types for all sorts of holiday-makers, and the security taken to care for everyone's health on the island. As we all emerge from our respective hermit lifestyles, Ibiza's government is taking cautious and respectful steps to keep us on track for total recovery from lockdown.
Whether you want to be close to the beach, the hills to hike in, the nightlife, or the quiet, you'll find an all inclusive hotel in Ibiza, Spain, that's perfect for you.
Aside from easing your organisation-induced headache, there are four reasons why you should try an all inclusive experience, directly from our team of all inclusive experts at Invisa.
1. Savings and price transparency in Ibiza's all inclusive hotels
Many resorts and hotels of this type offer promotional packages and discounts to encourage people to travel during the low season, and to enjoy food and drink within their installations. There are also often savings to be had for large groups, families, and longer stays, all of which tend to be disclosed online.
It can be harder to get total transparency from hotels that are not all inclusive, because menus, drink costs, room service, and other expenses might not be listed on their website. With a deal that includes accommodation and board, you know what you're paying for from the beginning, saving your party from unforeseen payments that could upset the end of your vacation.
Make expense management easier than one, two, three
For most of us, it's more convenient and practical to contract a deal that covers everything up front. If you're splitting costs, there's no need to divide every individual bill. If you're covering all the expenses yourself, it's less likely they'll get out of hand mid-holiday.
Of course, you'll want to buy some souvenirs, eat out during some of your day trips, and leave tips for your service staff, but those are easier to budget if most food and drink bills are sorted well in advance.
Local dishes are delicious in Ibiza because the catch is fresh, fruit and vegetables are grown locally, and Ibiza's "spice" is similar to many Spanish dishes that are universally adored. Plus, exploring and discovering a new island is hungry work! So we can't overstate the probability you'll want to eat more than usual while staying at one of the all inclusive hotels in Ibiza Spain.
2. The best service in Ibiza is in the all inclusive resorts
Forget your routine and the monotonous tasks of everyday cleaning, cooking, planning meal times and activities. Here, in paradise, you'll find the best 24-hour service. With an all-inclusive Invisa bracelet, you'll have access to all areas of the hotel, activities and you can guarantee a totally relaxing stay. Sit back and be pampered by our staff!
Do you need a single bed or would you prefer to share your room with your family or friends? All-inclusive hotels offer a variety of rooms designed to make you feel at home.
As well as all rooms being decorated and sound proofed for rest and comfort, you can choose to have rooms with large terraces or balconies, equipped with everything you need to spend a dream vacation in Ibiza.
Personalisation is easy as service staff get to know you
An all inclusive resort can also be safer than others because there is less coming-and-going of guests. The employees on site make a conscientious effort to recognise guests, which makes the hotel safer but also, they get to know your likes and dislikes. This is a huge bonus if you're travelling with children too.
3. Enjoy much more variety at every mealtime
Going out to eat can sometimes cost more than you hoped and limits your choices. You likely have to choose just one food type for everyone, pizza or salads or steaks… But with an all-inclusive package, you don't have to worry about limited choice. All inclusive resorts offer a wide variety of foods and drinks to please all guests. Moreover, there's no time wasted commuting to and from restaurants, deciding which one to eat in, waiting in lines, reserving tables, or worrying if you forgot your wallet in your room.
If you go full board, you will have breakfast, lunch, and dinner cooked, presented, and cleaned up after. How many fewer chores does that mean per day! And at Invisa, we make sure to prepare an extensive menu of local and international drinks and cocktails at your beck and call.
To expand on the luxury of all inclusive drinks deals, you can order your favourite refresher from the pool, while sunbathing on a lounger, no need to trek over to a beach bar or carry your own drinks around. Living the dream!
Choose just bed and breakfast, if that suits your group

On the other hand, if you only sign up for the half-board or just breakfast, you do have to consider the food expenses you'll incur for the rest of the day. It can be hard to keep costs under control over extended stays, but this option is, of course, available to you if it suits your plans.
4. Enjoy endless activities by staying in an all-inclusive hotel
Resorts that offer all inclusive plans tend to have plenty of family activities on site. These hotels are designed to be escapes from the hustle and bustle so they strive to have everything close by, to save you getting taxis or buses around for entertainment. This means that for the days when you just want to rest, relax and not go too far from your hotel room, everyone can find something fun to do.
Take the planning out of the equation, but not the fun!
Kids and teenagers are well catered to at Invisa, with various recreational activities and even some supervised competitions, so that parents can lie back and focus on themselves. Younger travellers love this too, because it allows them to mix with others their age, socialise with people that match their energy levels and make new friends.
You'll find adventure playgrounds, garden areas and sports zones at our Ibiza all inclusive hotels, suitable for different age groups, including adults who want to do yoga by the pool or join an aerobics class.
To know what's going on every day, just ask one of our staff members at the reception or check the scheduling boards throughout Invisa's hotels.
Discover everything you need at all inclusive hotels in Ibiza, whether you're travelling with friends who want to catch a tan and have fun as a group, your partner with whom you want to focus on connecting or your extended family with a huge range of needs.
Ready to book your worry-free escape to the white island? We'd be thrilled to see you and make your stay as amenable, safe and relaxing as possible!
Back
Book in the official website Invisa Hotels
And enjoy exclusive advantages as a My Invisa Client
Upgrade
room*
Free Wifi
in the room
Sea View
room *
Exclusive
Offers
* According to availability