Best Beaches in San Antonio, Ibiza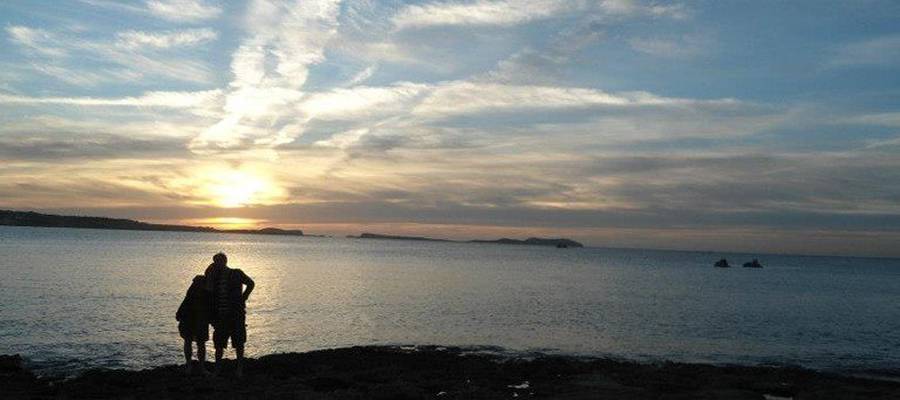 We all know Ibiza is an amazing holiday destination. If you're looking for endless sunshine, charming resorts and the chance to enjoy some lively nightlife, whether you're travelling with the whole family, a bunch of friends or just your other half, Ibiza is always the best answer to: where shall we go this year?

But what about the other question: what to do in San Antonio, Ibiza? If you're thinking about booking into our wonderful hotel in San Antonio this summer, just a stone's throw from all the best beaches near San Antonio, some amazing bars and restaurants and, of course, that famous San Antonio after-dark nightlife, then you might be wondering about which of the best beaches near San Antonio you should try. Are they big/small, sandy/rocky, busy/quiet?

To answer all those questions and more, take a look at our snapshot guide below to our favourite best beaches near San Antonio. From the tiniest quaint little coves to the biggest stretches of sand with all the amenities you could ever dream of, we've got you covered.

S'Arenal de San Antonio

Anyone wondering what to do in San Antonio, Ibiza, simply has to add this to their list! The undisputed main attraction in San Antonio is the biggest beach in town, S'Arenal de San Antonio. Stretching from the famous egg sculpture on the roundabout in the heart of the resort, past all the biggest and best bars, clubs and restaurants, all the way down towards the southern half of town, S'Arenal de San Antonio – the principle San Antonio beach- is perfect for a long hot day at the beach.

Kept very clean all year round by the local authorities, the beach offers sunbeds and parasols for rent, and has a massive range of fun water sports on offer from local companies. There's also a lifeguard and medical centre on site to make sure everyone stays safe by the water. The water is quite shallow so perfect for cooling off in, while you can sit back and relax and watch all the super star DJs and headliners arrive for their evening performances at the local super clubs on their millionaire yachts… sounds like a dream.

Coves Blanques

A tiny cove on the edge of San Antonio, just before the marina, you'll find Coves Blanques. Nothing more than a shallow cove backed by some steep rocks, sitting here taking in the beautiful views (at any time of day) will leave you feeling like you're on your own private island. Though mere steps from the hustle and bustle of San Antonio beach, the secluded nature of the cove is perfect if you're looking for a little solitude and peace and quiet away from the crowds.

Playa Es Pouet

To the south of our fantastic hotel in San Antonio and much of the resort you'll find Playa Es Pouet, slightly smaller than the main beach but just as wide in places. Here you have all the ingredients for the ultimate day at the beach. With shallow waters perfect for kids to splash about in safely, there's a whole host of great snack bars and cafés within a very short walking distance, as well as everything else San Antonio has to offer just to the north. There's also a handy supermarket just across the road, as well as a number of boat trip companies operating in the vicinity.

Cala Gració

Heading across the bay and to the north of the resort now, we come to the wonderful Cala Gració, a small but very deep cove in San Antonio's quieter northern area, and still one of the best beaches near San Antonio. With its own beach café and perfectly sheltered from the breeze, the cove is surrounded by picture-postcard pine trees – perfect for all those holiday snaps!

Parasols and sunbeds, as well as pedal boats, are available for hire on the beach, and you'll also find a range of water sports to try your hand at, including snorkelling, perfect in these shallow waters. Great for families and those who prefer some quiet time at the beach, Cala Gració may be a little further out from the other beaches, but the peace and tranquillity you get here more than make up for it.

Caló el Moro

Our final top tip for San Antonio beaches has to be the charming Caló el Moro, a tiny cove just around the corner from Ibiza's world-famous sunset strip. If you want to enjoy the awesome sunsets from a San Antonio beach instead of an expensive bar or chill-out café, perhaps away from some of the louder crowds, then this is the place for you. With perfect views of the sun as it dips into the ocean every evening, as well as a great place to chill out during the day away from the crowds, Caló el Moro is a great beach option for those who prefer a quieter life.

With plenty of bars and restaurants just a short walk away into the heart of San Antonio, what this tiny beach lacks in amenities it certainly makes up for in charm and those views!
Back
Book in the official website Invisa Hotels
And enjoy exclusive advantages as a My Invisa Client
Upgrade
room*
Free Wifi
in the room
Sea View
room *
Exclusive
Offers
* According to availability