The best plans for a weekend in Ibiza and Formentera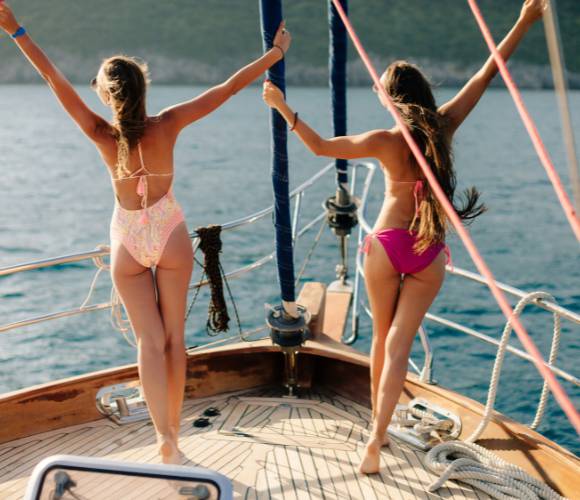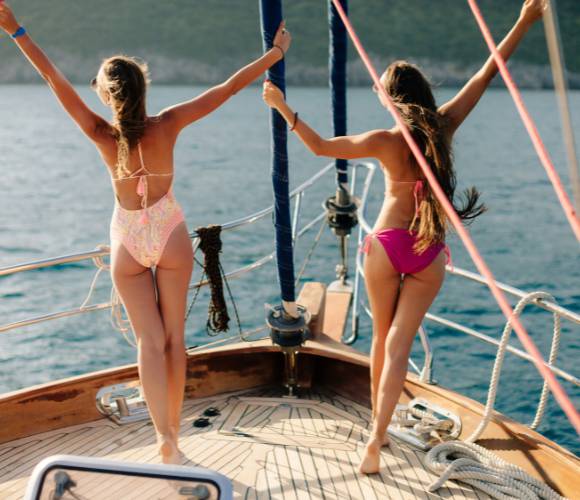 A well-organised weekend in Ibiza can go a long way to revitalising you. The team at Invisa collected the best Ibiza weekend plans to make it easier for all our lovely visitors to structure their time well, and make the most of it.
Do note, there are so many more things you can do in Ibiza! These are simply our favourites for a short trip, but we encourage you to check out other blogs we've created with plans of what to see in Ibiza in a weekend, week, or month!
What to see in Ibiza on a weekend?
Here are our recommendations for a short stay on the island:
1. Get a tan on the first day
We always start at the beach when arriving for a weekend in Ibiza because we need to breathe in the sea breeze and take in the incredible views. Any cove or beach works for this but there are all sorts here: from quiet, near virgin coves to well-communicated and catered beaches.
We would suggest heading to the Santa Eulalia area, about 22 kilometres from the airport, where you'll find an attractive repertoire of beaches and where you can stay in one of our hotels, Invisa Hotel La Cala.
Cala Llonga is 200 metres long and 90 metres wide, and one of the main tourist areas of Santa Eulalia. It is a well catered spot with a multitude of services from easy public transport, bars, and shops to rental equipment and play areas for the little ones. You won't want a thing!
In this area of the island you can also visit an unexplored corner called Cala Mastella. It is an idyllic place away from the noise of the world, and also one of the highest spots on the entire island, making it extremely tranquile. Come here to simply lay down your towel and enjoy the sound of waves hitting the shore.
Another option for your weekend in Ibiza is Cala Boix, known for the beauty of its surroundings and its unusual dark sand: The pictures taken here are stunning. It is one of those sandy areas that also has shallow waters for a very long way so is very safe for less experienced and younger swimmers.
2. Head to Dalt Vila for sunset
Once you have tanned and relaxed, you can use the last hours of daylight to spend the afternoon in the historical heritage of Ibiza, Dalt Vila. In all its corners and along the architecture you can see the remains of the civilizations that have passed through and inhabited this island.
This area is framed by the majestic walls that were declared a World Heritage Site by UNESCO in 1999. The walled city is the commercial, cultural and governmental epicentre of the island. It is, without a doubt, a must-see on the list of what to see in Ibiza in a weekend, whatever time of year you visit, but especially at sunset when you can watch the clouds turn pink and yellow over the ancient walls.
3. Spend a day of your weekend in Formentera
On the second day, get up with your batteries recharged and get ready to take a leap over to neighbouring Formentera, which is home to the most paradisiacal pleasures that the Mediterranean Sea can offer during your weekend away in Ibiza.
Formentera is a small island of about 83 square kilometres, about 6 times smaller than Ibiza, which has an area of 572 square kilometres. In addition to the beauty of these virgin landscapes, the atmosphere gives off a casual and bohemian tone.
The mainlands of Ibiza and Formentera are separated by about 3.6 kilometres, but the distance between the ports that connect the ferries is about 11 nautical miles. Depending on the weather conditions, the journey takes 30 to 50 minutes.
The trip from one island to another is extremely comfortable for visitors and locals alike, though locals pay a lower price than those of us that don't pay taxes on the island! The boats to Formentera from Ibiza are frequent throughout the day, generally leaving each port every half hour there from 6:30 am to 01:00 am. Just make sure you get the boat back from Formentera before the last ferry at 00:30!
4. Watch the sun go down behind Es Vedrá
After having enjoyed Formentera and you're back in Ibiza, head to Es Vedrá to see one of the most magical sunsets ever.Here, on the southwest side of the island is this iconic place of legend. You can enjoy its views from the sandy area of Cala d'Hort and even walk around the town of San José afterwards.
Watching the sun go down and the colours fade with Es Vedrá in the background along with its little sister, Es Vedranell, is an experience that is hard to forget. Many legends have been told about Es Vedrá from the rocks affecting the instrumentation of ships all the way to UFO sightings in its surroundings.
The Es Vedrá viewpoint is one of the essential things to see on any weekend in Ibiza, but even if you don't make it as sunset because you're having too much fun in Formentera, we still recommend coming to see this stunning view.
5. Ride the day away as a farewell to a weekend in Ibiza
On your third day, before heading back home, go for a short bike ride. The route we suggest goes through the area of Port des Torrent, a ride of about 7 miles that will help you get a general view of the whole island, but on two wheels.
We would divide this ride into 5 main sections: Begin in San Antonio, pass through Port des Torrent, then San Agustin, over to Cala Tarida and Torre d'en Rovira, finally reaching Cala Bassa, one of the most popular destinations on the island for taking photographs. During the tour, you can see some beautiful attraches, such as the church of San Agustin, the cove Conta and the windmill at Sa Punta d'es Molí.
After a whole weekend in Ibiza, take a refreshing shower at your hotel and grab the suitcase for your trip back home. We've no doubt you'll repeat the visit and have a much longer list of spots you want to visit more leisurely in this, the treasure of the Mediterranean!
Want to worry about nothing more than the itinerary for your days out? Stay at an Invisa resort and let us sweat the small stuff.
Back
Book in the official website Invisa Hotels
And enjoy exclusive advantages as a My Invisa Client
Upgrade
room*
Free Wifi
in the room
Sea View
room *
Exclusive
Offers
* According to availability