Best time to go to Ibiza: follow our tips for amazing holidays!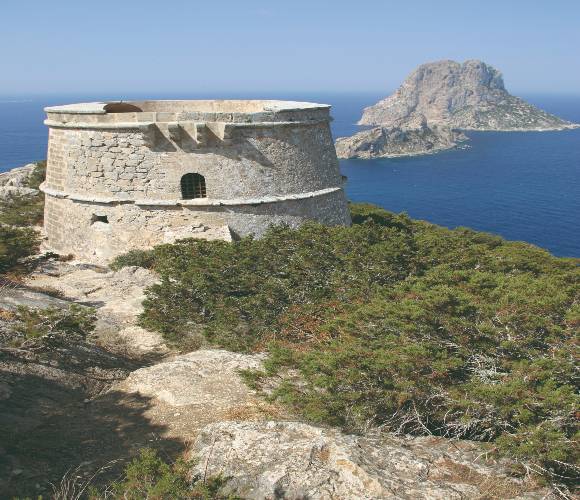 The best time to go to Ibiza depends entirely on the reason you're looking to get away. Thanks to its Mediterranean climate, Ibiza's winters are mild and the summers are hot so year-round it's a lovely place to escape to. Plus, if you're looking to avoid rain, the weather is usually no impediment to visiting the island. This means anyone can enjoy the island to the fullest — whatever your interest — it's simply a case of choosing the perfect date for your trip to Ibiza.
So if you've been wondering when to travel to Ibiza, read on to find out how the weather varies throughout the year, so you can plan your trip effectively and make the most of your stay.
Climate for the best time of year to visit Ibiza
Ibiza has a mild Mediterranean climate, but it does have four clearly defined seasons. On average, it only rains 6 - 8 days per month, which is why tourists come to Ibiza throughout the year for a wonderful time and don't leave disappointed.
In terms of heat, the average summer temperature is usually around 28°C, although it can feel hotter due to the high humidity levels. This makes Ibiza in summertime the perfect destination for a holiday on the beach based around sun, sea and fun by the ocean. In winter, from December to March, temperatures are mild, hovering around 9 degrees as a minimum and usually at highs of 16 degrees.
Spring and autumn are transition seasons as many of us are used to, but milder than other countries' drastic season changes. In spring, temperatures are very pleasant during the day, usually averaging 20°C, although at night the air is fresher. Autumn is a lovely time to visit Ibiza too because the heat subsides and temperatures tend to be around 22°C. At night, this is also a nice season to get some rest, because the temperatures drop allowing you to sleep peacefully.
What are the warmest and most lively times of year to visit Ibiza?
The warmer months of the year run from May to September and are perfect for a sunny beach holiday in the Balearic islands. This is one of the reasons why summer is considered the best time to visit Ibiza by many — a lot of people leave their homes or place of work looking for something different, and only a select few are lucky enough to live at the beach! So summertime escapes are always plentiful in Ibiza.
The Mediterranean climate is also very predictable during summer: the sun is a given, and there is low probability of rain. Moreover, the sun's summer heat keeps the sea's temperature up at 27°C. Year round it's hardly cold nonetheless, averaging 20°C. Surely you feel like bathing in these paradisiacal and warm island waters! In summer, Ibiza is a fantastic holiday destination to enjoy the sun, the beach and many water and leisure activities, as well as marine life, water sports and city culture.
Daylight hours are also longer in summer, so Ibiza sees an average of 10 to 11 hours of sunshine and it's easier to make good use of the day. Night time is also warm, which is part of the reason why Ibiza originally became famous for partying. But in reality, the summer months are perfect for couples, families, and clubbers alike!
Sometimes, people who are unfamiliar with the island do choose to avoid summer in Ibiza because of the high season. Don't worry, there are plenty of accommodation options on the island, however and even secret undiscovered coves, despite the island's popularity! But if you're concerned about missing out on the best hotels, do book in advance and secure the best accommodation for your holidays at the best price.
The atmosphere of Ibiza in summer can be enticing and attracts visitors back to the island time and time again, it's almost addictive. Although one might think of huge agglomerations of tourists in the high season, the truth is: atmosphere is created in every corner of the island. It has a huge amount of charm, such that visits to the traditional hippie markets or night walks through the illuminated streets of Dalt Vila are just as intoxicating as night clubbing.
What is the best time to visit Ibiza if your activity-filled plan is to explore?
One of the best seasons to delight in the landscapes of the island and get to know all its unique characteristics are the spring months. The temperature does not reach the top twenties as it does in the summer, but the weather is still very mild and enjoyable. Also, there are usually fewer visitors during these months, so you'll have more space and privacy for your group wherever you go.
Whenever you visit Ibiza, this is a destination with multiple intimate locations where you can enjoy some peace, we'd suggest heading to locations like Cala Xarraca, Cala Pluma, Caló d'en Serra, Cala Mastella and Es Portitxol, just to name a few. These spots are less well catered, perhaps only home to a beach café, but people who usually seek out tranquility know that the choice of beach depends whether you're looking for a quiet retreat or convenient facilities.
All year round, you can enjoy stunning sunsets in Ibiza, especially those that can be seen from Cala d'Hort with the rock of Es Vedrà as your backdrop. But we believe that spring is the best time for adventure lovers to travel to Ibiza and see these sites. The island offers endless options for different activities and the slightly cooler temperatures will make you feel more active.
In spring, water sports are in high demand; you can go snorkeling, diving, kayaking or paddle surfing just to name a few. Trekking routes, horseback riding and cycling are also well catered to by adventure companies and independent experts experienced in guiding visitors around the lesser-known parts of the island.
So, when should you go to Ibiza?
If you're still unsure when to go to Ibiza, we'll tell you what popular opinion is: most people believe the best time to travel to Ibiza is during the months of May to September. This is mainly if you're looking for the warm embrace Ibiza is known for and the lively atmosphere of the island, especially among beach and bar lovers. However, Ibiza is a sought-out destination throughout the year, it simply depends on what your group wants from their trip, your plans and your hopes for this time away: relaxation or excitement? You decide! Ibiza can live up to everyone's expectations.
In short, traveling to Ibiza is always an unforgettable experience. Spectacular landscapes and an unbeatable climate are the perfect pair even for travellers visiting in winter. The main disclaimer for anyone wondering when to go to Ibiza is to bear in mind that the high season can be a little more expensive and harder when it comes to booking accommodation. Nothing to worry about if you book in advance.
What are you waiting for? Grab that trip planner and secure a spot at a stunning Ibiza hotel now!
We'd be delighted to see you at one of our hotels in Ibiza, whenever you'd like
Back
Book in the official website Invisa Hotels
And enjoy exclusive advantages as a My Invisa Client
Upgrade
room*
Free Wifi
in the room
Sea View
room *
Exclusive
Offers
* According to availability