The caves of Ibiza that you can't miss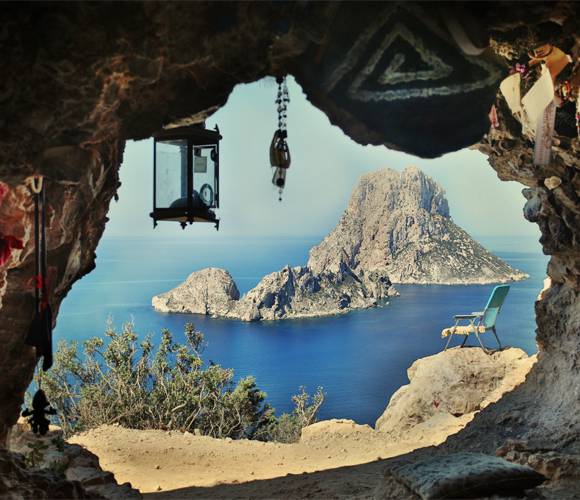 There are so many sites of cultural interest in Ibiza — some are home to the work of local artists and the stories of Ibiza's many conquests, contributing to the island's eclectic architecture. But when it comes to exploring Ibiza, natural sites including caves need to be high on your list of cultural tours. These are where secrets hide, from smugglers to apparitions, and the best cultural tours in Ibiza will take you safely to the spots we are about to highlight.
Each hidden location has its own charm and by visiting the caves of Ibiza, you'll be discovering the least seen parts of the island. Here are our recommendations for natural, scenic, and cultural visits involving caves.


Atlantis Beach - Sa Pedrera de Cala D'Hort


An old sandstone quarry at Sa Pedrera de Cala D'Hort (often called Atlantis) is the origin of Dalt Vila. The building blocks of Ibiza's historic city centre were taken from Sa Pedrera and the magic was transferred to those stone walls, leaving a natural wonder behind. The hippies who found this hidden gem in the 1960s christened it "Atlantis" in honour of the mythical sunken city.
The quarry was left with asymmetrical walls cut into the stone, which create caves that have been filled with natural seawater pools. These hollows form pieces of art through which visitors can walk or wade. The only sacrifice to enjoy this majestic experience is a hike down a narrow path and back up the long slope when you head home. Allow an hour to walk down the hill and reach the remnants of the quarry at a leisurely pace.


Lobster Cave - Cap Blanc Aquarium



A natural cave lies not far from Cala Gració beach, on the coast of Sant Antonio. This special fishing corner is known as Lobster Cave because it once hosted a lobster hatchery, a site of cultural interest in Ibiza and partly responsible for one of the main Ibizan marine species we can all snorkel past today. Fishermen used to shelter in this place too so it's full of history.
Children and adults will love visiting this old lobster nursery, now an underground aquarium with a simple beach bar and terrace to enjoy the views of Sant Antonio bay. If you decide to visit in the afternoon from Thursday to Saturday, make sure you stay to enjoy a traditional sardine dish while watching the sun set over the sea.


Islet Nature Reserve - Es Vedra's Caves


In the 19th century, a Carmelite missionary called Francisco Palau spent some time reflecting on his life and meditating in Es Vedrà's hidden caves, having been banished to Ibiza. His diaries from the time reflect strange events, including mystical visions, that track with other visitors accounts about apparitions and paranormal activity. Over the decades, anecdotes have built up legends about the islet.
While these caves are only accessible with a special permit, you can circle the perimeter of Es Vedra by renting a boat, and you can get close enough to be enchanted by this nature-filled and cultural visit, just off the island of Ibiza.
While you can't set foot on Es Vedra's islands, you can enjoy views of them from what is known as the "hippy cave" if you can find a local guide to take you down to visit. Further down the mountain from the Es Vedra viewing point is a 40-metre square cave. It is difficult to access if you're not informed and is said to be inhabited by a hippie, but not owned by anyone. The cave's natural balcony looks out over the Mediterranean, for stunning sunsets from this slit in the cliffs.


A Smugglers Cave - Cova de Can Marçà



This cave, to the north of the island in Port de Sant Miquel, can be visited on foot. Those who take the 40-minute walk down to the bay will enjoy incomparable views over to the islands of Murada and Ferradura.
On the entrance and exit, the black and red marks left by smugglers are still visible, and inside the cave, pools of water are lit up dramatically to entertain tourists. One of Cova de Can Marça's greatest attractions is the sound and light show that accompanies a waterfall within the cave, thanks to which plenty of cultural tours in Ibiza exist to take visitors down to see this enchanting site.


Cave Paintings - Ses Fontanelles



Many Ibiza caves have a cultural interest and Ses Fontanelles is home to one of the most unique cultural and historic sights on the island. They were discovered in 1917 by a French archaeologist and identified as Bronze Age paintings. However, more recent studies suggest they are Punic artworks.

Visitors can make out sketches of ships in the less weathered parts of the painting. Some wear is due to the caves being used as a wine cellar, where generations kept bottles cool and dry.
Reach the paintings via a 90-minute walk from Cala Salada, following signs for Ses Fontanelles. Cultural tours in Ibiza that take you along the west coast will likely make a stop in these historic caves, but if you have one cave or route in mind, many tour guides are happy to adapt their route.
When in doubt on how to reach any of these special Ibiza caves, just ask your Invisa Hoteles team on arrival at our resorts!
Back
Book in the official website Invisa Hotels
And enjoy exclusive advantages as a My Invisa Client
Upgrade
room*
Free Wifi
in the room
Sea View
room *
Exclusive
Offers
* According to availability