Cultural activities in Ibiza: what to see and do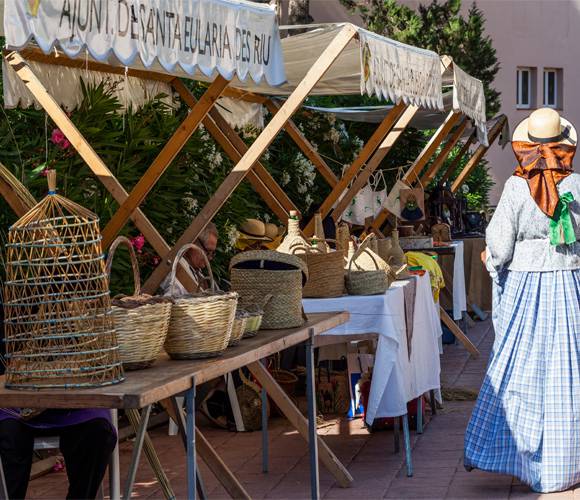 Soak up the culture in Ibiza's old town, picturesque villages, modern galleries and natural beauty. Here are the top Ibiza cultural activities to add to your list when visiting in 2020.

Live theatre with historic backdrop

1. Everyone that visits Ibiza comes to Dalt Vila, the walled city and centre of the island. Not everyone, however, knows that you can join guided tours with character acts, or watch reenactment theatre along the old city walls. Dramatized visits take you back to the 16th Century to feel the thrill and fear of living in constant fear of invasion or looting in Ibiza.

2. Even more sombre, representations of the funeral rites performed at the site of Puig des Molins are [loosely!] reenacted for entertainment and education's sake. This necropolis and must-visit attraction in Ibiza allows you to see the island from a new perspective; live the Phoenician, Carthaginian, and Roman rituals as though you were living at the time with dramatized tours of the site.

Museums and modern cultural tourism in Ibiza

3. Historically an ancient military construction, the Museu d´Art Contemporani d´Eivissa (MACE) makes beautiful use of the old, half-submerged embankment of Baluarte de San Juan for a state-of-the-art display. Built toward the end of the 16th century, the original building merges with the new MACE without clash or competition, allowing the public to appreciate their distinctions from outside. Beyond their architectural ingenuity, the two spaces are connected by their contents: curated exhibitions that are open Tuesday to Sunday, from 10 am to 2pm, and again from 5 pm Tuesday to Friday.

4. Can Ros is the Ethnographic Museum of Ibiza. For travellers who aren't scientists: ethnography is a branch of anthropology that explores cultural phenomena from the point of view of the subject of the study. About 200 meters from the Puig de Missa church (another worthwhile stop as you tour the must-visit attractions in Ibiza) Can Ros displays a full collection of traditional clothes, tools, jewellery, musical instruments, weapons and everyday memories of old customs on the island.

While at the Can Ros museum in Santa Eulalia, you can enjoy world-renowned Ibizan architecture because this collection is housed in an old converted country home, emblematic of rural living at its finest. Three temporary exhibits on the subjects of Puget's artistic lineage, a homage to ships and boats, and of traditional Balearic furniture, are also on display this Summer of 2020. Early birds only, this museum is open 10 am - 2 pm from Tuesday to Saturday.

Enriching art and authentic cultural activities in Ibiza

5. Every Thursday through to September of 2020, the cobbled street leading up to the church of Saint Rafael is solely dedicated to pedestrian traffic and stalls displaying beautifully handmade wares. Evenings of pottery, natural and agricultural goods, handicrafts, and live performances of the artisanal exhibition take Sant Rafel de Forca street back to its original use. The nostalgia of this cultural activity in Ibiza creates an incomparable sunset atmosphere. Be there at 6pm!

6. Another event of cultural tourism in Ibiza and of the outdoor persuasion, PHotoESPAÑA collected a breath-taking selection of photographs to share with the world. The photos, all taken in Ibiza, are on display on balconies throughout the La Marina neighborhood. Having started on the 25th of June, this al fresco gallery is refreshing and unites Ibiza with the 50 Spanish cities taking part in the event. Artistically exposing intimate moments with islanders and the stunning natural beauty of the Balearic islands, the exhibit is showing throughout lockdown and sharing with the hashtag #PHEdesdemibalcón. But get here fast, PHotoESPAÑA's balcony gallery wraps up on the 31st of August.

Strolling through neighbourhoods, the classic Ibiza cultural activity

7. After visiting the beautiful La Marina neighborhood and its current photo gallery, head over to Barrio de sa Penya. The old fisherman's quarter, this is one of the most picturesque neighborhoods in Ibiza. Perching on cliffs just outside the port, on a steep slope that descends down to La Marina, this neighborhood dates back to the 17th century when it was home to mostly fishing families.

Tiny alleys and diminutive plazas are reminiscent of Dalt Vila, wholly pedestrianized and just as full of character. Tourists as much as residents are attracted to Barrio de sa Penya's charming terraces. It's also suited to a little retail therapy and culture: stop off at some fashion stores and the Casa Broner on the way to Plaza de Sa Torre. This square overlooks the harbour wall and therefore magnificent views of the sea. This is one of the most Instagram-worthy cultural activities in ibiza and a stunning spot to end the day in Ibiza.

Still thinking whether to visit Ibiza or not? Don't think of it anymore and just do it! We'll be happy to have you in our hotels!
Back
Book in the official website Invisa Hotels
And enjoy exclusive advantages as a My Invisa Client
Upgrade
room*
Free Wifi
in the room
Sea View
room *
Exclusive
Offers
* According to availability