Dress Code: 10 tips for a stylish summer in Ibiza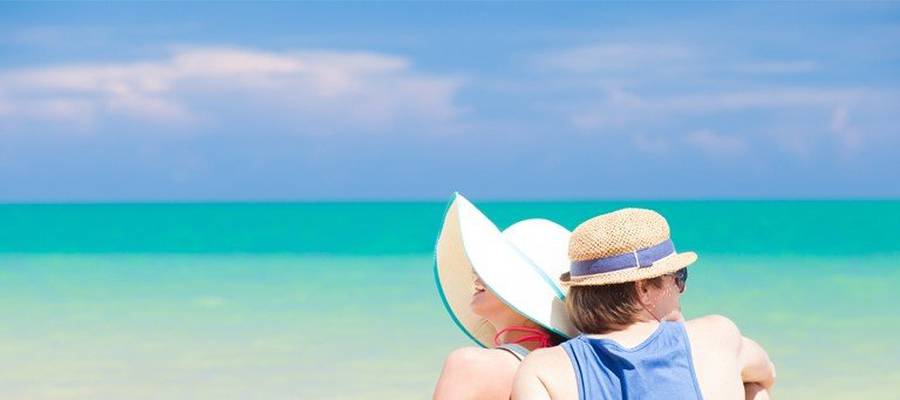 Summer is here and we all want to look our best - whether working on those tan lines on the beach or sipping on a cocktail into the small hours of the morning, being on trend on holiday is very important! If you want to keep things cool and casual on the White Isle this summer, take a look at our top 10 summer trends in Ibiza for the perfect look on the beach and on the street.
For the girls…

We all know that your summer holiday isn't a time to give the catwalks of Paris and Milan a run for their money, or for doing anything too extravagant or try-hard. Instead, summer is all about being cool, classy and relaxed. Three things that sum up the island of Ibiza perfectly! Keeping things simple is the way forward. But that doesn't mean you can't shake things up a little, and add a little bit of excitement to your summer wardrobe.

1. Keep the beachwear simple and classy
If you want to rock the beach in Ibiza you have to keep things simple, this year more than ever. Ibiza fashion this summer is all about uncomplicated block white swimwear with very little fuss. White is everywhere this season on the White Isle, matched with a cream dress over the top for trips to the beach bar and a pair of sandals… perfect.

2. Keeping things vintage
Ibiza style evening-wear is all about the vintage print this year, so for heading out for drinks at Café Mambo or partying 'til the sun comes up again in Pacha and Space, make sure you're kitted out in your vintage patterns. Whether it's a playsuit, jumpsuit or swimsuit you're planning to wear, follow this tip and you'll be bang on trend.

3. Find sunglasses to suit you
No look is complete in Ibiza without a fabulous pair of sunglasses. Eye protection is obviously what we're concerned about here (ahem), but looking good is pretty important too. Any fashion guide worth its salt will tell you that it's not about what's on trend when it comes to sunglasses, but what suits your face. Very true - but to keep things fresh - there are a few trends you can follow. 70s style round frames in a bright turquoise, red or yellow will look great this year, as will wooden frames and a very dark lense, something we haven't really seen before but which encapsulates the surfer, care-free beach-going style everyone wants in Ibiza.

4. Flawless footwear
Dressing up for an evening out on the town in Ibiza is all about looking effortlessly glamorous, with a perfect tan to match. But for footwear during the day, for heading down to the beach or strolling through the hippy market, summer trends in Ibiza this year point towards simple sandals (again in creams and whites) with perhaps just a little few elegant details to add a little interest.

5. Ditch the humongous beach bags
The days of carrying beach bags around that you could fit your entire summer wardrobe into are gone. Long gone. This year, Ibiza fashion demands something a little more chic. Oversized patterned clutches, simple straw or canvas totes and even small rucksacks are all you need to achieve a cool and casual Ibiza style this year.
For the boys…

Even though it's hot and sunny and all you want to do is relax on the beach with an ice-cold beer in hand, there's no excuse for not being stylish. Once again, it's all about keeping things simple and stylish - with a little bit of colour to spice things up.

6. Backpacks
Don't be that guy who turns up to the beach with nowhere else to put his phone, keys and wallet than squashed up in his shoes or left to collect sand underneath a beach towel – this year, it's all about the backpack. Forget the satchel or, God forbid, the bum bag (please: it's not big and it's not clever, you'll just look like your Dad) and go for a nice, simple backpack. Block coloured or all-over pattern, it's the perfect summer Ibiza accessory to carry everything you need from hotel room to beach front - including that all-important sun cream.

7. Simple, stylish footwear
The minefield every fashion guide hates to tread: men's summer footwear. Really, as long as you're not treading the waterfront in sandals and socks pulled up to your kneecaps, you can't go far wrong. It's about practical, comfortable footwear that isn't going to take half of the beach home with you or be too hot and sticky to walk around in. Essentially, Ibiza fashion demands just two things of a gentleman's footwear: something for the daytime and another for the nighttime. Do not under any circumstances combine the two and go clubbing in flip-flops or sandals. Just no. Keep to a simple pair of converse or trainers during the day and flip-flops if you want to hit the beach or relax around the pool. Again, no socks please.For the evening, make sure to take a smart pair of brogues or loafers. As a rule of thumb, if you wouldn't wear them at home, don't wear them in Ibiza.

8. Pattern print swimwear
Head to any clothes shop this summer and you don't have to be Sherlock Holmes to spot a pattern developing; pattern print swimming shorts are very much in. The more ludicrously patterned the better. Not quite Hawaiian print, but much more out-there than plain, block coloured swimwear. The trend around the pool this summer is definitely all about the wow-factor.

9. Who wears short-shorts?
Everyone wears short-shorts (in Ibiza, that is). If you're a fan of shorts that fall at the knee-line then you're all out of luck this season. Ibiza style this year for the guys is obviously about extending that tan line as far northwards as possible, without actually walking around in Speedos all day long… Simple, block colour shorts combined with a shirt or vest during the day (i.e. nothing with GEEK or NERD or IBIZA embossed on the front, do that and you're tarred with the loser brush for the entirety of your holiday) and an elegant yet simple collared shirt during the evenings. This is a summer trend in Ibiza you'll be seeing a lot of this year.

10. Just say no (to the snapback)

If you're not starring in your own low-budget reality tv show or doing it for a joke, don't wear a snapback.
Back
Book in the official website Invisa Hotels
And enjoy exclusive advantages as a My Invisa Client
Upgrade
room*
Free Wifi
in the room
Sea View
room *
Exclusive
Offers
* According to availability