Getting married in Ibiza: tips and tricks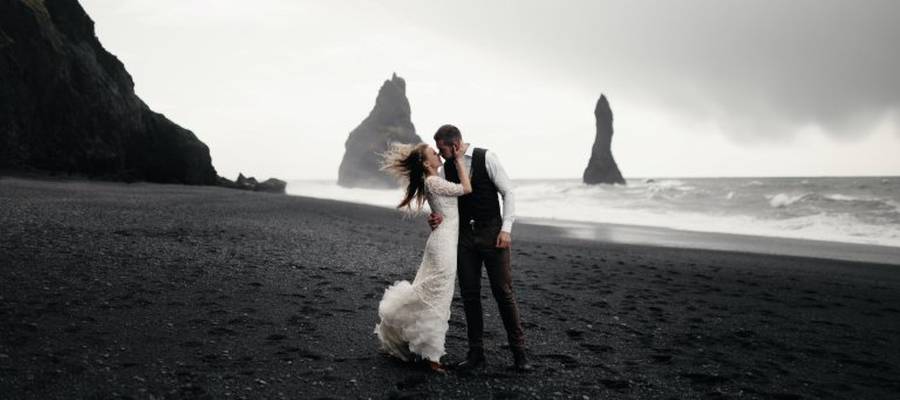 The idea of an exotic scene enveloping the words, "I do," and the stunning backdrop for wedding photos is tempting more and more couples to marry abroad. Moreover, as flights become increasingly accessible and the idea of tying the knot away from home simply becomes more widespread, even traditional families are now very accepting of destination weddings. Many are even happy to have an excuse for a mini-break for themselves! So have you and your beloved ever considered getting married in Ibiza?

One reason you might think twice about marrying far from home is the organisation involved. But if you choose an Invisa hotel as the location of your wedding in Ibiza, you can hand over much of the planning and most importantly, the stress, to Invisa's wedding planners. There's your first tip! Here are 4 more to plan your dream destination wedding.

1. Choose a hotel as the location for your reception

This goes for both the ceremony and the reception, though you may prefer to only have the latter in a resort and say your vows in a more traditional setting. The reason hotels are a sensible choice for the reception is that having drinks and dinner at the same place most people are staying will create a more laid-back ambience. Guests will be more relaxed if they're not worrying about how to get back to their hotel, and will enjoy the party more.

Another reason guests appreciate this dynamic is that you give them an easy choice of accommodation for your destination wedding. Unless they want to, there's no need to do exhaustive searches for the best hotel. After all, who wouldn't trust that the happy couple chose the best spot in the area for their special day?

You might be wondering where to get married in Ibiza. Invisa Figueral Resort is a beautiful hotel complex bordering the beach of Es Figueral. Such a privileged location might tempt you to carry out the ceremony overlooking the seafront, not just enjoy the sunset over cocktails!.

2. Package holidays are popular for a reason

Consider getting a package deal on your wedding too, because it makes decision processes simpler and you'll be offered a range of tried-and-tested choices that the experts know will work for you. This generally means you have a wedding advisor too, and a professional on board can never hurt.

We shouldn't assume that a package deal won't be personal. There are as many combinations of flowers and banquets as there are couples, and at the end of the day, it's the people that make the party. You will still choose the music, the words that will bring a tear to everyone's eye, and plenty of other aspects. But you will also be able to count on seasoned chefs to provide for all the tastes of your guests, and florists who can point you towards seasonal decorations and other top service providers.

Invisa's hotels for weddings in Ibiza all have unique spaces that are suitable as much for ceremonies as the cocktails and dining that ensure, as well as teams of experienced people who genuinely care about your guests and your experience.

3. Plan your treatments and preparation beforehand

A massage is always a good idea, but when you'll most need it will be the day before getting married. Also for your hair, make-up, facial, nails, or any cosmetic treatments, you don't want to be rushing around at the last minute to find beauticians. Even considering where to dry clean or quickly iron a shirt, steam a dress or veil, should all be done in advance. Not all accommodations have these facilities.

Invisa's hotels have everything you'll need on the day, however, and can also point you in the direction of beauticians, stylists, and spas. Invisa Hotel La Cala, in Santa Eulalia del Río, even has an onsite spa that's been recently renovated to include all the latest wellness equipment. From gym with sauna, to its Turkish baths, you'll have everything you need to both pamper yourself and primp for the main event.

4. Think carefully about the menu

As much as people say that it's your big day, for your guests, their own enjoyment is just as, if not more, important. And one main aspect that everyone will remember will be the catering. Invitees will be very aware of how well they're attended to, their dietary needs cared for, and the quality of the food on offer.

Ibiza is known for its cuisine, another reason so many people visit every year. But you needn't only choose local food since Invisa's team of professionals are prepared for all tastes and party sizes.

At Invisa Figueral exclusive resort you'll find a variety of bars and dining rooms to choose from. The Buddha Chill Out bar could be perfect for cocktails, some couples even hold the ceremony here to take advantage of its romantic tranquility. La Marina restaurant is ideal for the celebratory lunch or dinner, and ensuite there's a disco area. In the same resort you'll find La Brasserie restaurant, and even more event rooms just next door, in case you prefer to mix-and-match locations and menus for each function.

With all this in mind, why wouldn't you choose Ibiza for your destination wedding? Instead of worrying about where to get married, in Ibiza you can be sure that this location is chosen by so many holiday-makers for a reason. Year in, year out, people travel from all over the world to enjoy the turquoise seas surrounding this piece of paradise. This in itself is the best travel review available to confirm Ibiza's exquisite cuisine, scenic coastline and plentiful facilities. So, what's stopping you from planning your dream wedding in Ibiza?
Back
Book in the official website Invisa Hotels
And enjoy exclusive advantages as a My Invisa Client
Upgrade
room*
Free Wifi
in the room
Sea View
room *
Exclusive
Offers
* According to availability