Gift ideas for travel-loving parents: Mother's & Father's Day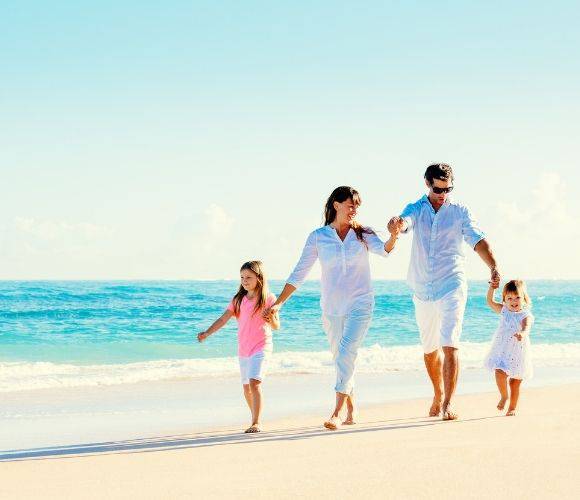 As Father's and Mother's Day, which are very special days for both parents and their children, are approaching, many of us are searching frantically for holiday gifts for parents. Just as it happens every year, the same question comes up: what ideas of gifts for parents can I draw on to give them something unique and meaningful?
When planning presents for Mother's or Father's Day, you're undoubtedly looking for something original and above all, that they will love and use. Parents aren't easy to please either!
The truth is that no one knows your parents like you do, so whatever type of person they are, sports fan, world travellers, foodies or cultured, our team at Invisa Hotels wants to make it easy for you and your siblings to choose the right present based on what you know about them.
Globe-trotting parents? Give the gift of a Summer or Autumn trip to Ibiza
There is no doubt that the best gift for travellers is a getaway to an exotic location. In fact, most people would love that gift! And Ibiza is a holiday destination with comfortable and frequent flights plus the island is well designed for all tastes and age groups. Autumn in Ibiza enjoys milder temperatures and the low season is a little cheaper, but summer is a good option too for some amazing holidays in Ibiza.
One of the reasons your parents will enjoy Ibiza if they love travelling is the variety of people they can meet here. Not everyone comes to party – many families travel to Ibiza, as do travel bloggers and people interested in culture and history. The island is dotted with Phoenician and Roman ruins, as well as the Catalan and Arabic influences from the many conquests and inhabitants that have resided here over the centuries. Now a travellers' paradise, Ibiza was originally used for its salt flats; so, far away from the buzzing nightclub scene there are bird watching opportunities galore (the perfect father's day gift activity!) in the area of Ses Salines, including flamingos if you choose the autumn for their visit.
Thank your traveling parents for all the adventures they took you on as a kid with a trip to paradise. Moreover, if you want to join them to relive your beach moments, and reminisce over all those summer holidays together, there's something for everyone here. For example, if you want to travel with kids, Es Figueral beach has great facilities for all the family. If you'd prefer to take them to an adults-only resort, Santa Eulalia and San Antonio are home to Invisa's most sophisticated hotels. All of these areas are well connected so you and your parents can go on adventurous and cultural trips around the island, or even take a trip off the coast by boat for a truly memorable Father's Day or Mother's Day gift.
Mother's Day gifts for her health and wellbeing
If mothers are famous for one thing, it is by putting the wellbeing of their children and their family above their own. Mother's Day is an important time of year to recognize this and remind mums to look after themselves and take a moment for themselves. Long-gone are the days when Mother's Day was the only day of the year when soldiers could visit their mums, but following months of quarantine and even many people needing to take jobs further from their family long-term, Mother's Day (and Father's Day) are welcome excuses to spend some time with those special people that brought us into the world.
Give a gift that everyone will love: how about a wellness session in a luxury spa? Beauty treatments, massages, saunas, swimming pools, Jacuzzis or a Turkish bath are some activities that mothers deserve and revel in. Plus, a day of pampering is a lovely activity to do together, or to give as a double gift card so your mum can enjoy her day with a friend or partner in tow.
At Invisa Hotels, we offer all of these treatments in our hotels because we know how important it is to relax and unwind while you're away, even if it's only punctuating exciting trips to explore the island! Rest and recover during a special holiday in Ibiza with no commute to the spa, and show your mother some love by caring for her wellbeing.
Spoil your dad a little too: they both deserve it!
Just like our mothers, fathers also deserve a break and some pampering. If you don't know what to give your dad for Father's Day, why not give him a short stay in a hotel by the sea? Staying on the beachfront in the comfort of a spectacular hotel that's close to all the best restaurants on the island is a divine present. Wouldn't he enjoy the sea breeze in a hotel with spa facilities as much as your mum?
If you're looking for gift ideas for travelers, and want to give your parents an enjoyable time with no worries about bills or reservations, it's easy to make the spa reservation for them, just ask about the offers available for Mother's Day and Father's Day, and the extra special treatment we can guarantee your parents during their stay by the sea.
What can you give international food-loving parents?
Eating is one life's great pleasures and tying this in with travel is the perfect holiday gift for parents. This is even more true if they love tasting new foods as a way to indulge in the world's gastronomy. Give your parents a sensory present that will remind them of their favourite holiday location, such as a gourmet experience box with Mediterranean tastes, or a wine tasting selection from their last holiday in Europe.
If you're looking for the absolute best gift idea for travel lovers, you might decide to give them the gift of a holiday. If your parents love to travel to places with wonderful restaurants offering fresh and rich menus, then Ibiza would be the right choice for parents with a gourmet hobby. Ibizan food is delicious: local paella and the typical meat and fish dishes are unmissable, as are Ibizan desserts such as Flaó. This well-known cake is made with sheep's cheese from local herds and flavored with fine herbs.
This is just one treat for traveling parents that you could plan for Mother's Day or Father's Day. A trip to Ibiza for the local cuisine is also one of the great gifts for older parents because the flights are not long and there are plenty of facilities in Ibiza for families and older people.
Discovering destinations: What to give parents who love to learn
Travellers and foodies love Ibiza, but another group of people we see regularly are those who want to come and learn about their surroundings. If your mum or dad loves getting up to see the sunrise, then walking around tourist attractions in awe all day, this is the place for them. Just as easy to do is get about the island with a car rental, so gifts for older parents that include a trip might be worth the rental add-on from the airport.
There are so many places to visit in Ibiza given the mode of transport, but similarly many visitors enjoy staying close to their hotel and learning a little about culture on foot. If this is your parents, we suggest a hotel with airport connections or a transfer service as part of your holiday gifts for parents.
A wonderfully unique gift for parents, if they are into culture and discovering their destinations in depth, is to hire a local guide to learn about the island's history in depth. If you are traveling with them, you'll easily find local guides along the beaches, otherwise just give us a call in advance and we will give you phone numbers to make a reservation ahead of time. Your parents will love taking a visit to one of the caves or islets in Ibiza and hearing the fascinating stories that have happened here, going from the arrival of hippies to the island, pre-clubbing era, all the way back to thousands of skirmishes, battles and smuggling retreats over the hundreds of years people have been living here.
Furthermore, in Ibiza there are a lot of museums where cultural people can enjoy for hours on end. You might want to give your mum or dad a trip that includes tickets to one of the most important museums on the island, such as the Museum of Contemporary Art. This is located in the old part of the city, Dalt Vila and, therefore, surrounded by stunning architecture and city walls, so will undoubtedly be a hit with history loving parents.
Thoughtful presents lead to big memories
It should be clear by now that for us, the best gift for parents is a trip to Ibiza! There's so much to do here and for all budgets, plus your parents will never forget their gift for Mother's Day or Father's Day. So, tell your parents to grab their camera, sandals and energy to explore, and come and enjoy the endlessly stunning sunsets and sunrises in Ibiza.
Why not, as you go through the holiday, take pictures and build an album they can treasure forever? The memory has almost as much charm as the adventure! As soon as you tell your mum or dad about the special trip, you'll see the excitement in their eyes so you'll want to capture that forever.
In our opinion, the best gift ideas for traveling parents, busy parents, food-loving parents… is to give the gift of travel. If you choose Ibiza, a stay in a resort with the best services to offer and different activities to enjoy is a wonderful gift for parents and we'd be delighted to be a part of your special present.
Discover everything Invisa Hotels can do for you and your parents, whether you choose to travel to Ibiza as a family or send them this holiday gift for parents in the form of a voucher so they can have a quiet escape away from home on a warm beautiful island!
Back
Book in the official website Invisa Hotels
And enjoy exclusive advantages as a My Invisa Client
Upgrade
room*
Free Wifi
in the room
Sea View
room *
Exclusive
Offers
* According to availability