Guide to a weekend in Ibiza: discover the best plans!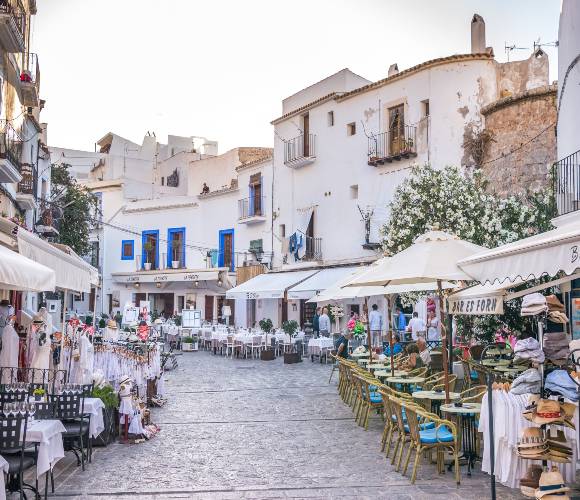 Summer is ending and Autumn is well in session. We feel so lucky here on the island to be able to enjoy such a pleasant season of great weather but fewer crowds, and we encourage you to take a week, or at least a weekend for yourself, and spend it in Ibiza.
Contrary to popular belief, you'll never be wondering what to do in Ibiza or where to start with your weekend plans in Ibiza. There's plenty to do outside of high season and, if that hasn't sold the idea to you – how about a couple of days simply escaping the usual routine at home? A change of scene does everyone good!
A weekend in Ibiza is perfect for a quick getaway, be it from Friday to Sunday or Monday, because the impressive landscapes, culture, traditions, history, sea, and nature will leave you inspired and refreshed. You might even want to consider this mini break in Ibiza a tester session for a longer holiday or with a larger group.
To make the most of your time and to guide you toward some weekend in Ibiza deals, we've gathered the best trips that are essential for short stays on the island.
First stop for any weekend in Ibiza: the beach
In Ibiza, any time of the year is good to go to the beach, and in Autumn you can still get a tan and spend most of the day on the beach. This is also a great time to try out some water sports because the sea is warm and clear, plus there are fewer tourists, particularly families, in Autumn. You get a free run of the ocean! The calm tide makes for a great time trying out all sorts of water activities from October to December – from SUP yoga to yachting!
In this sense, we recommend that, during your weekend in Ibiza, you dedicate at least one morning to exploring some of the most spectacular coves in the Mediterranean. Among the favourites of many visitors to the white island are the beaches around Playa d'en Bossa where you'll also find spectacular beach bars with delicious cuisine. Las Salinas Beach is also a wonderful stretch of sand, and Autumn is undoubtedly the best time to admire its crystal-clear waters without too many people around you. If that endless party atmosphere is what you're after, though, head over to San Antonio. This is where many nightclubs, bars, and daytime activities take place on or overlooking the beach.
If after completing these essential beach trips, you want to grab some fresh air along the coast, a walk along Es Figueral Beach is a must. This is also an ideal place to stay in Ibiza, since it has accommodation for families traveling with children and less able family members, in a well communicated location.
Finally, no one regrets visiting Cala d'Hort. Its magnificent views of the rock of Es Vedrá are legendary and go with some magical and spooky stories if you contract a guide. We put this cove at the end of the list because this is a beach for the end of the day: sunset here is breath-taking – make some memories overlooking the historic islet that you will never forget.
Not a beach person but want to know what to do in Ibiza over a short break? Not to worry, there are sites to see to last a week or two!
Weekend plans to discover Ibiza's cultural side
Another weekend plan in Ibiza is to program a cultural and historical tour. You can do this online very easily but also, most resorts and especially if you stay at an Invisa resort, you can ask the staff to direct you to the lesser-known tours. We also offer weekend in Ibiza deals for short stays.
Where you'll want to start any cultural site-seeing day is in Dalt Vila. This, the capital of Ibiza and historic centre, is rife with stunning architecture that carries surprising stories. We won't share too many details to avoid spoiling the surprise for you! But you can read more about the monuments and tales of conquest that pepper Dalt Vila, or see its 17th century charm in the flesh during your weekend in Ibiza.
Most guides will dedicate an entire afternoon to strolling through the alleys of the old town, seeing its white houses, and exploring its museums and galleries. If you do this on your own, you can do so at a more leisurely pace, but make sure you enter Dalt Vila through the main entrance, located between the bastions of Sant Joan and Santa Lucía, popularly known as Puerta de Ses Taules. It's the grand entrance you deserve.
If you're happy to climb a few stairs during these less-scorching months of Autumn, do venture up the walls to enjoy the panoramic views of the sea and city. The viewpoint just alongside the Cathedral is one of the best spots from which to look down on Ibiza and absorb some more rays.
If you have the time and interest, visit the Puget Museum and read up on Ibizan culture, or take the audio tour. The Puget contains interesting collections from some of the aristocratic houses, which can still be found on the island to this day.
The Museum of Contemporary Art is nearby, as is the Ibiza and Formentera Archaeological Museum. Given the time, a surprising spot that's steeped in history is Puig de Molins, a long-standing cemetery and Phoenician settlement. You can essentially take a day-long history lesson in Dalt Vila if you'd like.
All cultured out? Time to nourish your body, soul and senses in Ibiza's best restaurants.
Plan what and where to eat out: taste Ibiza's typical dishes
The traditional gastronomy in Ibiza is very locally sourced. Fresh fish and seafood reign supreme in most Mediterranean recipes, and your weekend in Ibiza will inevitably include a catch of the day for lunch or dinner.
One of the most sophisticated dishes that is world-famous and delicious is called Bullit de Peix – a sort of fish stew. For this meal, fish and shellfish from Ibiza's markets of Ibiza are stewed with rice and potatoes as well as extra virgin olive oil, garlic, onion, parsley, saffron and almonds. Sounds heavenly, right? We can confirm it's just as delicious as it sounds.
Another delight of Ibizan cuisine is the Sofrit Pagès – a traditional fish generally prepared in the morning to eat around noon. This involves cooking both chicken and lamb and using the juices from both for a broth. We bet you're surprised a hot Spanish-speaking country eats such hearty, warming meals! This is part of the charm of the island.
The most peculiar of all Ibiza's dishes is probably Borrida de Ratjada, which contains chopped stingray meat. This low-fat meat has a cartilaginous texture that's perhaps an acquired taste, and generally cooked in a mild garlic and parsley sauce. You must try this during a weekend in Ibiza, even if that means ordering it between two people to share and another dish that's closer to your usual taste because some people do adore it on the first go.
Finally, a less polarising success in any bar is the Flaó, an Ibizan interpretation of the typical flan and cheesecake. Here, flaó is made with local-sheep's milk so you're supporting small businesses and farming by trying this (as if you needed any more reasons to justify a sweet dessert!).
Anyone planning a weekend trip to Ibiza will discover that it is an island full of options and activities that are suited to a short trip. Once again, when looking for a weekend in Ibiza deal, Autumn is generally the best time to travel to the island for a few pleasant days, away from the routine and the crowds. We hope you come and visit us soon, so we can show you the delights of off-season Ibiza for all ages, tastes, and budgets.
Back
Book in the official website Invisa Hotels
And enjoy exclusive advantages as a My Invisa Client
Upgrade
room*
Free Wifi
in the room
Sea View
room *
Exclusive
Offers
* According to availability