Hotels vs. aparthotels in Ibiza: What's the best option?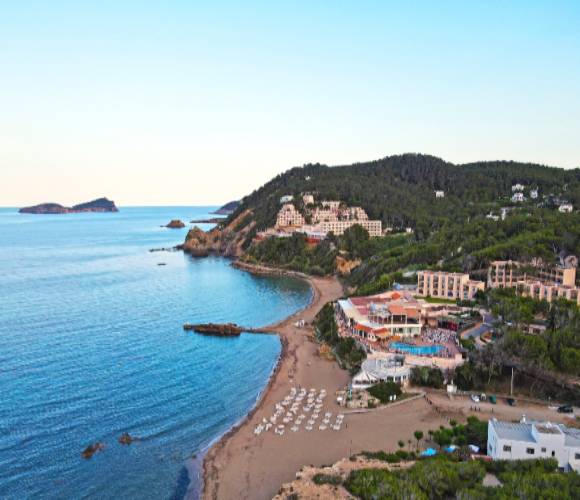 Rest and relaxation is your only goal while on holiday. With this in mind, you might be weighing up the advantages of hotels and aparthotels in Ibiza, before your trip here.
We'll make the decision much easier for you with this blow-by-blow comparison to help you choose between the two.
The original design of aparthotels and hotels in Ibiza
Aparthotels are usually buildings that are adapted for the purpose of accommodating people. These conversions can make for very unique accommodation, and sometimes a fun stay. That said, aparthotel managers are not usually specialists in hotel care, so the traveller's experience will be more casual.
Hotels in Ibiza have decades of experience and prestige behind them. Their main function is to care for people and give them all the necessary comforts so that their accommodation in Ibiza feels special. If you want a very professional reception and round-the-clock attention, hotels in Ibiza are a safer bet.
Cleanliness as an essential
You want to forget about daily cleaning and tidying routines while away. Nonetheless, you still expect cleanliness and, after years locked away during Covid-19's outbreak, many of us are even more concerned with hygiene than before. One main difference between a resort or hotel, and an aparthotel or self-catering accommodation is going to be the amount of cleaning you do while on holiday.
If you enjoy keeping things spick and span, or you know you'll be travelling with tidy friends and family, aparthotels could be an option. It might eat into your time away a little, but if this isn't something that bothers you, you can choose one.

On the other hand, if you're someone who prefers to focus on enjoying the beach and days out while away, a resort will make sure you're always coming home to a clean and airy room. All hotel complexes had to double down on hygiene to offer guests even more guarantees of safety and cleanliness than usual when Covid-19 hit in 2020, and these standards remain in force today.
Reception in hotels in Ibiza and selfservice in aparthotels
Receptions are often the first port of call when you have questions. Most of our guests at Invisa are tech-savvy and come with some research and ideas of what to do and where, but even then, we can often assuage some concerns or point them in the direction of better quality or better value alternatives.
Those who go the aparthotel route are likely to find answers to a lot of these questions online, but again, this takes time. When you book an aparthotel, make sure your host is friendly and available for recommendations, or do the research before arriving so that you're not distracted from your stay on the white island.
Security in all senses of the word
Feeling safe is non-negotiable. Security while on holiday needs to extend to your belongings, yourself and your loved ones. Check online if there's a safe available in your hotel, resort, or aparthotel in Ibiza. All Invisa hotels are secure and rooms have somewhere to lock away your valuables. Moreover, we take every precaution when people enter our resorts so that only guests are on the premises.
Going the aparthotel route might mean a little more checking into the safety of the location. The entire island of Ibiza is extremely welcoming to foreigners, well policed, and well-governed. Nonetheless, you'll need to know where the nearest hospital is, just in case, and have a car or transportation on hand, prepared to deal with any emergency that may arise.
Continuing to think about emergency preparations, regulations require hotels to have strict fire prevention protocols. The security we implement at Invisa includes surveillance cameras and private security, and we're on hand for any emergency. Sleeping soundly with peace of mind is something you deserve on holiday.
A table for you or however the mood strikes you
Depending on the tastes and preferences of each person, food can play a pretty important role in a holiday. Some people like to have breakfast before going out of the hotel complex, then spend the whole day exploring the island and its beaches. But others prefer to go on an adventure and search for breakfast outside.
There are many options in Ibiza to have a delicious meal at a restaurant. We're always happy to give a recommendation! The beautiful towns around Ibiza are wonderful at any time of day, though the majority are geared up for lunch and dinner.
If you stay in an aparthotel, you can stock up in the local supermarket on arrival and make your own breakfast. Some people prefer the freedom of this. However, hotels in Ibiza will have fresh fruit, pastries, and many savoury breakfasts ready for you, as soon as you wake up. Which you choose, hotel or aparthotel in Ibiza, really depends on whether you prefer the flexibility and ease of eating a catered breakfast on site!
Range of activities at aparthotels and hotels in Ibiza
A major difference between a hotel complex and most aparthotels in Ibiza is how far the room extends. At a resort, you'll usually find a swimming pool, spa, possibly activities for all ages. Our family-friendly resorts have play areas for children, like at Figueral Beach, Invisa Hotel Club Cala Blanca and Cala Verde have mini pool areas for kids. This might be ideal if you want to relax while the family plays in a safe space.
Ibiza is also home to public parks, that are safe for kids to play in, and the water parks have admission most of the high season, so that will be your best option if you stay at aparthotels in Ibiza.
You might also choose to go on several trips while in Ibiza. Either take to Tripadvisor or speak to your Invisa reception on arrival. You can call us beforehand too, if you prefer! We can point you towards hiking trails, diving, snorkeling, or any other activity you like.
Accommodation in Ibiza: location, location, location!
Don't waste time travelling long distances from your accommodation in Ibiza, whatever you choose! Most hotels on the island are in well-communicated locations, with transport links and roads.
Still prefer an aparthotel over a hotel in Ibiza? Simply rent a car, then you can guarantee you'll be able to move around with ease. We do, of course, recommend using buses and taxis when possible, to be more eco-friendly, but there will always be parking for you at our resorts.
We'll respect your decision, whatever it may be! Hopefully, you choose a hotel in Ibiza as we clearly think it's the best option. We're waiting and eager to see you at Invisa Hotels.
Back
Book in the official website Invisa Hotels
And enjoy exclusive advantages as a My Invisa Client
Upgrade
room*
Free Wifi
in the room
Sea View
room *
Exclusive
Offers
* According to availability