How to discover Ibiza by boat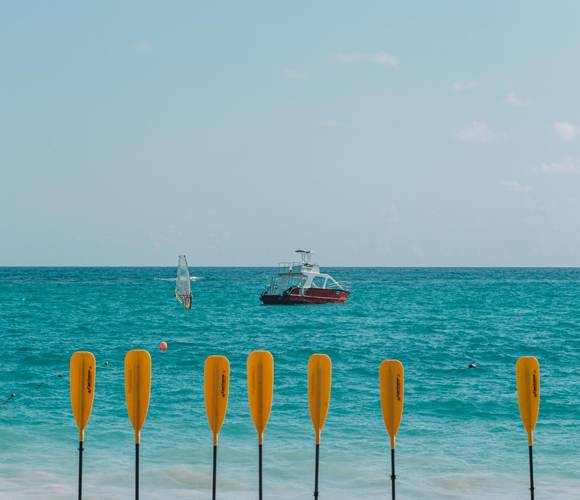 Looking for a new way to reach Ibiza? Or perhaps you'd like to avoid the plane journey and airports? If you're searching for safe travel or just a fun and water-based way to spend some time away from home, you're in the right place! We want to share with all potential visitors to this paradisiacal island, the best Ibiza boat renting, beach trips and sailing ideas you could need...
Approach from the mainland
If you leave from the port of Dénia, Alicante, Spain by ferry, just over three hours later you'll reach the shores of Ibiza. There is a Baleària ferry line that offers standard or VIP seats as well as cabins to choose from so you can travel to Ibiza however you feel comfortable.
Aside from being a beautiful and refreshing way to arrive on the island, this functional Ibiza boat trip lets you take your car on board, and even your pets!
A fresh way to enjoy Ibiza's beaches
By choosing to approach the Ibiza beach scene from the water, you can work out which coves take your fancy from afar! From the turquoise waters, gaze over at the sandy beaches, rocky coves, and strips of coastal walks to appreciate them from another angle, and maybe choose one to visit later.
Once you're here or online before arrival, you can rent boats of all types for all budgets, including yachts, boats, zodiacs with and without skipper, sailboats and even catamarans. Ibiza boat trips are also available for groups to rent together, or alone for a private experience. Drop your Invisa team a line if you'd like information once you're on the island!
Best photo opportunities
On top of the views you'll have of the coastline, by renting a boat or joining a water-based tour, you'll also have the sea to yourself as a stunning photograph background. The waters around the island are never crowded and you'll be able to get great shots to make your social media followers jealous of your holidays in Ibiza! There are also plenty of nature shots to be had if you keep your eyes open...
Wildlife watching
From Santa Maria and San Antonio, whale tours leave between May and October. These guided boat tours take visitors to spot bottlenose dolphins, which regularly make an appearance.
During these same trips you might see gulls and underwater marine life, as well as the Balearic islands' famous underwater meadows close up. Critical to the marine ecosystem, Ibiza and Formentera's Posidonia seagrass is described as meadows because they provide a home to so much marine life and keep the waters crystal clear.
Boat-based water sports
If you are passionate about water sports, the clear waters between Ibiza and Formentera are perfect for activities such as wakeboarding, snorkeling, paddle surfing, and water skiing. These sports are best done off boats and you can hire someone to guide you or drive the boat if you're a beginner.
The most accessible sport to try off an Ibiza boat rental is snorkeling, just grab the equipment from a local shop or rent the kit, and explore a new underwater world. We often have spare kits or can direct you to where you can find them so always ask your Invisa Hotels reception on arrival how best to snorkel, or about Ibiza boating tips
There are so many ways to get around the most beautiful spots here but we highly recommend a sail or motor boat to see the best bits. Ready for an Ibiza beach and boat rental adventure?
Back
Book in the official website Invisa Hotels
And enjoy exclusive advantages as a My Invisa Client
Upgrade
room*
Free Wifi
in the room
Sea View
room *
Exclusive
Offers
* According to availability