How to Dress for Ibiza - Top 9 Outfits for Summer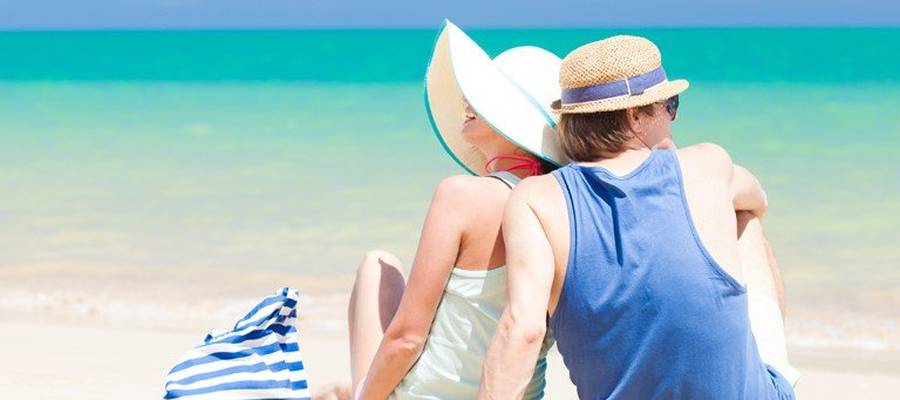 Year after year, Ibiza is THE destination of choice for millions upon millions of holidaymakers looking for sun, sea, sand – and a fantastic time too! Ibiza is known to be one of Europe's most popular holiday destinations, and has worked hard to build its reputation as the clubbing capital of Europe, but it's also one of the world's most stylish destinations.

Packing for your holidays can be a nightmare. With only 20kg of baggage allowance on your average budget flight to Ibiza, you don't have a huge amount of room to work with in that wheelie-case, do you! But with a little planning – and a couple of staple outfits you know will look great - you can arrive in style and look on point for the entirety of your time on Ibiza, one of the most fashionable islands on the planet.

Let me talk you through a few of the staple outfits for Ibiza fashion 2015.

For the plane...

When travelling to Ibiza, you need a comfortable and simple outfit that won't cause you any discomfort and is practical for flying through the air in a small metal tube. So here, our fashion inspiration chiefly comes in the form of

(1) loose fitting textured skirts or linen trousers paired with a straight-forward loose fitting jumper or top (or crop top) for the girls, and

(2) a simple button-down shirt and chinos for the guys. Footwear comfort is a must (as you don't want your feet expanding up there in tight, poorly thought out shoes, do we!) so a simple pair of casual brogues or smart trainers for the gentlemen and sandals or plimsolls for the ladies.

For the beach...

Ibiza fashion trends are always focussed on good beachwear, and beach fashion is no different, so this is not where you want to skimp.

Our outfit number (3) – a floral patterned bikini or one-piece swimming costume for the ladies, coupled with vintage sandals and an oversized beach bag - is therefore all about getting that Ibiza look when you're relaxing on the sand.

For the guys, outfit number (4) will help you look beach ready during your holiday in Ibiza without looking like you've gone to too much effort (because you haven't!). Beach looks for men this year are all about simple swimming shorts cut well above the knee (however ludicrously patterned or devilishly block-coloured you wish) and a plain coloured tee on top. Running shoes are in vogue at the moment but if you're sticking to the beach, flip-flops or sandals are also allowed. No socks.

For classy evenings out...

For your deliciously classy evenings out in Ibiza, you'll want to look as fabulously elegant as possible, whilst maintain the illusion that you've just stepped off your luxury yacht in the marina – that, in a nutshell, is the classic Ibiza look. Club ready whilst appearing you've just wandering in from the beach at no effort. Glamorous and down-to-earth!

To achieve that classic Ibiza look, there are a few Ibiza fashion essentials you'll need in your suitcase. For the ladies, outfit number (5) is therefore all about a basic piece with lots of accessories: a maxi dress and heels, paired with as many accessories as you can fit in your carry-on bag. We're thinking of decorative jewellery like big necklaces, bright bracelets and colourful earrings to bring out your sun-kissed skin. Don't be afraid to go as big and as bold as you like, Ibiza fashion is all about standing out from the crowd. Hats are a good idea too – and a smartly cut yet simple blazer for over the top of your dress, if the temperature drops a little later into the evening.

For guys, outfit number (6) comprises another selection of Ibiza fashion essentials to help you get that Spanish look. We're talking smart jeans either in a dark denim or white, paired with an elegant plain dress shirt and topped off by a smart blazer or suit-jacket (but keep that casual). Open collar is fine and you should make sure to always have your sunglasses with you, just don't keep them on once the sun has gone down. Simple yet elegant should be all the fashion inspiration you need here.

For clubbing...

Now we come to the exciting bit, out final top outfits for clubbing in Ibiza.

What you wear to the clubs will very much depend on the kind of venue you're heading to – from the more sedate, chilled out kind of vibe, to the all-out, vivacious and wild side of the clubbing scene at the super clubs... Nonetheless, there are some definitive Ibiza fashion trends to help you pack the right set of clothes.

Outfit number (7) is therefore a mixture of comfortable flat shoes for women (think simple sandals or maybe even converse) plus clothes you can comfortably dance in (like a cocktail dress, maxi dress or else just a skirt and top) coupled with great accessories like a bag, great jewellery and even some hair accessories. For the guys, outfit number (8) to head out in, looking great in clubbing fashion, means either colourful chinos or shorts paired with a nice shirt and smart shoes. Making a little effort for the clubs but not going overboard is what the Ibiza look is all about.

The only top outfit left, number (9), is a unisex outfit that can be worn by anyone who spends their holiday in Ibiza: a great tan, a huge pair of sunglasses and a smile spread right across their face. You can't help looking fabulously stylish and relaxed when you're in Ibiza, it's just the rules!
Back
Book in the official website Invisa Hotels
And enjoy exclusive advantages as a My Invisa Client
Upgrade
room*
Free Wifi
in the room
Sea View
room *
Exclusive
Offers
* According to availability