Ibiza as a couple: best things to see and do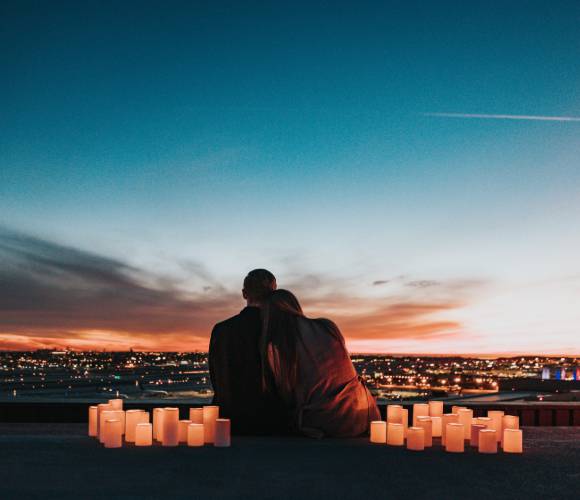 Ibiza's clubbing scene is well known around the world, as is the tourism industry targeting young people with adrenaline-rush activities. Many families with children also visit Ibiza every single year and you'll find plenty of well-established expats, as well as retirees, that simply fell in love with the island and decided to make it a lifestyle. It is true that not everyone goes to Ibiza as a couple.

However, if you are part of the childless segment of the population that still has the luxury of travelling as a couple, or even are travelling with a group or family but want to escape this dynamic for a day, you might be wondering what are the best things to do in Ibiza for couples.

Fret not! There's plenty to do and see, and tons of romantic activities that are perfect to enjoy as a twosome. Here, we'll give you our top pastimes for going to Ibiza as a couple.

Watch the sunrise together

Are you both early risers or enjoy pulling all-nighters to make the most of your stay in paradise? If you can get out of the house before 6 am you'll be able to drive up to Sa Talaia, the highest part of Ibiza, and stroll through nature the last few minutes of the ascent to enjoy a magnificent sunrise.

Sa Talaia is 475 metres above sea level, so this is a wonderful spot to watch the sunrise from if you're going to Ibiza as a couple. You can definitely walk up in sandals, this isn't a hike only for the hardy, unless you want to explore a little off the main paths. Do take plenty of water to stay hydrated, however.

If you get to Sa Talaia at sunrise you'll have driven or walked up in the low light, so you'll also enjoy the ongoing surprise at the beautiful views as you descend back into civilisation. What better way to start the day?

Go out for a romantic meal

If it's a delicious lunch you're looking for, la Luna Nell'Orto, located at the base of Puig de Missa, is an emblematic corner of the Sant Miquel de Balansat village. All the menu is prepared on a coal grill by expert chefs, and you'll enjoy your meal with the backdrop of pale painted rustic houses.

Luna Nell'Orto is one of the island's restaurants specialising in Mediterranean dishes and is decorated to evoke zen vibes. Sat surrounded by greenery, it's highly recommendable that couples try the fresh cuisine here, some chilled Cava and a leisurely chat. A traditional quiet spot, this restaurant is the ideal thing to do in Ibiza for couples and is also pleasant to spend time in into the evening and sunset hours.

However, if you were hoping to gaze at your loved one across the table specifically during sunset hours, book in at Hostal la Torre for a romantic evening dinner before 8 pm, so you can watch the sun go down together. This restaurant is already popular among sunset and -music-lovers alike because many top DJs provide the soundtrack of an evening.

Incredibly, you can actually dine with privacy at this restaurant, as the tables are dotted along a rocky slope, which allows you to enjoy the unobstructed view of sun, sea and sensuality. Unmissable.

There are also lots of Ibiza couples resorts to choose from for your evening meal. An adults-only location might be the most relaxed, so a great option is Invisa Hotel Es Pla.

Moonlit walk on the beach

Low effort idea coming up! Your partner will be enchanted when you suggest a moonlit stroll on the sand. And it requires no foreplanning, no special gear and is completely free.

Wait until sunset after 9, lock arms and paddle in the soft surf. If this is just too low-maintenance for you a blanket and some nibbles for stargazing with are the cherry on top. If you can do this after your meal or leave your accommodation after hours, even if you're staying at Invisa Hotels and don't want to leave one of the best hotels in Ibiza for couples, you can come back to your luxurious resort for a nightcap afterwards and close off your magical evening.
Back
Book in the official website Invisa Hotels
And enjoy exclusive advantages as a My Invisa Client
Upgrade
room*
Free Wifi
in the room
Sea View
room *
Exclusive
Offers
* According to availability