Ibiza with kids: 7 tips for some lovely holidays in Ibiza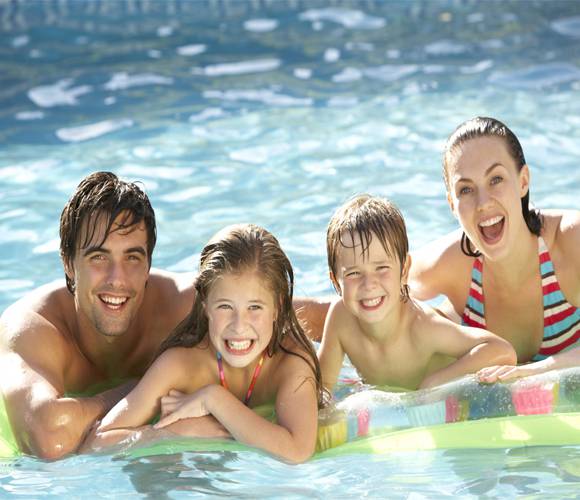 Ibiza holidays are back on the agenda! So now that you're planning your Ibiza holidays, you must be wondering where to stay in Ibiza with kids, and what are the things to do in Ibiza with kids. Here are our top tips from all the happy families that visit us every year!

A pool is a must

There really is no substitute to a hotel with a pool if you have kids. There's so much fun to be had as long as they're wearing sunscreen, plus the pool provides a sort of limitation that you know they'll stay within. As long as there's somewhere to swim, you can enjoy a book or a podcast from a sunlounger, a mocktail and some snacks, while they wear themselves out!

It's great to find a hotel with a designated area for kids too. Our Invisa Cala Blanca hotel has swimming pools for adults and children so the water's shallower. Little ones can enjoy a mini club, playground, and water park, so they can also enjoy a wonderful family vacation.

Worth noting that accommodation that offers some sports you can play like volleyball, tennis, archery, soccer, table tennis (think Invisa Ereso Hotel), provides the safest and most controllable ambience for fun as a family. Invisa Ereso is one of the best hotels for kids in Ibiza.

Being close to the sea makes life a beach

Looking to wear them out with some off-site activities? Head to Es Canar beach, where you can try your hand at wind and kitesurfing, water skiing, miniature golf, and even diving if you're feeling adventurous.

Having the second option of a beach next to the hotel means you don't have to pack up the rental car for a long trip, and the kids will tell you what they want to do that day, so no planning necessary.

Es Figueral is a beach that's known for plenty of group activities and water sports so we recommend being close to this stretch of sand. Some of the best hotels for kids in Ibiza are near sandy beaches and Invisa Cala Blanca is in San Carlos right next to Es Figueral, as is Invisa Ereso hotel only a few meters from Es Canar beach.

Hotels on the beach also enjoy the best sunsets, so parents will have some romantic evenings if they can get the kids to be in time! Maybe a moonlit walk is on the cards, but you don't want to leave your children unattended—do consider a hotel like Invisa Cala Blanca in these cases because we offer a babysitting service on request, to afford total confidence and security while you enjoy your evening. Invisa Cala Verde is another family-friendly option that's perfectly located, receiving guests year after year who come back for the fantastic coastline views.

Accomodation with entertainment teams

If you've never travelled with children you might not be familiar with on-site entertainment teams. What these wonderful teams at kids hotels in Ibiza do is provide high-energy, caring and educational content for kids. This can vary from supervised play-area crêches, to stage hosted performances, sing-alongs and games.

If you stay at Invisa you can enjoy shows and entertainment for adults and children, so you'll be smiling and laughing all day long. These are held both in main areas and the children's area, where during the day there are games and activities at a mini club, a maxi club and junior club for all age groups.

Family-friendly food

It's crucial you stay at a hotel with a restaurant if you have kids. They can get hungry at any time and we all know they don't follow anyone else's meal schedule. Maybe your family aren't picky eaters but still want variety, or if they are the former, you'll need to carefully question the hotel you're staying in as to what they can offer your little ones.

Invisa's hotels have restaurants on site and have both a buffet and children's menus, which can be adapted to special dietary needs. Leave the worries at home and simply let our staff know of any allergies or intolerance, then lean back and watch your loved ones enjoy their favourite meals and holiday of a lifetime. From entertainment and nutrition to location and accessibility, we've thought of everything for you!
Back
Book in the official website Invisa Hotels
And enjoy exclusive advantages as a My Invisa Client
Upgrade
room*
Free Wifi
in the room
Sea View
room *
Exclusive
Offers
* According to availability