Ibiza with kids: 8 tips to enjoy your trip in 2022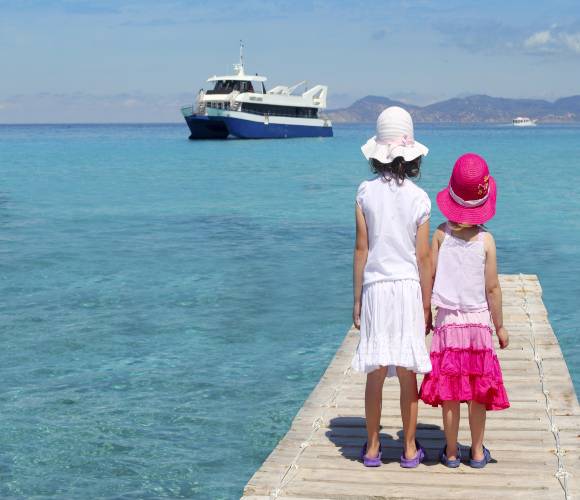 With decades of experience on this Mediterranean island and staffed by people of all ages, Invisa Hotels' team selected our best recommendations to entertain the little ones all year round. Read on to make your own list of things you cannot miss during a visit to Ibiza with kids in 2022.
What is there to see and do in Ibiza with kids?
Of all the activities you can do in Ibiza, many are suitable for children. In addition to all the pastimes that you can enjoy in the great outdoors, such as discovering the towns, country or coastal walks, and visits to the beach, there are several options specifically designed for children.
1. Enriching cultural experiences
Your first tip for traveling to Ibiza with children, and that is suggested to any family, is to teach children of all ages the importance of respecting nature and the history of a place. Thus, they will remember their journey with you forever and learn something along the way.

For example, IbizaEcoActivities is an organization that plans and holds experiences and activities around the capital city, promoting sustainable tourism. Established by the Eivissa city council, IbizaEcoActivites organises themed outings, creative and cultural events, and all sorts of activities for free, so that children can immerse themselves in all the fun that Ibiza's town centre has to offer.
For example:


Weaver's workshops


Terracotta workshops in the Necropolis


Arts and painting workshops


Through guided explorations of Dalt Vila, which are generally followed by workshops that are suitable for all ages, this Ibizan organization manages to instill a sense of responsibility in people from an early age. This will result in kids in general being responsible and conscientious tourists, as they often even end up educating their parents on how to be respectful of their surroundings.
2. Watch a film outdoors
After so much walking and exploring Dalt Vila, you will want to have a sit down and rest for a while. But we know that children's internal batteries are ever-lasting, so we have the perfect activity to entertain them, which does not involve a huge amount of physical effort for their parents: children's cinema.

At the Can Jeroni Cultural Center, located in San José, you can often get hold of free children's movie passes. Cartoon, fantasy and family films are screened here and there's no need to book in advance, just be at the Cultural Center at the time of the projection.
If you will be visiting Ibiza with kids in the summer, various open-air cinema showings are held at different locations across the island, many of which are children-friendly film screenings.
3. Head to the beach
There are really many things to do in Ibiza with kids near the sea. The beaches, in particular, are very safe and the coves are even quieter if you like to visit less populated locations when on vacation.
However, if your plan is always to find entertainment for children with a lot of energy, we suggest going to a beach like San Antonio, where you can rent equipment and hire outings to surf, boat, or snorkel.
Another popular destination for families is Playa d'en Bossa. You will find more information below about this beautiful stretch of sand and its amenities.
4. Get an adrenaline rush at Ibiza's theme parks
Our fourth tip for things to do in Ibiza with kids is to spend an afternoon or a whole day having fun in the amusement parks in Ibiza. With attractions such as slides, climbing nets, a ball pool and water features, Gran Piruleto Park is an option that you can visit in Sant Josep de sa Talaia, about 20 minutes by car from the abovementioned Playa d'en Bossa.
Gran Piruleto has a children's entertainment service for parties, activities in its water park, and a climbing circuit. You can even see dance, magic, and storytelling shows. The park is open every day from 5:00 pm to 11:00 pm, and Wednesday is kid's day, with discounts on several attractions for children.

5. Try a water hobby
On Playa d'en Bossa itself, children (and adults!) can have a go at all the water sports that catch their eye.
Why not learn scuba diving or try surfing during your vacation? An activity called stand up paddle is becoming fashionable and any visitor to Playa d'en Bossa can rent a board. If you prefer a jet ski or a pedal boat, this is where you will also find your pick of equipment for rent.
6. Instill a life-long learner attitude
In Ibiza there are two observatories and few know about them, only professional astronomers and fanatics. Children love to learn, and travelling should feed this need of theirs. One of the observatories is located in Puig des Molins and admission is free.
Take your family to gaze at the sky from a giant telescope, or view photos taken with an ALLSKY camera. This camera constantly captures images of the sky over the city of Ibiza.
You can see on which days there is availability by visiting the observatory's website, currently only available in Catalan and Spanish. It is recommended you book in advance, as there are few spaces available in most months, although in low season (autumn and winter) there is greater availability.
Where is it best to stay in Ibiza with kids?
Where you sleep during the holidays can completely transform your experience. Choose the location of your stay wisely, taking in all the necessary information, such as these tips:
7. Take care of the pennies, the pounds will take care of themselves
As this, the seventh tip of the day, we'll help you save money. Something that parents who visit Ibiza with children and the elderly love is its tranquility. In the low season specifically, from October to February, they find freer spaces, and also lower prices. The weather is mild all year round so travelling in Autumn or Spring does not mean sacrificing those long-awaited beach days.
Low or off-season savings range from the cost of the flight to what you can do on a day-to-day basis, which is a much appreciated relief to family budgets, who already have to multiply by three or four every cost per person.

Do note, however, that traveling outside of the high season does not mean you will have fewer accommodation options in Ibiza. There are plenty of safe and reasonably-priced hotels on the island.
8. Stay in family-friendly resorts in Ibiza
Finally, if you travel to Ibiza with kids, look for a hotel with entertainers for those moments when you want to put your feet up. At Invisa Hotels, our service and entertainment team will be at your disposal, so you don't have to worry about planning brand new activities every day. Enjoy an unforgettable relaxing getaway with the whole family while the kids have fun with the Invisa team and our mascot Invi.
As you are researching where to stay in Ibiza with kids, it is essential to find a safe resort, with activities and menus designed specially for children. For this, consider one of our family resorts in Ibiza.


Invisa

Hotel Ereso

is located on Es Canar beach and has a children's pool, large gardens and a sports field, including tennis courts for the whole family.


The Invisa

Hotel Club Cala Blanca

on Es Figueral beach is ideal for families and welcomes children, but it also has an adults-only area if you anticipate wanting some space just for yourself during your stay.


The Invisa

Hotel Club Cala Verde

, right next to Cala Blanca, has a children's playground and even a mini amusement park, with games in the kid's pool. We also offer a baby cot service for babies.


We specialise in receiving visitors to this beautiful island and providing world-class service. This is possible thanks to our love and dedication to Ibiza, and our belief that this is the best place to spend a family vacation. And our frequent customers agree!
Don't hesitate to ask us for information here at the hotel, over the phone, or via our
social media, about things to do in Ibiza with children or where to stay in Ibiza with kids. Also, if you want to read further about how to spend time here in 2022 with the whole family, here are even more ideas that you'll just love.
Back
Book in the official website Invisa Hotels
And enjoy exclusive advantages as a My Invisa Client
Upgrade
room*
Free Wifi
in the room
Sea View
room *
Exclusive
Offers
* According to availability