Ibiza in spring: Things to see and do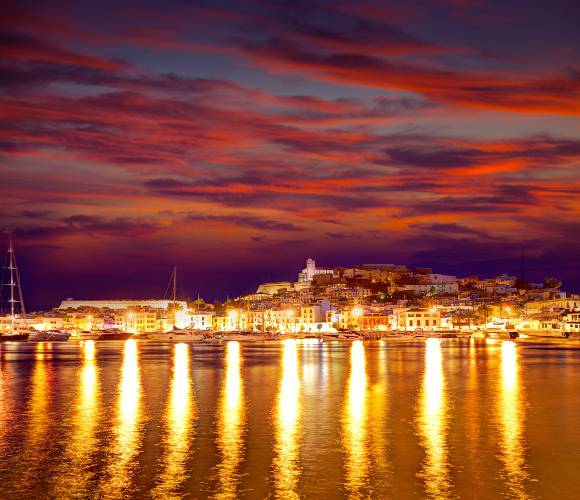 Any excuse is a good one to visit Ibiza in spring!
It's a beautiful time of year, some would say it's the most magical and the best weather (especially if you prefer slightly cooler evenings) but you may not know all the things you can do at this time of year… So, we decided to spring into action to get our top tips to you.
Spring weather in Ibiza: The top reason to visit
The best thing about Ibiza in spring is its pleasant climate, characterised by warm days and cool nights. In addition to the fact that the island of Ibiza has few days of rain during this season. Admittedly, there are few days of rain at any time of year in Ibiza!
The temperature of the sea is also ideal from April through June, since it is around 20º celsius, so it feels lovely to take a dip and enjoy a calm day in the sun.
Calmer attractions: The next best reason to visit Ibiza in spring
Another good reason to pop over to enjoy the spring weather in Ibiza is that much fewer visitors travel to the island in this season.
Note that, even if you're wondering when spring break is in Ibiza, there is not one week that's especially busy. The majority of spring breakers stay in the Americas, and in fact, the average holidaymaker in Ibiza is 44! The island does enjoy a little more life during Easter but spring break is not a major factor.
At this beautiful time of year, you can enjoy the island in its entirety without worrying about the crowds, or getting too much sun. It is the perfect opportunity to see a quieter version of Ibiza, learn about its history, visit monuments and casually delight in local gastronomy.
Natural delights: Making spring the best season
Let's not forget about nature at this time of year! The wonderful smell of flowers and pines as you hike or stroll through the imposing landscapes (or mountain bike, if you prefer) will make your trip unforgettable.
The almond blossoms come to flower in spring, and the pinkish-white flowers are a sight to behold. If you're wondering where to see the best views of nature at this time of year, just ask your Invisa receptionist to point you to the nearest almond tree groves.
What are the best things to do in Ibiza in spring?
Now that you know that it is a good idea to visit Ibiza at this time, we show you some plans that you should not miss this spring in Ibiza.
1. Shop the look
When most people discover Adlib fashion, they're taken aback: "why haven't I been wearing this my whole life?" because the white and light garments, espadrilles and accessories that fuse Ibizan and hippy culture are comfortable and stylish. This is something you can shop for here, ideally early in your trip so you can enjoy feeling fresh all holiday.
In springtime, many designers bring out new collections — fresh takes on the classic and long-lasting Adlib base — plus you can explore many stores before prices go up in the summer season, as stock becomes more limited. Not to mention, spring in Ibiza is a little less busy than the rest of the year so you can browse stalls and boutiques to your heart's content, with no pressure or crowds.
Markets such as Las Dalias, Punta Arabí and Sant Jordi unite hundreds of stalls with the most characteristic fashion of Ibiza. Many other stalls selling local Ibizan fashion are located in the historic centre and along the marina, so, in addition to visiting the local shops, you can use this excuse to get to know the city on your first days, while stocking up for what to where while here!
If you prefer department store shopping on the other hand, Avenida Bartomeu de Roselló is known as "the shopping street". You'll find the big brands here and, of course, a little shade.
2. Tour the towns
Spring in Ibiza is also ideal for visiting various locations without a single traffic jam. One of our recommendations is to visit Santa Agnes de Corona to the northeast of the island. It is one of the most beautiful villages in Ibiza, with incredible views of the sea and streets full of almond trees — in bloom at the beginning of spring, as we mentioned. Its typical Ibizan architecture and the viewpoint at Las Puertas del Cielo (Heaven's doors) are prime for a quiet day with the best views of the sea.
Secondly, a charming stop to make is in Santa Gertrudis de Fruitera. This town of white houses in the centre of the island has a bohemian touch and is full of bars and restaurants where you can eat to your heart's content, all year round. This is because the locals are always here and have very high expectations of the local cuisine — restaurants can't miss a beat, on or off season in Ibiza!
To the southwest of the island you will find the small town of Sant Agustí d'Es Vedrà, made up of a group of houses surrounding its church. It is a historical white structure and stands out for its tranquillity inside, the simplicity of its architecture and the extraordinary views of wooded areas from the town.
Finally, Sant Rafel de Sa Creu must be on your town tour. The town, catalogued as an area of artisanal interest, is home to the best potters in Ibiza, many of whom are internationally recognised. Come and spend spring in Ibiza to see these artists work their magic, right on the main street of the Sant Rafel. And as you might expect, this town is also dotted with bars and restaurants that welcome locals and tourists alike.
3. Hike the trails
Love spending time in nature? Ibiza is your perfect holiday destination in springtime. Adorned with incredible landscapes, it is ideal for reconnecting with yourself through peace and nature.
To explore the more remote corners of the island, hiking or cycling routes trail across Ibiza. A relaxed walk is best to contemplate the blue romero flowers and yellow wood sorrel among the pine trees, which are in their maximum splendour at this time. Fans of adrenaline and wind rushing in your face can take Vespas out on rent, or bike rides from north to south to cover more ground.
If you prefer not to go offroad, you can still appreciate hibiscus, rockrose and bougainvillaea if you come toward the end of spring, along the streets in the towns. In fact, there are walking tours of the island, with groups going out to stroll together on Sundays for free, so there's no need to feel daunted by exploring Ibiza in spring..
4. Soak in the springtime
The great attraction of Ibiza, its beaches and coves of white sand and turquoise waters are even more precious before summer. In the off-season, there are fewer crowds but still all the same amenities available, as beachside restaurants and cafés open as soon as there's clientele.
Surrounded by the Mediterranean Sea and the underwater prairies that keep the ocean between Ibiza en Formentera so clean, visitors can enjoy the best beaches and sunsets in the world, right here. Plus many beaches are safe for children as they're shallow for a long way. So, pick your cove, bring an interesting book, bathe in the calm waters and have an afternoon picnic.
5. Taste the delicacies
You've worked up a sweat and a tan, now it's time to try the incredible delicacies of traditional Ibizan cuisine. Enjoy the unique fresh seafood and typical dishes in as many different restaurants across the island as you can, so you can choose your favourite bullit de peix!
Not only is the fish stew world-renowned, so are afternoons on the terraces, watching the sun go down and enjoying refreshing drinks as you reminisce over a magnificent day. Simply bring a light jacket and that's all you'll need to take you into the evening in Ibiza in spring.
We recommend visiting Café del Mar in San Antonio for a traditional experience and a gorgeous sunset. Need we say more?
6. Stroll the streets
As we explained, this is a great time of year to walk around the town even under the sun. It's not too hot and photography lovers can rejoice in uncrowded streets. Get the best shots of the city of Dalt Vila, or of you modelling on the ramparts of the old city wall, by coming early in the day and well before the summer travellers.

Walking is the best way to immerse yourself in the history of the city of Ibiza. Again, a walking tour through the ancient and imposing walled streets declared a World Heritage Site by UNESCO in 1999 could be an enjoyable way to educate yourself and connect with the island. Our staff are always happy to point you towards a guided tour, or you can find many downloadable maps and history online.
7. See history come alive
Walking isn't the only thing you can do in Ibiza's town centre this spring: from May 12th to the 15th, you will be able to delve even deeper into its history at a mediaeval market.
The historic centre, Dalt Vila, becomes a mediaeval spectacle on these dates, donning its streets with colourful fabrics and flags of noble families. Costumed street vendors will walk around the city walls and 200 artisans will set up stalls so you can meet the locals, enjoy thematic shows and fun activities.
Are you as excited as we are? Spring has sprung and this time of rejuvenation is just what we need to enjoy the events and spring weather in Ibiza this 2022!
Back
Book in the official website Invisa Hotels
And enjoy exclusive advantages as a My Invisa Client
Upgrade
room*
Free Wifi
in the room
Sea View
room *
Exclusive
Offers
* According to availability