Romantic coves to travel to Ibiza as a couple this 2021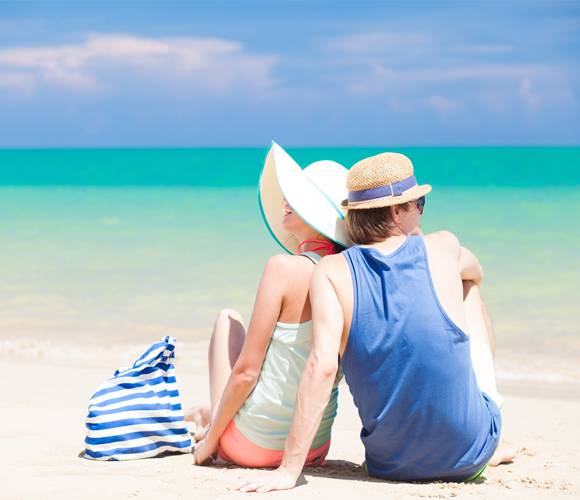 Coupled-up or not, who doesn't love a secluded beach, or a private cove to enjoy some quiet time away from home?
For many, especially those of us concerned about keeping a healthy distance, privacy is non-negotiable. So here's our list of the most romantic coves and discreet places to visit in Ibiza by the sea.

Seaside places to visit in Ibiza near San Juan

1. Es Portitxol
This extremely isolated cove is completely removed from the roads that most tourists take, even those on their honeymoon in Ibiza. A narrow cliff marks the entrance and, since it's surrounded by countryside, hills and a dense pine forest, the most frequent visitors to Es Portitxol are fishermen.
Take a stroll among the dry dock huts alongside crystal blue waters. Bear in mind that this spot is so isolated that you will need to bring your own snacks and drinks, as there are no services along the beach or the steep path leading up to the cliff-side walk. The fishermen do motorbike down this path, so keep your eyes and ears open on approach!

2. Es Canaret
A piece of paradise can be found in this forgotten cove. Since it was impossible to reach Es Canaret until very recently, this romantic spot is still a virgin beach. Previously it could only be accessed through a house located next to the shore, but today the building's owners have allowed a path to be created so that bathers can reach the sea and sandy cove with ease.
During your holidays in Ibiza, escape to this half-sandy, half-pebbled beach decorated with a handful of boathouses. Of course, for the most secluded beach trip, this means that parasols, hammocks, and other services are not available, but this is what makes Es Canaret idyllic, isolated, and romantic.

Romantic spots around San José for your honeymoon in Ibiza

3. Cala Llentrisca
Another of the most beautiful places to visit in Ibiza is Cala Llentrisca. Untouched by the usual tourist clans, the cove is only frequented by divers and people who own fishermen's huts along the shore. Most of these belong to local residents, who may spend weekends fishing or eating their lunch as a family in Cala Llentrisca.
During the week, even in high season, you can find this cove completely empty or only share it with a select few. Again, bring your own food and parasols if you want to spend the day sunbathing and paddling here.

4. Es Codolar
Cala Codolar is a hidden cove with intense emerald waters and no crowds at all. Since it's not far from Conta Beach, there are some commercial postings renting hammocks and parasols, but in large Es Codolar is secluded by the cliffs surrounding it. Head to the edges of the beach if you prefer sand underfoot over pebbles.
There is also a snack bar on the beach and a sophisticated restaurant not far from the water's edge, so this cove has just enough to entertain the few bathers that visit most days.

5. Cala Conta
Another lesser-known beach, Cala Conta, is also located in San José. This spot is good if you're not a strong swimmer because it has very shallow waters. It is also a nudist beach and popular among those practising all kinds of water sports, but especially scuba diving. This is not what would qualify as a virgin cove but it is usually less busy than more commercialized beaches in the area.

San Antonio coves not to miss during holidays in Ibiza

6. Ses Balandres
As you head down the slope to Ses Balandres, which is in Santa Agnés, you'll find one of the most beautiful places to visit in Ibiza. On this northern coast, you do have to navigate a narrow path down a steep descent, where fishermen have installed wooden ladders, handrails, and ropes. Getting off the beaten track can be the most fun for a honeymoon in Ibiza!
Simply keep your wits about you, the descent is not dangerous but it can be tiring. There are stone boat houses tucked into the folds of the cliffs and the end of the walk rewards you with a gravelly shoreline, crystal waters, and view to the islets of Ses Margalides. This is a wonderful place to travel to Ibiza to see, but don't forget your snacks and water for the climb down and back up!

7. Cala Salada
Also not far from Santa Angés, Cala Salada is 100 meters of the most beautiful secluded sands on the whole island. Since this cove is difficult to access, only locals usually visit so you can enjoy absolute tranquillity here. The sand is very fine and the edge of the cove is lined with pink rock constructions that house locals' boats.
Surrounded by pine forests, Cala Salada is romantic and private but not isolated — there are hammock and parasol rentals here as well as a delicious fresh fish restaurant.
If you're excited to spend some romantic holidays in Ibiza, or even your honeymoon, these spots are the top picks for all tastes. If you want more ideas on what to do as a couple or on your honeymoon in Ibiza, here are seven reasons why you should choose the piece of paradise that is Ibiza.
Back
Book in the official website Invisa Hotels
And enjoy exclusive advantages as a My Invisa Client
Upgrade
room*
Free Wifi
in the room
Sea View
room *
Exclusive
Offers
* According to availability