7 reasons why Ibiza is the perfect honeymoon destination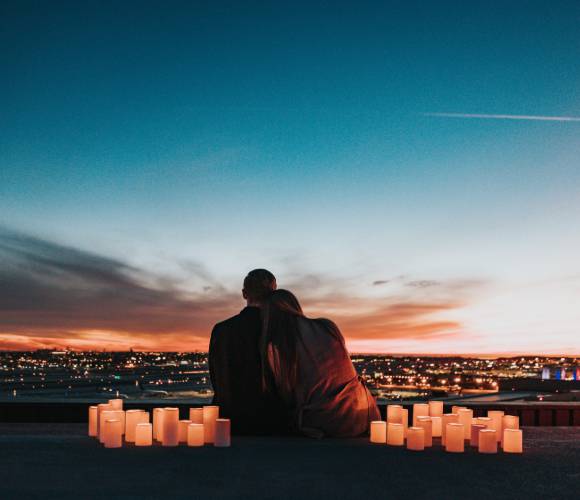 Ibiza is a wonderful place to holiday as well as to honeymoon. World-famous beaches, UNESCO-recognised landscapes, and both a warm culture and people attract return visitors year after year to enjoy quality time with the ones they love. And who doesn't love to start your life together than with a warm Spanish welcome?

1. The beautiful Ibizan landscapes

Ibiza's honeymoon-perfect backdrops range from rugged cliffs to the walled city's bastions of Dalt Vila. These landscapes will make your "just married" photos the envy of everyone you know.

You can also hire a photoshoot on a llaüt, a beautiful Balearic boat traditionally used for trawl fishing. Nowadays these vessels are more a piece of craftsmanship and perfect for taking you out on the blue sea to take some idyllic shots.

2. The serene environment

Once you've hopped in a taxi at the airport, you can start shutting out the rest of the world for some downtime. Ibiza embodies everything chill-out, it's truly an entire island devoted to relaxing and having a great time away from it all.

Choose an Ibiza honeymoon all-inclusive hotel and you can really let go of all your worries: never need to go searching for a restaurant or worry about eating on time. The hotel can take care of everything for you.

3. The cuisine

Food is a highlight of any stay in Ibiza. The daily catches brought in by local fishermen means you can indulge in traditional Catalan dishes every meal. Fresh fish, tapas and tables outdoors with a view are some of the enchanting characteristics found in Ibizan restaurants. Breakfasts consist of fluffy tomato bread, or Spanish omelettes with a glass of buck's fizz unless you prefer healthier but still typical choices like yoghurt, local honey and fresh strawberries to start the day

4. The existing industry

The destination wedding sector has grown in recent years and Ibiza has gone from being the destination for many honeymooners to being the beginning of the whole process. So whether you plan to say, "I do," or not in Ibiza, you can start the party in paradise and then stay until after you've finished celebrating your vows.

Plenty of restaurants, agritourism and hotels cater to weddings and honeymoons so your choice of the first destination as a married couple can be organised to a tee with real professionals.

5. The architecture of Ibiza

The towns have a special charm on this island. Amid the unique architecture of the old town, formerly used as a refuge from pirate attacks, you'll find curious architecture in intimate and cozy churches and temples. This is why many people choose to get married in Ibiza, and you can also discover the old town feel with your new partner.

The romance of strolling through quaint villages and original architecture is bound to spur passion as you discover Dalt Vila together.

6. Rates in Ibiza

Depending on where you choose to stay, and what you plan to do while away, you can find discounts offseason of up to 50% compared to similar locations on the mainland. Ibiza is a very reasonable place to holiday and caters to all budgets, you can choose the level of luxury you want and not break the bank.

7. Things to do

When the party's over you don't want to have a comedown after the wedding ceremony. This would never happen at an Ibiza honeymoon resort! There's always plenty to do on the island, from water sports to guided tours. If you love to dance the night away at a nightclub or are an early bird that enjoys poolside yoga, you'll find this amazing honeymoon destination perfect for your special romantic getaway.
Back
Book in the official website Invisa Hotels
And enjoy exclusive advantages as a My Invisa Client
Upgrade
room*
Free Wifi
in the room
Sea View
room *
Exclusive
Offers
* According to availability