Travel to Ibiza for a week: these are the best plans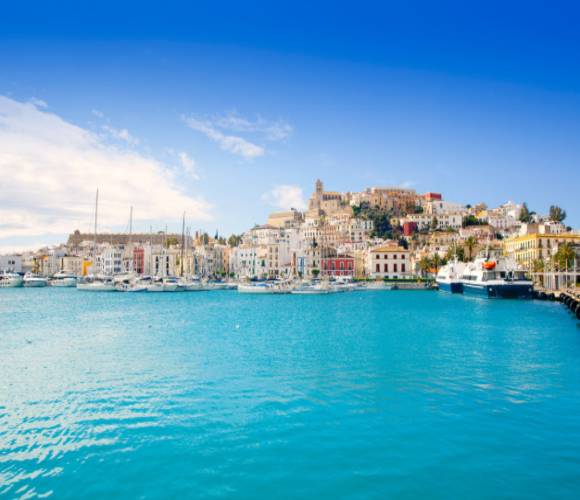 Are you the kind of traveller who loves to get to know a place top to bottom when you visit? You're in the right place!
If you're planning to travel to Ibiza and especially enjoy exploring every corner of a destination, getting a real taste of the culture, biodiversity, history and entertainment, we've made the ultimate 7-day guide for you. Since there's so much to see, we've made a plan for you to see as much as possible, even on an Ibiza 1 week trip.
Any less than a week would make it hard to see the most important parts of the Mediterranean island, and there's so much to see if you travel to Ibiza. But this doesn't have to be a one-time trip… Why not make your next trip: Ibiza 2022?!
Here's everything you need to know, where to eat, what to see, and how to explore Ibiza in 2021.
1st day of travel to Ibiza 2021: discover the culture and museums
The first day of your tour should be to explore the island and get in touch with its historical and cultural past. In this sense, it is essential to head to the city centre of Ibiza — the capital of this paradisiacal destination — and discover all its old worldly streets and modern museums on a pleasant walk. Stroll through the walled historic center, also called Dalt Vila, dating back to the seventeenth century.
Ibiza was declared a World Heritage Site by UNESCO because of how unique the streets of this old town are. There are other points of the island that contributed to this classification, however, such as the Punic necropolis of Puig des Molins just 10 kilometers from the city centre. Without a doubt, this is another spot to include in the itinerary on your first day, if you have time and some sunscreen on hand.
To enter Dalt Vila, we recommend crossing the great walls through the gate of the Sant Pere Bastion, the best high-point from which to appreciate the robustness of the fortification. The main entrance is, in fact, located between the bastions of Sant Joan and Santa Lucía, known as Puerta de ses Taules, so don't simply follow the crowds to this popular entrance!
Once inside the old town of Ibiza, take all the time you like to go up and down its narrow streets with white houses. To see the panoramic views of the area and get a feel for your Ibiza holiday destination, climb inside the walls to the parapets and gaze over the sea.
Specifically in the great bastion of Santa Lucía, located on the seashore, you will be able to spot the city's great fishing district. However, many consider the best panoramic views to be those from the viewpoint of the Plaza de la Catedral.

After such a culture-filled day, there's no better plan than to take a rest after a long walk in one of the most recommended restaurants in Dalt Vila: Bar San Juan if you love a mythical and picturesque bar with varied tapas, or Simbiosis if you're looking for a delicious vegan option.
2nd day: go to an Ibizan market
The hippie markets on the white island are just unmissable.The artisanal products sold in the dozens of surprising local stalls make perfect keepsakes to remember your trip, or unique gifts for those who couldn't join you.
One of the most popular markets is called Las Dalias and is located to the north of the island. Las Dalias market is said to be one of the most mystical places, since 70s and 80s hippies arrived in Ibiza from mainland Europe to become permanent residents and local artists.
Here you will find all kinds of products, from clothes and accessories, to handicrafts, decorative elements and musical instruments. You can browse this colourful and friendly location every Saturday from 10 in the morning to 8 in the evening. If your Ibiza 1 week trip happens in the summer, however, from 7pm to just after midnight the magical night market is held with music and an even more lively atmosphere.
Another of the most recommendable markets is La Forada Market, whose strong point is that it sells organic products. Located in San Antonio, more precisely in Buscastell, La Forada makes for a very pleasant afternoon because it does not attract tourists en masse. This is a great alternative to avoid crowds.
The market takes place every Saturday from 10 in the morning to 4 in the afternoon. In it, you will find stalls of fruit, vegetables, artisanal jams, pickles, bread, and other organic products produced locally.
3rd day: beach and sunbathing
Who takes a trip to Ibiza and doesn't visit the beach? Noone we've met! And why would you, when the beaches and coves of the white island leave all visitors aghast at the crystal clear waters, fine white sand and stunning cliffs or forest surroundings. Here are some of the best from the well-catered to near-virgin stretches of sand in Ibiza 2021.
Playa d'en Bossa
Playa d'en Bossa is the longest beach on the entire island. Its atmosphere is very pleasant, since it is frequented by many families and young people. There's a great variety and offering of leisure activities just a few meters from the shore, as well as cafés, eateries, and ice cream stalls to replenish energy after your water sport adventures.
Santa Eularia des Riu Beach
Santa Eulària des Riu is a beautiful beach with postcard-style views. The fine sand and clear water together with the bars and restaurants make this beach a wonderful place to spend several hours.
Being just a few minutes from the wonderful 4-star Invisa Hotel La Cala, this beach is known for being less busy than many other stretches, around San Antonio for example, and that's why Invisa chose to set one of its resorts here. This is where you can have an exceptional Ibiza holiday, good night's rest, and wake up to views of the sea and pool.
Es Figueral Beach
Es Figueral beach, in addition to having Ibiza's trademark turquoise views, is currently considered one of the best beaches in Ibiza. If you'd like to be near this area throughout your stay on the island, perhaps so that you can pop out to see the sunrise or set every night after each day's adventures, we recommend the Invisa Hotel Club Cala Verde or Cala Blanca, part of the Invisa Figueral Resort, depending on whether you prefer a place for children or just couples and friends.
Es Canar Beach
Not far from Es Figueral, you will find Es Canar beach. Some of the best Ibiza travel advice we can give is to spend a few hours sunbathing and paddling at this small 300-meter beach. It has a picturesque port at one end and mountains at the other, making it one of the most beautiful landscapes on the island. It is also quiet and not overly populated, but if you want to stay close, the family-friendly Invisa Hotel Ereso is a wonderful option.
4th day: discover the flora and fauna of Ibiza
After discovering the historical heritage of the island and bathing on its world-famous beaches, it will be time to surround yourself with nature and recharge in fresher air at Ses Salines. This park of more than 15,000 marine and terrestrial hectares is full of different species of flora and fauna, including flamingos and dolphins, depending on what time of year you visit. The nature here is very typical of the Balearic Islands, but exotic to visitors. Much of this is thanks to the posidonia underwater meadows that form part of Ses Salines.
If you come to Ibiza in 2021, we recommend coming here with a local guide who can help you delve into the history of the place and guide you in how to spot and respectfully observe the wildlife. Enter the Ses Salines Natural Park and bask in the splendor of its impressive landscape and viewpoints.
5th day: the magic islet, an unmissable on any Ibiza holidays
Many people plan to travel to Ibiza at a time of year when they can see the most amazing sunset on the white island. Sunsets and beaches gave Ibiza its charm and fame, as well as the nightlife and parties. But anyone who wants to appreciate everything the island has to offer will visit Es Vedrà, and ideally at sunset.
Cala d'Hort, one of the most beautiful coves in the southeast of the island, is the viewing point we suggest for one of the most magnificent views you'll enjoy of the sunset. Also, there is a "best time" to come to Ibiza if sundown is your favourite time of day: between May and September, most Ibiza travel advice outlets state that the best sunsets happen over the islet.
To take advantage of the day and stay near Es Vedrá for sundown, drive round to take a dip in Cala Llentrisca, a cove near Cala d'Hort and actually one of the most secretive in Ibiza. Here, you can find peace, tranquility, and privacy.
If you're finishing the day here, make sure you taste some of the most typical dishes of Mediterranean and Ibizan cuisine in one of Ibiza's very popular restaurants: the Cala d'Hort restaurant. You can spend a divine evening here just off the beach if you book in advance, especially in high-season.
6th day: venture to the north of the island
To the north of the island there are some of the best beaches for snorkeling and diving, among other water activities. Marine diversity is best appreciated here if you're a strong swimmer, but you can enjoy plenty near the beach in rock formations and along the cliffs.
However, if water sports are not your thing, no problem. There are plenty of alternatives to have fun in the north of the island, such as taking a mud bath in Aigües Blanques. If you take us up on this idea, make a stop in the nearby town of San Carles on the way to Aigües Blanques and taste the most typical dishes of Ibizan cuisine at Bar Anita. This restaurant is exceptionally traditional and makes delicious food.
In the north, you might also visit the Cova de Can Marçà, in San Miguel: this cave is located inside a cliff about 14 meters above sea level, and is said to be more than 100,000 years old.
Finally, if you go to the Portinatx area, you can swim along its small and beautiful beaches. From here, it's also recommended to take an easy walking excursion to the beautiful Es Moscarter Lighthouse and the beaches of S'Illot des Renclí. All of these beautiful and sandy areas are a breath of fresh air and covered with views that feed the soul.

7th day: rest and say farewell

The last day of your Ibiza 1 week trip should be to rest and say goodbye to the island. Why not disconnect in a hidden and quiet cove, such as Es Pujolets, one of the most romantic coves on the island, located right next to Cala Tarida? The amount of quiet corners you still have to enjoy, even after 7 days of touring the island, might surprise you if you know Ibiza for its clubbing scene!
One final-day activity that we see a lot at Invisa is people simply relaxing by the pool, strolling on the beach, and enjoying the sun and beautiful hotel rooms in which they've spent the last 7 happy days. Whatever you choose to do to refuel and prepare yourself to return home, we hope you make the most of your trip here with this Ibiza travel advice.
Back
Book in the official website Invisa Hotels
And enjoy exclusive advantages as a My Invisa Client
Upgrade
room*
Free Wifi
in the room
Sea View
room *
Exclusive
Offers
* According to availability