What to See and Do in San Antonio, Ibiza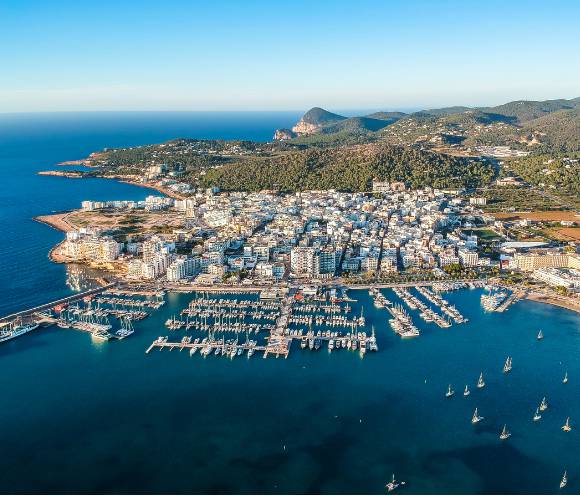 If you're here, you're wondering what to do in San Antonio, Ibiza! Some of the best days out can be had in San Antonio, and many fun restaurants, bars, beaches and resorts exist for everything from group party trips to romantic getaways. Plus, it is an area of enviable natural beauty.
The northwest area of the island is most populated in the area of San Antonio Abad, or Sant Antoni de Portmany. This town has grown along the coastline of San Antonio since the 1960s and has been developing as a unique tourist attraction on the island. Let's dive into what to see, do and eat in San Antonio, Ibiza:
4 answers to the question: "What to see in San Antonio, Ibiza?"
The repertoire of places you can visit in San Antonio is endless. You can reach many tourist spots easily in this area by car, bike, bus and even on foot. The best things to see in San Antonio, Ibiza are easily accessible from the Es Pla resort. Here are our top 4!
1. The church of San Antonio
This the second oldest church on the island, second only to the Cathedral. Was constructed for two key purposes. On one hand, it was built as a place of worship, but its architects also had a great strategic approach to build it as a solid fortress against invasions.
Its first use was authorised by the Archbishopric of Tarragona in 1305 and it was reformed 200 years later. In the 17th century, the polygonal tower and several battlements that we can see today were added to the structure.
2. Columbus' Egg
This sculpture's official name is the Monument to the Discovery of America but it is known as the Egg of Columbus. It is located on the roundabout at the entrance to San Antonio and is considered one of the most iconic images of this Ibizan town.
It is made of reinforced concrete and, inside it, there is an iron replica of the Santa María ship, pointing toward America. The monument was inaugurated in 1992, coinciding with the 500th anniversary of the discovery of America.

3. The Cultural Space of Sa Punta des Molí

On a rocky ledge in San Antonio's bay, you'll find one of the most outstanding cultural spots of the town. The centre holds activities throughout the year, aiming at promoting and reinforcing Ibizan culture at every opportunity.
This means that during your visit, you might find spontaneous activities, as well as being able to explore a magnificent restored mill, a waterwheel, and a typical Ibizan house converted into a modern exhibition hall. Inside the hall is housed a restored typical trull. No idea what a trull is? We looked it up! It is the space that produces oil with primitive machinery used to crush and press olives.
4. Walk along the Maritime Coast

A promenade stroll is one of the most pleasant and recommended activities for all visitors. You can go from the port along to Caló des Moro, a small sandy cove located just outside the bay. Without a doubt, this is a beautiful site to see in San Antonio, Ibiza.
If you continue the walk you'll reach the Coves Blanques lighthouse. On this day trip, you can make a stop at the famous Café del Mar and refresh yourself with privileged views of the Mediterranean. What a day out
5 answers to the question: "What to do in San Antonio, Ibiza?"
The list of activities to do in San Antonio is extensive and there's something to suit all tastes. Like to be active? Plenty for you! Prefer to relax and recharge? We've got you!
Choose almost any activity you'd like to try and put it into practice in this part of the island. Here are 5 of our suggestions of what to do in San Antonio, Ibiza!

1. Water sports
If you like the sea breeze you can enjoy a multitude of water sports in Ibiza's coves and dreamy beaches, such as snorkelling, paddle surfing, or even renting jet skis.
2. Sunsets in San Antonio
What could be a better plan for your evenings than watching the day pause at sunset? The north of the island is home to a multitude of points to sit and enjoy the going of the sun at the end of the day. You can choose a natural cove from which to watch the sunset or a trendy bar, take your pic!
3. Boat trips
Numerous boats depart from San Antonio's port for all sorts of excursions. You can go to the best beaches in Ibiza or take a tour of the wonderful Ibizan coastline. There are also longer excursions to the magic islet of Es Vedrá and Ibiza's sister island, Formentera.

4. Swim by the beach of S'Arenal
S'Arenal is one of the best beaches in the San Antonio area. This does make it one of the busiest but, therefore, the best catered to for access and refreshments. Parallel to the promenade, the beach hosts a wide range of leisure either with rental equipment or tour guides, as well as restaurants and water sport schools.
5. Practice yoga
Throughout the entire bay of San Antonio there are many ideal spots to practise yoga. If you want to locate a yoga school you can try one of the many expert-led groups, or simply set up your mat looking out on incredible natural landscapes and breathe in the fresh sea air.
The best answers to the question: "Where to eat in San Antonio, Ibiza?"
Sitting down to enjoy the gastronomy of Ibiza is probably high on your list of what to do in Ibiza! If you're wondering where you should eat in the area specifically, here are our recommendations, from years living and working in Ibiza:



Rebost de Can Prats specialises in Ibizan meat, fish and seafood.



The Es Ventall restaurant offers traditional recipes such as Bullit de Peix, Sofrit Pagès or the delicious

greixonera pudding

.



Es Gerret alternatively, has a unique gastronomic proposal with extremely avant-garde cuisine.



Which will you choose to visit first? If you're hoping to just see and feel the vibes of a place to eat before trying, a simple stroll along the promenade will offer you dozens of places to choose from.
As you can see, San Antonio, Ibiza has everything you might need during a dream vacation and so much more. Now that you know what to see, what to do and where to eat in San Antonio, all you need to do is book a beautiful hotel with a pool, on-site catering and plenty of entertainment!
Back
Book in the official website Invisa Hotels
And enjoy exclusive advantages as a My Invisa Client
Upgrade
room*
Free Wifi
in the room
Sea View
room *
Exclusive
Offers
* According to availability