When to book your Ibiza holidays: tips and tricks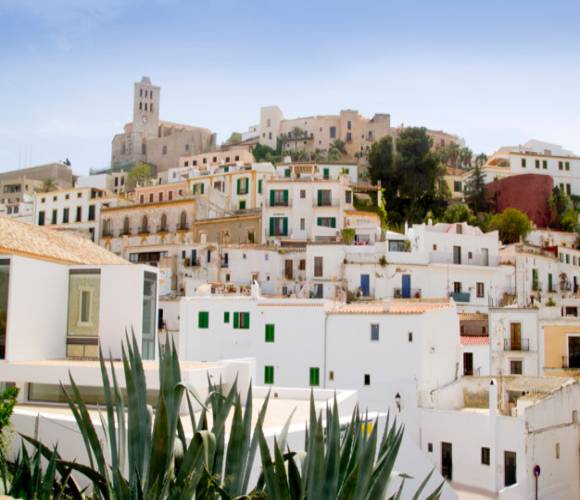 Holidays should be a time of rest, not stress. So when you're planning that well-deserved trip that you've been looking forward to all year, why burden yourself with debt and expensive travel costs? We certainly don't want anyone to feel like their holidays are a financial headache, so let's check out the best ways to protect your own economy, without sacrificing fun and quality.
Timing is everything on the largest expenses
For most trips abroad, your biggest opportunities to save money are when booking your flight and accommodation. Knowing how and when to book is the biggest gift we can give you for your holidays in Ibiza. In fact, the majority of Ibiza holiday deals can be found on our website! But there are even more ways to save in advance of your holidays. Check out our recommendations for when to book:
1. Your hotel, a month in advance
Our top recommendation as to how much time in advance you should make a reservation is at least 30 days prior to the holiday. Keep in mind that room prices do not fluctuate as much as airline tickets do, according to when you book. Most hotel sites are not responsive to trends, but getting your accommodation reserved a month ahead of a trip usually helps travellers save money.
2. Last minute
On the other end of the scale, you can also test your nerves and hold on to the absolute last minute to book your hotel. Occasionally, you can grab Ibiza holiday deals if you're willing to take a risk and wait until only a couple of days before your desired travel date. This is a good course of action if you're not too picky about your accommodation and happy to make any location work.
3. Flights, far in advance
Depending on where you're travelling to and from, there are quite clear recommendations from experts on when to book, but you do need to secure flights sooner rather than later. For short-distance routes, the recommendation is to book seven weeks in advance, while for long-distance routes, the ideal is to do it five to seven months before travelling. By knowing how to use these spans of time to get discounts, you can save between 10 and 20% according to a Skyscanner report.
When it comes to Ibiza holiday deals, travellers can often save 10 to 25% by booking more than three weeks in advance. The same study indicated that waiting until the last minute to buy tickets to Ibiza tends to lead to ticket prices 35% higher, due to the island's reputation for being a sound and reliable holiday destination, with sun all year round.
When you book matters, when you travel matters more
Deciding the dates you'll visit Ibiza can also lead to savings. Here are some tips to help you choose your dates. Read closely if you plan to buy all inclusive Ibiza holidays, especially!
1. Skip the summer season
Prices in the off-season are much more affordable than when demand is highest, in the summer. The high season in Ibiza broaches the months of July to September, when the island's nightlife reaches its boiling point. If your main objective is for your holidays in Ibiza to be at the hottest time of the year, and mostly only go out at night, to go clubbing for example, summer is your time to visit.
On the other hand, if you prefer to go when there are fewer people and enjoy comfortable warm temperatures, the months of April, May and October are more reasonably priced. This is still perfect beach weather and there is plenty to do. Even cheaper, the low season for holidays in Ibiza is from November to February. At this time of the year, you'll find all the cultural and natural attractions of the island much less crowded, and flights plus hotels cost less than in high season. You'll actually find flight price differences of up to 25% between January, which is the cheapest month, and August, which is the most expensive month and a time with few Ibiza holiday deals.
2. Mid-week trips are cheaper
Hotel prices go up if you plan to travel on the weekend of course. If you are lucky enough to have freedom or control of your schedule, try to travel during the week and grab much cheaper prices. This is one of the great principles of price fluctuation in the hotel sector: any days when there are fewer guests are cheaper, and that means mid-week trips are budget-friendly. In addition, you'll avoid the crowds and can enjoy Ibiza in a more leisurely way.
3. Fly on a Tuesday afternoon
Save up to 12% just by flying on a Tuesday! In line with the hotel costs, the most expensive days to fly are Saturdays and national holidays. Tuesdays are not a popular day to start a holiday so the afternoons tend to be the cheapest slots, especially after 6:00 p.m. This is because flying in the afternoon tends to increase the chance of delays. Simply weigh up your options and whether you're happy to overlook a slower start to your holidays in Ibiza but for a cheaper price.
Top 4 tips not affected by timing
Timing is not everything, but it's a large part of your savings! However, if you can't be flexible on dates or booking timing, here are some ways you can still find Ibiza holiday deals:
1. Contact the hotel directly
One of the most common ways to book a trip is by using hotel search engines and comparison sites for flights. But a lesser known trick is that, by calling the hotel establishment directly or searching on their own website, you can often find discounts based on availability and occupancy at that time. A room cancelled at the last minute may result in a special price, for example. This is especially true for all inclusive Ibiza holidays, and at Invisa Hotels, we share savings with our guests transparently.
2. Skip the roundtrip
Book your return trip separately, it's as simple as that! The common belief is that booking flights to Ibiza and back is cheaper, but nothing could be further from reality. Often if you buy the two directions separately you might get much cheaper flights, especially within Europe.
3. Set price alerts
Need we explain this? Airlines and comparison platforms have added price alert options to their mobile applications and, if you know where you want to go but want to book when flights are cheapest, set yourself an alert and book when it pings.
4. Pair your flight with a hotel
Package holidays enjoyed popularity in the 90s, but they're not entirely retro. Today, booking a flight plus hotel package is still an outstanding option to save money. Package holidays tend to be cheaper than if you book flight and accommodation separately because the hotel or airline will have negotiated a deal with the other. Moreover, if you plan to rent a car, this will also likely be cheaper if you include it in your package holiday.
We hope that, with these tips and tricks, you can book and start looking forward to your next Ibiza holidays. We can't wait to see you at Invisa Hotels.
Back
Book in the official website Invisa Hotels
And enjoy exclusive advantages as a My Invisa Client
Upgrade
room*
Free Wifi
in the room
Sea View
room *
Exclusive
Offers
* According to availability