Where to dine in Ibiza with a view: 7 classy restaurants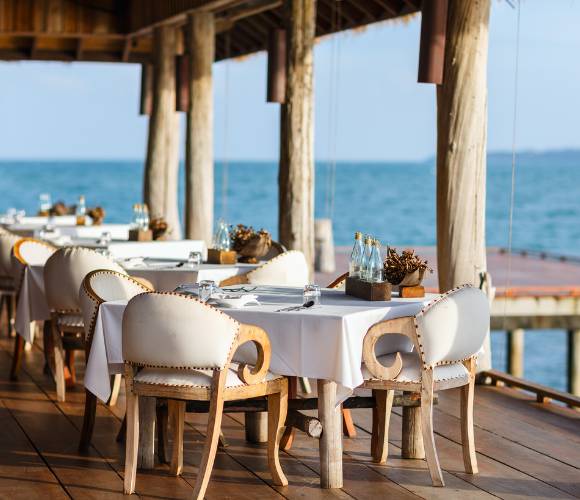 Not only can you look out onto the virtues of the Mediterranean if you snag a table at the restaurants in Ibiza we'll tell you about today, you'll dive into the rich gastronomic variety of the island: a melting pot of cultures are represented in the dishes served here and local ingredients take pride of place.
Ibizan-grown produce and traditional recipes, overlooking the sea or rolling almond-flower hills? Sign us up! Here are the places we'll be at this year, dining in Ibiza with views to die for.
1. Marytierra, one of the best restaurants to dine in Ibiza
On this exciting journey of discovery of "where to dine in Ibiza", we'll stop at some of the most striking and attractive establishments on the island.
The first restaurant in Ibiza that we love is in the quiet Santa Eulalia del Río marina. We'll look out for the Marytierra sign which signals this traditional seafood restaurant in Ibiza. Most memorable perhaps are its dishes with tuna and the delicious prawns. Its American hamburgers are also popular with visitors!
2. El Carmen restaurant
Boy, do we have a treat for you! One of the restaurants in Ibiza that our Invisa family often frequent is right in front of the islets of Es Vedrà and Es Vedranell. These are the magical epicentre of the island, and are gazed on by the El Carmen restaurant.
In addition to being 10/10 in terms of location, perfect to dine in Ibiza with a view of more than just your loved ones, Carmen has an extensive menu that will please even the pickiest eaters. Its specialties are fresh fish and rice dishes, and any visitor to Carmen will tell you not to leave without having tried their desserts. See you there?
3. El Roto, one of the top restaurants in Ibiza to spend an evening
Another stop on our culinary journey will be at another marina, this time the main Ibiza city location. Here's where to dine in Ibiza if you're looking for a whimsical name, "the broken" and some fun atmosphere, music, fashion and, of course, great views.
El Roto presents a global concept of culinary experience, beyond the plate, making an experience of any meal. The delights of their Mediterranean recipes are melted itto Arab, Greek, Italian influences as well. El Roto is an undeniable crowd favourite.

4. Sa Caleta, one of the restaurants in Ibiza with some history
Sa Caleta is one of those places that are unforgettable for its beauty. Within this cove you'll find a restaurant by the same name, established in 1988 by the Pujolet family. The cove is in the municipality of Sant Josep de Sa Talaia, where the family was based to stay close to this restaurant in Ibiza, and our Invisa tema likes to visit Sa Caleta when we want the freshest seafood and produce from their organic garden.
Rice, seafood, fish, vegetables and top quality vegetables are the specialties, but this is so much more than a restaurant in Ibiza! Sa Caleta has an extensive car park for convenience, massages, a fashion boutique, a relaxation area, plus a cocktail and natural juice bar. If your question goes beyond where to dine in Ibiza, but to "where can I spend an entire day in Ibiza," this restaurant and cove is the answer.
5. El Bigotes
No whiskers go into the dishes here! Only flavoursome ingredients. Many would tell you that El Bigotes is one of the most significant venues in Ibiza to dine with a view. It is in Cala Mastella, in the municipality of Santa Eulalia del Río, and the view from the restaurant is unbeatable. This beach bar has a rustic flavour that comes from the firewood cooking technique.
One of its fish specialties is the bullit de peix with the rice dish called arroz a banda is highly recommendable. Mixed salads also stand out on the menu for those of us at Invisa who are watching our waistlines to look good by the pool!
6. El Amante - Cliffside dining for a spectacular meal in Ibiza with a view
Right on a cliff overlooking the cove of Sol d'en Serra, a unique establishment for dining in Ibiza with a view is El Amante. Mediterranean cuisine is the raison d'être of this restaurant in Ibiza, where Spanish and Italian dishes coexist with a selection of fresh fish and grilled meats.
This 2022, in addition, we will be celebrating 4 full moon nights with them, which have been running from June to September and El Amante will offer four different tasting menus. Without a doubt, we can confirm this is one of the most outstanding beach establishments in the whole of Ibiza. It's a popular spot so don't forget to book in advance!

7. La Mar de Santa: another stunning restaurant in Ibiza
When asking locals about restaurants in Ibiza with a view worthy of a special evening, a lot of people have mentioned La Mar de Santa. Discrete, located in the small cove of Ses Estaques in Santa Eulalia del Río, diners enjoy a wonderful panoramic view over Formentera in the sea.
In La Mar de Santa you'll taste high-quality modern Mediterranean food with Ibizan touches, designed by the renowned local chef Vicent Ferrer. The recommendations from the Invisa team are to try the typical dishes here, such as bullit de peix or grilled lobster. There are plenty of dishes to share too, and a large selection of rice, fish, and meat options.

The gastronomic offering in Ibiza is, luckily, just as impressive as the coves and beaches you'll look out on merit. Note that, on those days you just want to relax and stay close to home, our hotel restaurants are always open, and we have the Marina restaurant at the Invisa Hotel Club Cala Blanca, which we encourage you to discover if you're wondering where to dine in Ibiza with a view. Bon appetit!
Back
Book in the official website Invisa Hotels
And enjoy exclusive advantages as a My Invisa Client
Upgrade
room*
Free Wifi
in the room
Sea View
room *
Exclusive
Offers
* According to availability