Yoga retreats in Ibiza: 5 glorious days of practice in 2022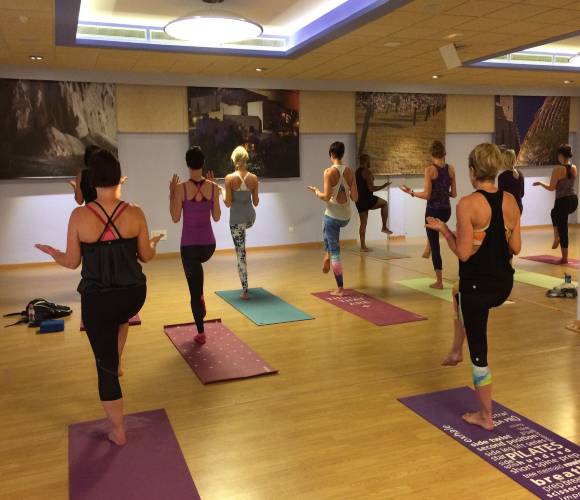 You might feel like a week isn't enough to dedicate to yoga in Ibiza. True followers and lovers of yoga know that it is more than a traditional spiritual, physical and mental discipline. It is a way of life.
Nonetheless, we can spend one week of 52 completely dedicated to the practice of yoga, in Ibiza! Since the physical practice and the mental connection go back such a long time, Ibiza is the perfect place for both. The island has centuries of history, architecture left from multiple conquests and peoples, and Ibiza is said to be an earthly paradise! All this leads us to say that yoga retreats in Ibiza are a real wonder.
As others noticed that this is also the case, Ibiza Yoga Week was organised and 2022's edition will be held from June 17th to the 21st in five different municipalities on the island.
The week is organised and led by Ibiza Health and Beauty, a health and wellness club that promotes tourism in Ibiza, but many people get involved. This, a non-profit association made up of private entities, supports the public administration at a local, regional, and national level to promote health, beauty, and wellness tourism in Ibiza and Formentera.
Five days full of activities to enjoy yoga in Ibiza
We must know that this event has a beneficial purpose. The activities of the Ibiza Yoga Week 2022 will have a small daily cost of 7 euros, and the proceeds will go to the Multiple Sclerosis Association of Ibiza and Formentera (AEMIF).
June 17 for a tour and yoga at the Santa Lucía Bulwark
The activities of Ibiza Yoga Week 2022 all start on June 17th at the Santa Lucía Bulwark, with an outdoor yoga class at 9:00 am. This is guided by Mireia from White Yoga Ibiza.
Mireia is a true specialist in Kundalini, Hatha, Vinyasa, Wheel, Gravity, aerial Yoga, restorative and boxing Yoga. In addition, she is an Emotional Integration Therapist and Reiki Master.
After this session, all are welcome to a cultural visit to the old town of Dalt Vila, where you can enjoy first-hand all the history that this unique city houses in its walls.
June 18 welcomes yoga by the Can Marça caves
A yoga class with Francesca Marchioro has been scheduled for Saturday June 18th in Sant Joan at the Port of San Miguel at 9:00 am. Marchioro is a yoga teacher and Ayurvedic therapist.
Looking for a yoga retreat in Ibiza? You're in luck, since Marchioro, as a specialised masseuse and nutrition therapist, organises retreats in Ibiza, this is the perfect opportunity to try out a class and see if you enjoy the instruction style!
To complete the experience, there will be a visit to Sa Cova de Can Marça, one of the caves in Ibiza that all visitors must see on a trip to the island. This cave is a place of exceptional geological interest: it is one of the most important on the island of Ibiza as it covers so much space: an area of 8,500 square metres. The most representative value of the cave is the presence of numerous mineral formations such as speleothems, stalactites, stalagmites, columns, lava flows, and even stalagmite floors.
June 19 for a stroll at the Mariners beach
The next day, June 19th, it is Santa Eulalia' turn to host. A yoga class led by Vanesa Canto Bodymind that will take place on the Mariners beach. The morning exercise will end with a walk along the river so you can enjoy nature during your practice, meditation, and a stroll. If you are looking for accommodation for Ibiza Yoga Week 2022 to stay close to Santa Eulalia, the most tranquil area of the island, an excellent option is Invisa Hotel La Cala.
June 20 brings paddle surfing as well as yoga in Ibiza
On Monday, June 20th, the day's fun will take place in Sant Josep, specifically on Cala Vedella beach with teacher Patri, specialist in Yoga Punto Can Pal, which professes to help people use their own bodies as medicine. Based on traditional Chinese medicine and vinyasa, you'll work all your core, strength, aerobically, and mentally.
The yoga practice will be complemented by a paddle surf excursion run by the experts at Sup Yoga Ibiza. This is another very attractive combination of yoga and outdoor sports promoting a sound body and mind.
June 21, the International Day of Yoga, in Ibiza
Finally, Ibiza Yoga Week 2022 ends with the international day of yoga on June 21st. In Sant Antoni, a special event will be held at sunset starting at 8:00 pm. Down in San Antonio's bay, at Sa Punta des Molí, six teachers will perform 108 sun salutations. In addition, there will be accompanying music thanks to Ibiza Global Radio and DJ Sylvia Operé. Are you going to miss this incredible event?
Yoga retreat Ibiza, find out!
You have just seen an agenda full of yoga activities, but in Ibiza, the passion for this sport does not last only a week. Ses Portes, Playa es Figueral, the Moscarter Lighthouse or the cliffs of Cala d'Hort are some of the most popular places for yoga retreats in Ibiza, and people visit Ibiza to practice yoga here all year long.
If you prefer outdoor practices the summer mornings are perfect for yoga in Ibiza, but the island is home to a multitude of points where you can practise yoga indoors too. Simply unroll your mat and take a spiritual journey in nature that is born of centuries of magnetism.
Without a doubt, Ibiza's wildlife, beaches, rolling hills, and sunrises have everything you need to enjoy caring for your body and mind. Whether you stay with us at Invisa or not, enjoy your time in this stunning location!
Back
Book in the official website Invisa Hotels
And enjoy exclusive advantages as a My Invisa Client
Upgrade
room*
Free Wifi
in the room
Sea View
room *
Exclusive
Offers
* According to availability