13 Cheapest Restaurants in Ibiza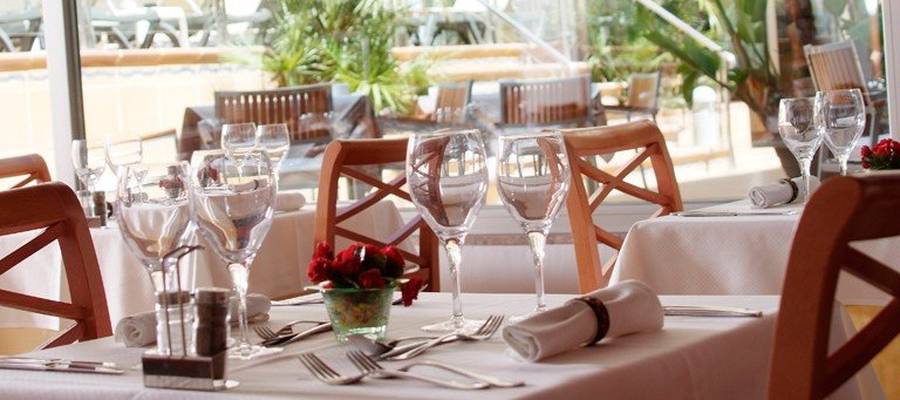 Of course it's fine to splash out occasionally, but eating out when you're on holiday can be ghastly expensive business. Food, drink, starters, desserts... before you know it you're not even halfway through your holiday but you're already broke...! We've all been there.

But nowadays it doesn't have to be like that. In the age of competition and value for money you no longer have to spill into the first restaurant you come across when you're on holiday in Ibiza – instead, you can ask the smartest guy I know: Mr Internet. He'll be able to give you practical tips and helpful advice on the best restaurants with the greatest value for money. In that spirit, here are 13 of the cheapest and most amazing restaurants in Ibiza, where you can get a great meal, have a fantastic time in a brilliant environment – but crucially not have to take out a second mortgage or an emergency loan to pay the bill!

1. Moe's Sports Bar & Grill

Perfectly situated in a beautiful spot in Es Canar, Moe's Sports Bar & Grill is a simple, down-to-earth kind of place where you can have a great meal with a relaxed ambience. This great Ibiza restaurant, as the name suggests, offers all kinds of barbecue food, and is a really fun place to go for all the family. Meals are cheap but high quality.

2. Restaurante La Marina (en Invisa Hotel Club Cala Blanca)

La Marina at Invisa Hotel Club Cala Blanca is a restaurant home to one of the most spectacular views on the entire island of Ibiza, as well as some of the greatest food, too! The restaurant serves a range of international foods in a buffet style, and is a great place to relax and enjoy a delicious meal before heading out for an evening stroll along the beach or into the neighbouring resort.

3. La Cava Tapas Bar

La Cava is a great bar serving amazing cocktails that are a sight to behold, all at very affordable prices. The bar is open every day from 9am until 2am the next morning, and can provide all your need for a chilled out evening away from your hotel. The tapas provided is authentic Balearic cuisine and can cater to all tastes and needs. This is the place to be for an affordable yet traditional sample of Ibiza's food and drink scene.

4. Tamarama Café

The Tamarama Café is a hotbed of everything fresh and flavourful on Ibiza, where food from all over the world is brought together just a stone's throw away from the glamorous Santa Eulalia marina. The menu may be extravagant but the prices certainly are not, so you can enjoy everything this great restaurant in Ibiza has to offer without worrying too much about the price tag.

5. La Brasserie (en Invisa Hotel Club Cala Verde)

This amazing and affordable restaurant is located within the Invisa Hotel Club Cala Verde, situated just a few steps from the gorgeous beach at Es Figueral. It therefore not only provides great food and drink, but also stunning views in breathtaking surroundings, making it the perfect place for a romantic meal out in Ibiza. La Brasserie provides a range of styles and cuisines, with a view of the Mediterranean that is out of this world!

6. Es Tap Nou

Es Tap Nou is a traditional restaurant popular with locals and tourists alike, providing great Ibiza sustenance at low prices. Located on Carrer Madrid, make sure to call in and sample their great offering of pastas, seafood and traditional tapas. There's something for everyone and everyone can afford it! Definitely one of the best restaurants in Ibiza.

7. Bon Profit

Bon Profit is located in Plaza del Parque, making it conveniently located as well as one of the greatest restaurants in Ibiza. It has a relaxed yet traditional ambience, offering a daily specials menu at rock bottom prices. The desserts here are also a must-have!

8. Vinyl Burger Ibiza

I don't wish to oversell Vinyl, but this has to be the single best place in Ibiza for a burger and a cocktail – they're both simply out of this world! Prices are very affordable indeed (no more than 10-15 per head for food) and the servings are very generous, making it even more affordable, I'm sure you'd agree. It's got a strong reputation among hungry holiday-makers, so make sure you don't miss out and get there early!

9. Sports Café

The Sports Café in Playa d'en Bossa is not just your regular sports café, it offers a range of great food and drink for all the family in a relaxed, sports-themed setting. They have great music every day as well as the enormous range of sports screenings and events you'd come to expect from one of Ibiza's most popular bar and restaurant.

10. Es Boldado

The most striking thing about Es Boldado is the dramatic and impressive view over the nearby rocks – then how much you can get for your money. Without doubt one of the best restaurants in Ibiza, the menu is far ranging and the view just keeps people coming back.

11. Pizzaman

If you like pizza, you're probably going to love Pizzaman. Authentic, great pizzas in a relaxed setting, the prices will certainly keep you happy, too! Located in San Antonio, Pizzaman is a perfect pit-stop on your way to a few bars or even a club, and won't break the bank either!

12. ChopstiQs

A fabulous restaurant providing traditional Asian cuisine with a Spanish twist, Chopstiqs is a no-fuss, no-problems kind of a place. They also deliver, if you're feeling especially glued to that sunlounger, and the entire menu is very reasonably priced indeed. If you need to decide where to eat in Ibiza, this place is a great shout.

13. The Ship

Finally, the Ship Inn is a great British pub in the heart of San Antonio – for all you anglophiles who can't bear to be far away from home! The menu and drink are all as you'd expect from a traditional British bar, but for cheap eats in Ibiza you really can't go wrong. Enjoy!
Back
Book in the official website Invisa Hotels
And enjoy exclusive advantages as a My Invisa Client
Upgrade
room*
Free Wifi
in the room
Sea View
room *
Exclusive
Offers
* According to availability