13 Packing Tips for your Trip to Ibiza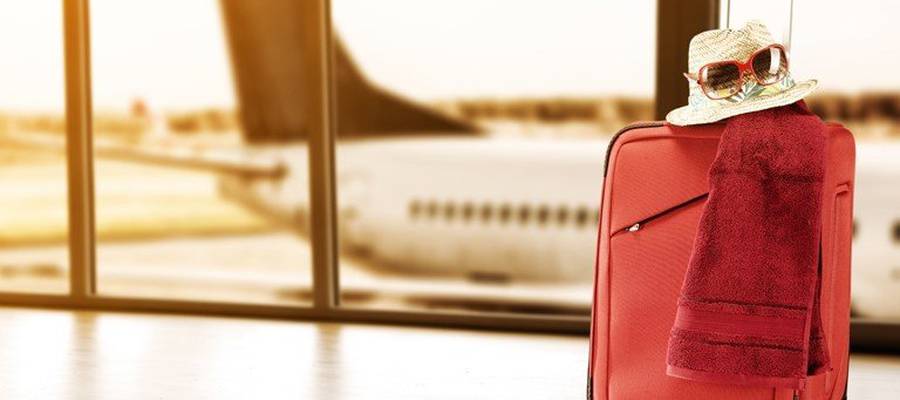 It's said that packing for a holiday and travelling through the airport can be one of the most stressful things you do all year – and we feel your pain. Going on holiday should be the most magical thing we do, but it's increasingly turning into a stress-filled drama, full of security, restrictions and regulations when all you want to do is be splashing about in the pool or relaxing on the beach.

Fortunately, we're experts in helping our guests make going on holiday a problem-free pleasure, from tips on how to pack for Ibiza and packing the best suitcase to getting through the airport hassle-free, you're in good hands when it comes to travel packing tips for Ibiza this year. Want to know our secrets, read our 13 packing tips for your trip to Ibiza below and feel free to share with your friends.

1. Invest in a good lightweight suitcase that will maximise your packing. Suitcases aren't all that expensive anymore, and if you get the right one, your holidays will be a breeze from now on. Get one that's very lightweight, on rollers - so you can transport it quickly through the airport – and one that has lots of internal space, of course.

2. Consider only taking hand luggage, rather than a checked-in bag. Not only will this save you money on your flight, it will also save you valuable time queueing at the airport. You can be off the plane and by the pool in no time at all. Size restrictions on bags taken into the cabin are also more generous than they ever have been (Ryanair 55cm x 40cm x 20cm plus one small personal bag, easyjet 56cm x 45 cm x 25 cm), so you won't have to wear the same t-shirt and shorts all week and can have more options when deciding what to wear in Ibiza.

3. Use ziplock bags to carry any liquids, gels or creams. Not only will this come in handy if you need to present them at security before boarding the plane, it will also protect your clothing from any leaks or spillages.

4. Pack smart. Instead of taking two or three heavy and bulky books to read on the beach, why not download a few to your e-reader? In the same way, instead of taking your entire guidebook on Spain and the Balearic Islands, why not just tear out or photocopy the important pages on Ibiza?

5. Be realistic when deciding what to pack for Ibiza. Make a list of what you'll need before throwing things in your suitcase – and stick to it! Once you've got everything out of the wardrobe ready to go in, a good rule of thumb is to get rid of about a third of the pile. We've all done it, heading back to the airport to fly home after a wonderful holiday and realising we haven't even worn half of the clothing we brought! Save time and effort by cutting down on what you take in the first place.

6. Speaking of how to pack for Ibiza, a golden rule that any good traveller will tell you is to roll, not fold. Rolling is your friend if you're dealing with a lot of clothes and limited room in your case. And it's not just a space-saving miracle, it also helps your clothes to avoid getting creased! A win-win.

7. Fill up all the space. If you're packing shoes, make sure they're stuffed with socks, underwear and anything else that will fit. Make the most of every millimetre of room, that's one of our all-time favourite travel packing tips for Ibiza.

8. Avoid deciding what to pack for Ibiza entirely and simply wear your heaviest clothing on the plane, like heavy trousers or jackets, sweatshirts and boots – not only will you be toasty warm on the plane, you'll save a huge amount of space (and weight!) in your luggage. Whilst airlines can be incredibly strict on the weight of your suitcases, and even your hand luggage, there's no way they'll be weighing you at the gate, so pile on those layers.

9. Make sure to weigh your luggage before heading to the airport. All airlines and airports impose weight restrictions (generally 20kg on checked bags and 10kg on carry-on items) so ensure you check exactly what your airline allows before arriving. Excess luggage can be very costly, and you don't want any nasty surprises at the airport!

10. If you absolutely need to take toiletries and medications when thinking about how to pack for Ibiza, it's a good idea to buy some little travel-sized containers that you can fill with what you need. Don't bother packing entire bottles of shower gel, after sun and bug repellent if you know you're only going to use a little.

11. Don't take anything with you that you can easily and cheaply pick up in the resort, a great trick for packing your suitcase. Be ruthless. Do you really need two types of shampoo and three types of family-sized conditioner? Probably not. Do you really need four beach towels, a different hat for each night of your holiday plus all your favourite cereals, coffees and biscuits in case you fancy a snack by the pool… also, we would hope, probably not! When you're deciding what to pack for Ibiza, think small.

12. Heading off for some time in the sun with your little ones? Nothing screams a bad start to a holiday like a screaming child on the plane… Push a few of their favourite small toys into your hand luggage (the smaller the better!) to keep them distracted, or if you're lucky enough to have an iPad or similar device, make sure it's fully charged and ready to keep the little ones entertained for the entire flight.

13. The last of our travel packing tips for Ibiza is to make a list of all those pesky little things that we all need on holiday but always seem to discover we've forgotten to pack. We're thinking here of phone chargers, camera batteries, travel plug adaptors and so on. Nothing spoils a holiday more than finding out you can't take any photos because of that one little cable you left on the kitchen table. Or even worse - finding out you have to spend two weeks attempting to read foreign newspapers and magazines because you left your e-reader in your desk drawer. Think smart about how to pack for Ibiza, and you'll have a great holiday.
Back
Book in the official website Invisa Hotels
And enjoy exclusive advantages as a My Invisa Client
Upgrade
room*
Free Wifi
in the room
Sea View
room *
Exclusive
Offers
* According to availability