21 reasons to visit Ibiza in 2021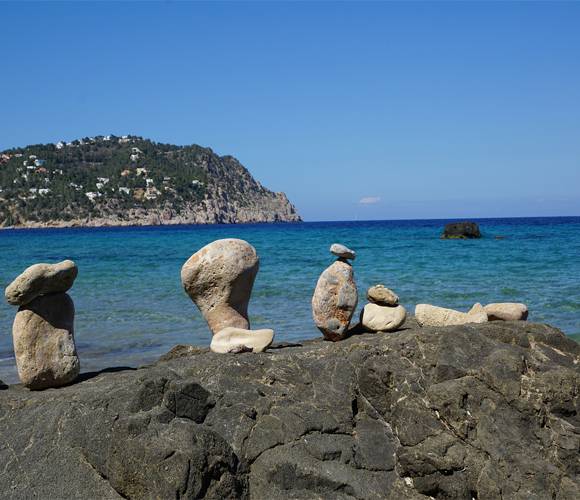 As 2021 gets closer and many of us go gradually stir-crazy, Google searches for "holiday 2021" are on the rise. Many of us are still working from home, caring for relatives and friends, adapting to the current remote-first reality, and generally being cautious, but that doesn't halt our wanderlust!
If you're planning next year's trips, and considering places to visit in Ibiza, we've got you covered. Here's the most comprehensive and carefully curated list of top reasons to visit Ibiza in 2021.
1. The weather
Ibiza is a jewel in the middle of the Mediterranean Sea, shining bright and reflecting good vibes back at those that visit Ibiza. The island is a godsend for anyone who loves sunbathing, as the climate is hot in Summer, warm in Spring and Autumn, and very pleasant in Winter. Come top up your tan in Ibiza 2021, especially in the low season when you can easily keep 2-metre distance outside.

2. The beaches
This is probably something we don't need to explain too much! One of the top reasons to visit Ibiza is, of course, the beautiful blue waters lapping at golden sands. Boasting 60 coastal paradises, Ibiza is already famous for its beaches, there are so many that are fairly undiscovered too, so social distancing won't be a problem.

3. The coves
Perfect photo opportunities, coves are private and protected from the wind, so often have great snorkeling opportunities to see some marine and rock-life. Check out any location named "Cala" and you're onto a quieter spot to spend the day.

4. The sea
You can't visit Ibiza without renting a boat or taking a boat tour. The surrounding sea is full of ideal nautical routes for catamarans, sailboats and schooners. You can rent a boat with or without a skipper, just for your groups so you can enjoy the safety of privacy and plenty of space.

5. The watersports
Beyond boat rental, you can try your hand at almost anything water-related here. One of the best places to visit in Ibiza for watersports is Ibiza's largest bay in San Antonio, called Portus Magnus. Christened by the Romans on arrival to the island, one of many settler groups to leave their history and architecture in Ibiza, Portus Magnus is a strategic enclave and home to a range of water sports, including paddle surf, diving, kayak, seabob and flyboard rental.

6. The fauna
Let's name just a few unique species you'll see when you visit Ibiza: flamingos visit from August through Winter, settling for a few months in Ses Salines; a boat trip is likely to be visited by a group of dolphins or porpoises, thanks to the warm waters; the Ibizan hound is an agile hunting hero that is also envenerated in many statues; and you can't leave the island without seeing Lizards. You will see white, green, blue and even multicolored species of lizards, which are the only indigenous land animal on the island.

7. The natural parks
Ses Salines Natural Park is a sought-after destination, not just for the flamingos that enjoy the salt flats but many other species that inhabit the reserve. Ses Salines is a bird-watcher's dream, and one of the most important marine and land reserves of the Balearic Islands.

8. The cliffs
Ibiza is more hilly and better for hiking than its reputation as a party island might indicate. In fact, the islets of Es Vedrá, Es Vedranell and Els Illots can be seen from cliffside walks along an impressive landscape, or from beautiful virgin coves that feed into the historic island's mystical air.

9. The neighbouring island
Formentera is Ibiza's little sister but is its own isolated and authentic piece of heaven. Also full of nature reserves and quite charming villages, it only has 62 km of roads so you can cycle around the whole island in a single day, enjoying the fresh air and very few people.
10. The exclusivity
If you want to stay at a boutique hotel, and enjoy top quality restaurants with very few other people, there are plenty of options in Ibiza. If you're looking for more extreme exclusivity, Tagomago Island is a little known secret just a mile off the coast. This is one very decadent way to spend a day in the sun with other millionaires!

11. The old town
Dalt Vila is the old central neighborhood in Ibiza town and is ripe with history. We've written in depth about Dalt Vila but there are so few places in the Mediterranean that are as magical or so full of varied architecture as the walled city of Dalt Vila, a World Heritage Site. While here, visit the Vara del Rey promenade, the centre of Ibiza and hope to shops, businesses and historic buildings.

12. The marina
Ibiza town's marina is located at the foot of the Dalt Vila walls, and as well as picturesque, the neighborhoods of La Marina and Sa Penya form two of the liveliest areas — wonderful places to visit in ibiza!

13. The village life
Ibiza is small enough to be easily toured in a rental car, so you can visit and stroll around the many small towns of Ibiza, each one quiet and peaceful, surrounded by flowers and fields. Hopefully, you'll also be able to watch a folkloric party from a distance or join in with the parades and festivities of the locals.

14. The food
On the streets of Ibiza, you'll be spoiled for choice when it comes to restaurants. Most of them offer local cuisine so you can try some new dishes and fresh produce wherever you go. If you're eating out on a budget, this is another reason to visit Ibiza's traditional villages.

15. The vibes
Wellness trips to Ibiza are growing in popularity because it's easy to isolate and enjoy calm retreats in the hills of Ibiza. You may want to practice yoga on the beach, go out hiking or simply check into a spa. Find your inner peace in Ibiza 2021.

16. The outdoor parties
Open-air moonlit parties on the beach sound idyllic, right? Even if 2021 will be for more distanced parties, outdoor get-togethers with great music, drinks and ocean breeze still sound pretty good to us! Dance under the stars and enjoy a cocktail at the many open-air parties planned for Ibiza 2021.

17. The markets
Hippy markets began appearing in Ibiza in the 60s when the island became populated with artists and designers who felt invigorated by the creativity the island inspired. This creativity lives on in hippy markets selling clothing, jewelry, ceramics, souvenirs and artisanal work. Plus, all markets are currently implementing clear health and safety protocols.

18. The shopping
Far from a soulless shopping centre, Ibiza is home to small shops and franchises with unique products. La Sirena & Art is the largest retail spot but dates back 50 years, so is part of the urban history and is considered iconic.

19. The fashion
As you browse the clothing shops in the port and Dalt Vila, you'll notice a specific wave of fashion. It's called Adlib fashion and is dominated by straw hats, slippers and espadrille shoes, light-weight dresses, natural fabrics and hand-embroidery. Adlib fashion is native to Ibiza and unique in the world, as it was born from a mixture of traditional Ibizan clothing and the lightness of hippie fashion. Since the 70s, the Adlib Catwalk continues to be held every Spring.

20. The stardom
If the facts haven't yet convinced you, maybe celebrity recommendations will! Stars past and present have holidayed on the island, including Freddie Mercury, Niki Lauda, James Blunt, Valentino Rossi, to name a few.

21. The connections
Flights may have been cancelled in 2020 but once the world reopens, you'll want to use your refunds and vouchers to travel somewhere wonderful. If you decide to visit Ibiza in 2021, you'll see how frequent flights are and the many easy routes to arrive here.

If this list isn't enough, just ask any of our staff at Invisa hotels what they recommend for your tastes and we'd be thrilled to help with recommendations for places to visit in Ibiza. We are observing all the health and safety measures to keep our teams and our valued guests happy and healthy.
We hope to be waving you off your plane soon and welcoming you to paradise!
Back
Book in the official website Invisa Hotels
And enjoy exclusive advantages as a My Invisa Client
Upgrade
room*
Free Wifi
in the room
Sea View
room *
Exclusive
Offers
* According to availability