Best restaurants in Ibiza for 2021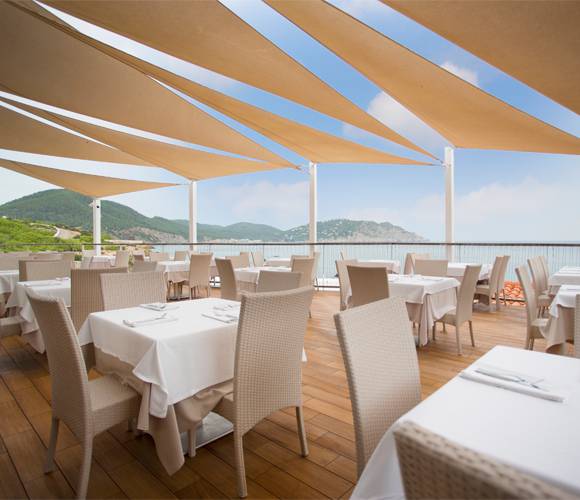 We're already planning our meals out in 2021, are you as excited as us at Invisa Hoteles? There's a plethora of delicious foods to eat here, and some of the best restaurants Ibiza has to offer are traditional and long-standing regular spots among locals and visitors.
The beach restaurants Ibiza boasts are just as elegant as the Dalt Vila, also known as Ibiza old town restaurants. Tourists return to the island time and time again because their love for fresh seafood and rich recipes is always met with quality ingredients and warm service.
Here, you'll find out where to eat in Ibiza according to our choice of best restaurants. It's hard to choose only a few favourites of locals but if you're here for a long weekend, you can visit each and every one of these for a meal you'll never forget.
Can Berri Vell
Indulge your senses at Can Berri Vell. The romantic atmosphere that the small town of Sant Agustí exudes, carries down to the restaurant's open air terrace attached to a 17th-century townhouse. All the rooms have been converted into intimate dining spaces with a respect for the original decor that its owner, Pep Guillém, has emphasized with local artists' work.
Unique dishes include the ravioli stuffed with black pudding, which is served with a mushroom sauce and is highly recommended by Ibizan residents. A suckling pig confit with orange sauce is another crowd pleaser and not highly contested as a recipe idea — originality and quality ingredients at its finest!
Es Boldado
Many visitors to Ibiza come hoping for the Spanish paella they so cherish from holidays on the mainland. At Es Boldado you'll taste a paella that could run rings around the competition.

Dining at this Ibiza restaurant with the view of the Es Vedrà islet is breathtaking. Plus, here in the vicinity of San José perched on a cliff, you get the sea view without the sand that many beach restaurants Ibiza is known for! It also has an indoor dining space if you prefer to appreciate the view without the sea breeze. Es Boldado is nothing but classy.
At 12 years old, this isn't the oldest Ibiza restaurant, but it is already one of the most appreciated and we suggest you choose anything fish or seafood related off the menu. Here, you can try local fish that are typical of the location, such as salmorra or espardenyes with garlic. Bullit de Peix is another beloved Ibizan dish and happens to be Es Boldado's most popular order.
Can Pilot
One of the top San Antonio Ibiza restaurants and also a traditional homely ambience can be found here in San Rafael. Not at all ostentatious or stuffy, Can Pilot is a down to earth restaurant that puts all its efforts into creating wonderful food that nourishes the senses, emotions and stomachs of its clients.
Charcoal grilled meat dishes are spectacular and, if you're a red meat lover or even partial to organ meat, this is where to eat in Ibiza. Sausages, pork chops, its 'Iberian secret' are all on the menu and roasted vegetables and potatoes mean guests leave this Ibiza restaurant with a satisfied belly, and heart. The local influence on this steakhouse is evident in dishes such as the sobrasada and butifarró, or 'peasant chicken' as well as squid and cuttlefish for variety.
Curious? This must have peaked your interest and we hope you'll visit this San Antonio Ibiza restaurant for a large cut of chargrilled deliciousness.
Pou Des Lleó
Another restaurant that's famous for its Bullit de Peix, so famous you have to reserve a table in advance, is Pou Des Lleó. The Santa Eulalia Ibiza restaurant is housed in an ancient hostel, and has been owned and run by the same family for decades, keeping their traditional recipes alive and thriving.
Just as classic as the Bullit, this Ibiza restaurant's handmade alioli is delicate and accompanies Ibizan dishes exquisitely. Our top recommendation is to make it all the way through to desert and try the flaó, a traditional cake that's made with cheese and mint.
As well as making your reservation, you'll need to allow time to reach this, one of the best best restaurants Ibiza has to offer, and drive to El Bigotes through the beautiful town of San Carlos and the coastal Cala Mastella.
When in doubt, just reach out
Are your tastebuds ready for your 2021 holidays in Ibiza? There's so much choice on the island that it's a shame we can't tell you all about even more wonderful Ibiza restaurants! As soon as you get here, simply ask the Invisa hotel's staff where to eat in Ibiza, everyone has their favourite spot for a memorable meal out and will be delighted to provide you with recommendations.
Back
Book in the official website Invisa Hotels
And enjoy exclusive advantages as a My Invisa Client
Upgrade
room*
Free Wifi
in the room
Sea View
room *
Exclusive
Offers
* According to availability