Eat, pray, love in Ibiza: discover activities for body and soul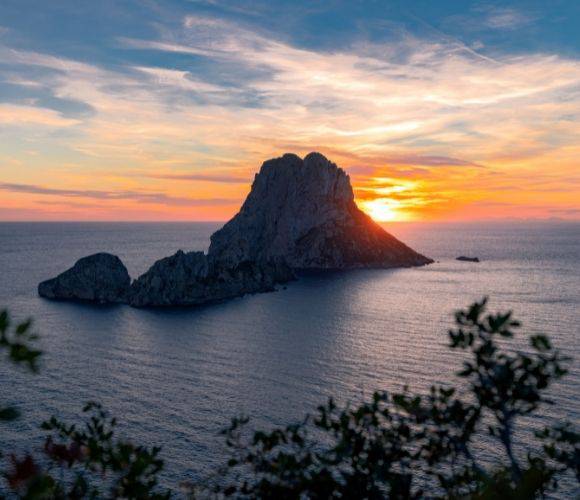 One of Ibiza's most attractive characteristics is that, in addition to being one of the international destinations with the most fun per square metre, it also adapts to relaxing and unwinding in a haven of peace. The natural environment and mild to warm weather are ideal for pressing pause on our fast-moving thoughts, inspiring some of our very own eat, pray, love scenes!
Ibiza's idyllic spot in the Mediterranean is home to several halos of spirituality. Es Vedrá's rock and its magnetism, the Es Culleram cave and its charm and Sa Pedrera de Cala d'Hort and its legend of Atlantis all endow Ibiza with great mysticism.
So now you know it's not only the parties and beaches that attract travellers from all over the world! Ibiza offers a multitude of activities to cultivate body and soul and we are going to list the most characteristic ones that you can do in this Mediterranean jewel.
Let go of all the stress you've accumulated through the year with all these relaxing things to do in Ibiza:
Yoga in Ibiza: Find your inner peace from the mat
No three words ever combined more perfectly than "yoga in Ibiza". Practically the entire island can be an ideal setting for this activity, but there are some groups and locations that hold special charm.
One outstanding example is Cala d'Hort, a cove that evokes positive energy with the islet of Es Vedrà watching over the beach from the sea. The islet has an extensive history of legends and mysticism to offer but it is also the perfect backdrop for yoga in Ibiza.
Another of the top spaces to place your yoga mat in Ibiza is Punta Galera. Its sunsets have been said to "accelerate the connection with your inner self".
We must not forget the other, lesser-known locations from which to recharge surrounded by nature such as the Moscarter Lighthouse, the highest in the Balearic Islands, or the idyllic Aigües Blanques beach. If you want cool and quiet, in the small cove Cala Olivera you can practice yoga surrounded by pine trees. Alternatively, the Santa Eulària promenade is an urban beach with agglomerations that choose to practice on the sand. In Ibiza town, the beaches of Talamanca or Playa d'en Bossa are two other sea-side spots to take your place on a mat amid peace and calm.
Five sunsets you will never forget in Ibiza
The maximum level of relaxation in Ibiza happens when you sit down to enjoy the sunset.
Our first tip is to schedule time to stop and enjoy the transition from day to night in Cala Benirrás. On Sundays, the sunset goes down amid bohemian drum rolls. If you prefer solitary experiences, you can enjoy the sunset any other day of the week, with much less hubbub. Why not rent a boat from the coastline in the late afternoon, and go out to watch the sunset in isolation, just you and your thoughts (and whoever else you invite!). This would make an extremely relaxing experience.
A sit-down alternative is to watch the sunset from Café del Mar, in San Antonio. Here, you can quietly have a beer or a cocktail with a chill out soundtrack. Cala Conta or Platges de Comte are similar spots to watch the sunset with a drink and truly unwind.
Beaches are not your only option, however! You can also watch the sun go down from Ses Salines Natural Park, surrounded by a natural environment like no other. Located at the southern end of Ibiza, this park is synonymous with tranquillity at any time of the day, but sunset is invigorating as it takes you into the calm of night.
The ideal atmosphere for meditation at sunset is at Sa Penya Esbarrada, an archaeological site that few people visit late into the afternoon. Get away from the hustle and bustle, and have an unforgettable moment in silence at this site at a time when there are almost no tourists.
Try out a paddle board in Ibiza
Want to try something different? Here's one activity that few people have tried but anyone can do: practising paddle board in Ibiza is an experience that no one regrets because it generates beautiful memories of your trip to the white island. Getting to know the Ibizan coast standing on a board and propelling yourself with a paddle is one of the most relaxing sports and, therefore, recommended activities when you are enjoying yourself in this corner of the Balearic Islands.
The sport originated in Polynesia, where the inhabitants used the method as a form of transport. Later, the Hawaiians evolved it into a sport, which consists of simply advancing through water on a board, which is slightly wider than surfboards, with the help of a paddle that is adjustable to the height of each person.
Stand Up Paddleboarding (SUP), known in much of Spain as paddle surfing, is a variant of surfing that has been gaining prominence in recent years. One of its greatest qualities that attracts newbies every day is that it can be practised at almost any age in the open sea, in lakes, rivers or bays. Paddle boarding in Ibiza is a highly recommended plan for a calm activity that gets you moving.
A wide range of specialised companies offer excursions for anything between one and three hours, as well as different options for renting equipment, both individually and in groups. You will have no problem finding a place to practice paddle boarding in Ibiza and taking a calming trip out onto the water.
Hiking trails "healthy mind in a healthy body'
Taking a leaf out of Mens Sana in Corpore Sano we are recommending some mentally relaxing but physically stimulating hiking trails in Ibiza:



The most popular route in Ibiza goes from San Antonio to Cala Salada which covers about 5km. Only a little longer and a route that anyone can take is the Sa Talaia route, in San José, very close to Cala d'Hort. This reaches the highest point in all of Ibiza at 475 metres high.




Another interesting alternative is the Torre de Ses Portes route. On this trail you can enjoy the beautiful landscapes and views under blue skies until you reach the fort tower of Ses Portes. Alternatively, you may be interested in taking a walk past the Santa Eulalia river, as bodies of water are always calming.



Who doesn't love a massage?
Visiting a spa in Ibiza is another activity that can help you relax during a trip or holiday. We think that Invisa Hotel La Cala is the absolute top option for visitors to savour the calm and enjoy some rest for their busy minds and bodies, because the massage and beauty services are combined with beautiful outdoor spaces, after which you can go for a swim in the pool or a walk in the enclosed gardens.
So, put your Julia Roberts hat on without needing to go all the way to Bali! Have your own Eat, Pray, Love experience, with a quick skip and a jump over to Ibiza.
Back
Book in the official website Invisa Hotels
And enjoy exclusive advantages as a My Invisa Client
Upgrade
room*
Free Wifi
in the room
Sea View
room *
Exclusive
Offers
* According to availability