Eating in Ibiza: discover the island's gastronomy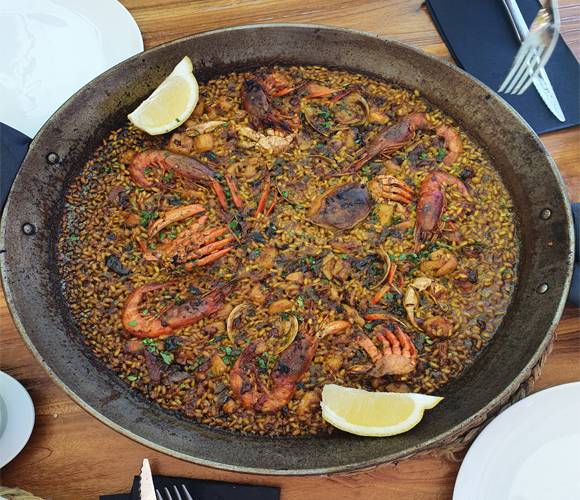 You've likely heard about the world-famous gastronomy of Ibiza. Naturally, in a place that has been inhabited by several different nationalities over the centuries, an eclectic mix of national dishes has evolved into a unique menu offering that is the gastronomy of Ibiza we know today.
In Ibiza, food is important for socialising and bringing people together for enjoyable experiences, and we can all relate to that! So if you're looking for the best places to eat in Ibiza with friends, or memorable ways to spend an evening as a family, here's our list of top recommendations for where to eat in Ibiza.
El Corsario Negro
Who doesn't love Mediterranean food? It's touted as the best diet for long-term health, and needless to say, it's delicious. We're starting with El Corsario Negro because it is open for both lunch and dinner and is a great all-round crowd pleaser. We say this in the non-literal sense! This restaurant is located in the Santa Eulalia marina and is not at all crowded. Have your meal overlooking the sea, in a quiet and welcoming location that specialises in rice dishes and homemade desserts.
Cas Gasi
So many people travel to Ibiza to reconnect with themselves and find inner strength. Part-and-parcel of this is feeding your soul and body with natural and balanced Ibiza food. Cas Gasi is considered a return to the origins of an organic and sustainable way of living, infitting with wellness culture. Its cuisine brings out the best of ecological, local and non-GMO products, showcasing the wealth of gastronomy of Ibiza in a traditionally styled Ibizan infrastructure.
Cala Bassa Beach Club
Several restaurant branches form part of the Cala Bassa Beach Club, which manages a variety of experiences and gastronomy. The club is known for cooking with quality local products and its authenticity so it's worth having this brand on your radar when visiting Ibiza if you want a truly local experience.
To highlight just two restaurants of this club, CBbC Ebusus and CBbC Marina stand out. CBbC Ebusus is the central location yet perhaps more intimate. Situated in Vara de Rey, it boasts both a personal and an innovative touch in its stylish, street-side setting. CBbC Marina is in the beautiful Marina Santa Eulalia right on the water's edge. It also has a Chill Out area, so you can rest from enjoying the gastronomy of Ibiza with DJ entertainment in the open air into the night.
Grill Sant Antoni
In the old town of Sant Antonio, facing the quaint church, is a charcoal kitchen restaurant serving local products such as sobrasada, a raw, cured sausage that is originally from the Balearic islands, as well as the best grilled meats. Grill Sant Antoni is right where to eat in Ibiza if you're traveling with your family, thanks to its more casual atmosphere and range of Ibiza foods.
Can Curreu
The Can Curreu restaurant is perfect if you're still a little nervous of travel, because its tranquillity and peace is only briefly interrupted by the quality service at this white tablecloth eatery. Can Curreu is unique and mixes modernity with creativity in the kitchen without losing its homemade flavours. The restaurant has its own herb and vegetable garden so cooks and serves its fresh produce as soon as it is plucked from the soil.
Estel
Estel is the little sister restaurant of Can Curreu, another space with signature cuisine and wonderful service, also in Santa Eulalia. Estel offers a sea view in a classic but contemporary ambience.
Ca n'Anneta
Less interested in the contemporary? The Bar Anita restaurant, better known to Ibizans as Ca n'Anneta, is the polar opposite. Located in the centre of San Carlos, next to the town church, Ca n'Anneta is one of the oldest bars and best places to eat in Ibiza. Friendly and real, this is the place to eat if you want to eat wonderful food and drink Ibizan's original herbal liquor with the locals — part of its unique charm.
Sa Caleta
If you love eating with a sea breeze, this restaurant needs to be on your list. Sa Caleta has been run by the Pujolet family since 1988 and goes by the same name as the cove it's located in. Fishing local and growing organic are some of the values of Sa Caleta's chefs, perfect for this open air, beach-side eatery.
Can Prats
Unassuming and discreet, Can Prats sits in an old shop with unmatched charm that is over a hundred years old. At the beginning of the 19th century, farmers sold their harvest here and the history of the Can Prats restaurant is reflected in the richness of its cuisine. This is the place to eat if you want to know how Ibizan grandparents would cook for their families, with carefully selected ingredients and hearty dishes.
Taking care of visitors and locals
Please note that restaurant opening hours and PPE requirements are subject to COVID-19 security measures as they develop. These are what we consider the best places to eat in Ibiza but all public facing entities here are taking every precaution to protect visitors and staff, as well as ensure a wonderful experience for all.
Here at Invisa Hotels, we're happy to give you guidance on where to eat in Ibiza and how to go out for dinner safely. We hope to see you on our beautiful and responsible island very soon!
Back
Book in the official website Invisa Hotels
And enjoy exclusive advantages as a My Invisa Client
Upgrade
room*
Free Wifi
in the room
Sea View
room *
Exclusive
Offers
* According to availability