Guide to the best terraces in Ibiza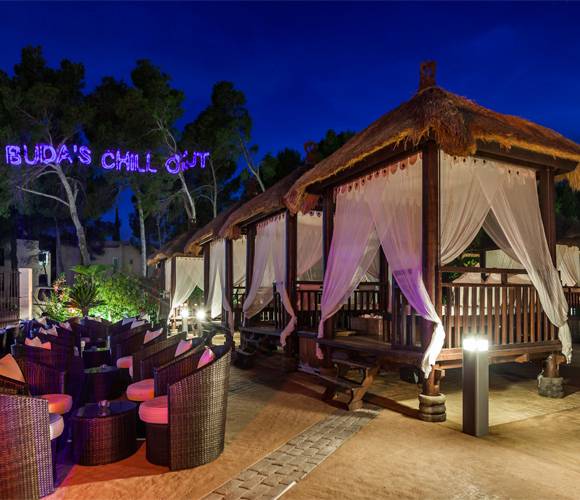 The Balearic islands have hundreds of quality restaurants, many of which have terraces so you can eat outside enjoying the warm climate, sea breeze, and fresh air. Travellers looking to holiday somewhere safe should have this island high on their bucket list, and we've collated a list for you to tick off as you try Ibiza gastronomy in all sorts of locations.
If you're wondering where to have a drink in Ibiza, most of these suggestions are just as good for a quiet cocktail as for a sit-down meal. We've put them in alphabetical order because we just can't choose the best of Ibiza's terraces!
We challenge you to try all these amazing Ibiza bars with terraces, while you're here...
Café Mambo is one of the most emblematic Ibiza bar-restaurants on San Antonio's seafront and has been such since it opened in 1994. During the week, Café Mambo's DJ booth is home to the best of the Pacha nightclub artists such as Solomun, Martin Solveig and Bob Sinclar. The casual atmosphere at this outdoor location is perfect for enjoying drinks into the night.
Can Berri Vell
This romantic spot is somewhere to truly indulge your senses. Can Berri Vell is in the small town of Sant Agusti and has an open-air terrace just off its main building, a 17th-century townhouse. Inside, the rooms are each made into intimate dining spaces with decoration that's infitting with its owner, Pep Guillém's style, also housing local artists' work.
Es Boldado
Many travellers arrive in Ibiza expecting a Spanish paella similar to the delicacies they've enjoyed during holidays on the mainland. Es Boldado in San José is in fact home to a paella that will blow any memory of Spanish paella out of the water, and is made all the more special when savoured with this restaurant's view of the Es Vedrà islet. There is a classy indoor dining space or you can sit out on the terrace and enjoy the seaside landscape without the sand that beach restaurants are known for!
Can Pilot
If you prefer traditional restaurants, one of the top Ibiza terraces for you can be found in San Rafael. Can Pilot is a down-to-earth restaurant that puts extraordinary care and skill into creating nourishing, charcoal-grilled meat dishes. Sausages, pork chops, its 'Iberian secret' are all on the menu plus roasted vegetables and potatoes. Don't miss this homely example of Ibiza gastronomy.
Cotton Beach Club


This beach terrace is precious — decorated completely in white wood, metals, table-cloths. Such beautiful decor frames the blue and turquoise of the sea and sky and elegant furnishings make this shady Ibiza terrace a relaxing place to enjoy some great music, food (especially the deserts!) and refreshing drinks.
Meke Coffee Shop
Only two cafés in Ibiza manage the Meke coffee brand, selected and brought to Ibiza from around the world and roasted locally before packaging in biodegradable capsules. Lucky for Ibiza-goers, the two locations are very central. The first branch is in Santa Eulària, and you can visit the town centre of Dalt Vila's Meke coffee shop another day, if you enjoyed the gourmet experience and want to sip your coffee with a different view.


At the far end of San Antonio's promenade, Mint serves exquisite dishes and refreshing drinks in a fashionable, music-filled venue. As an open air location you can enjoy the fresh sea breeze here and, most importantly, the sunset over the sea into the picturesque evening.
Pou Des Lleó
A restaurant that's so famous for its Bullit de Peix that you have to reserve a table in advance is Pou Des Lleó. Housed in an ancient hostel, this Ibiza bar and restaurant has been run by the same family for decades, keeping their traditional recipes in the beautiful town of San Carlos. Though mostly indoors, Pou Des Lleó has a sheltered wooden terrace surrounded by pine trees.
Rio Ibiza
With spectacular views of San Antonio Bay, the Rio Ibiza bar is a first-rate gastronomic experience. This location is open from breakfast to dinner and has a restaurant on the ground floor, a bar above that and a rooftop with barbecue on the top floor. Boat lovers will appreciate this Ibiza terrace for meals overlooking the port, watching the comings and goings.
Right on Playa d'en Bossa, Sir Rocco serves incredible Italian cuisine, right on the beach. Classy decorations paired with quality ingredients make this one of the best beach-side restaurants in Ibiza, where you can enjoy the view, people watch and feel the sand between your toes as you dine.
Tulp Beach Cafe
This chic beach-shack sunset bar is very popular in the evenings and is right on the ocean's edge. Tulp's kind and welcoming staff serve reasonably priced food like wraps and pizza, and lush cocktails under the shade of thatched parasols.
Vi Cool
Michelin star-holding international chef, Sergi Arola, has restaurants all over the world, and for good reason! His menu selection is exquisite and he sources the finest ingredients for each location. Here in Ibiza, he set up shop on Santa Eulalia's seaside promenade, at the Hotel Aguas de Ibiza. This in-and-outdoor location includes a specialist cocktail station too, so plan to make a night of your trip to Vi Cool.
We could go on! There are dozens of open air cafés, hundreds of restaurant terraces and the island is never short of new places opening to delight visitors to Ibiza.
Now that you know where to eat in Ibiza in an open environment, we hope you'll visit very soon, to enjoy some delicious Ibiza gastronomy overlooking the sea. And don't forget to ask your Invisa resort team for even more suggestions.
Back
Book in the official website Invisa Hotels
And enjoy exclusive advantages as a My Invisa Client
Upgrade
room*
Free Wifi
in the room
Sea View
room *
Exclusive
Offers
* According to availability