How to get to Formentera from Ibiza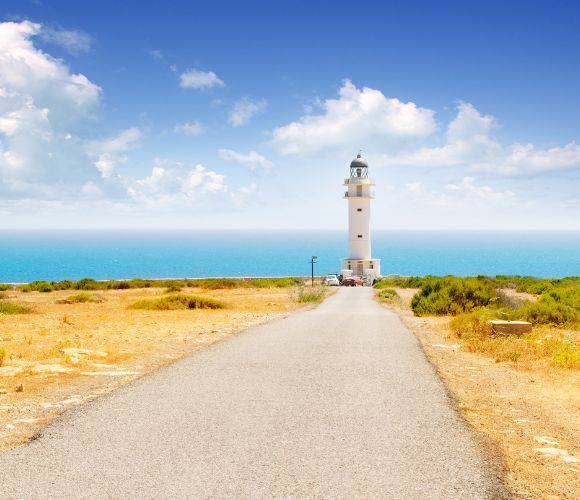 Ibiza is an island that has a multitude of attractions such as wonderful beaches and coves, enviable landscapes, unparalleled tourist attractions, and gastronomy that will leave you speechless. So, what can you expect to find in Formentera?
Day trip from Ibiza to Formentera: a must!
Devoting a day to visiting the Formentera island from Ibiza is a trip you can't miss, especially since it can be done in a day trip. Formentera is a small island of just over 32 metres squared, which is only a sixth of the size of Ibiza, whose area covers 221 square miles. That's why Formentera is the little Balearic sister!
But great things can come in small boxes: the pleasures of the Mediterranean here can be enjoyed with a bohemian, exotic and hippy vibe.
One of the strong points of a day trip to Formentera from Ibiza is that there are few tourists, so you can enjoy its beaches and nature without crowds: a delight for the five senses.
3 boat trips: How to get to Formentera from Ibiza
This paradise is just a couple of miles to the south of Ibiza. This means that reaching Formentera requires a single ferry from Ibiza to Formentera, a ride of no more than 50 minutes across the 11 nautical miles. Some smaller boats even make the journey in a time of 30 minutes, depending on the weather and wind.
The only way to visit Formentera from Ibiza is by sea, by ferry generally, though you can also rent a private boat or contract Formentera tours from Ibiza to take you over. If you do decide to go by ferry, these are your top options:


Leave from Ibiza's port on the main street of Santa Eulària des Riu and close to

Hotel La Cala

, and arrive at the port of Formentera, within the urban centre of La Savina.




In addition to the Santa Eulària port, other ferries leave for the Formentera island from Ibiza. In Es Canar, where

Invisa Hotel Ereso

is located, there is a

ferry from Ibiza to Formentera

that covers the route once per day, leaving Es Canar in the morning and returning to Ibiza in the evening in the summer season.



Lastly, from the beautiful Es Figueral beach, where our

Figueral Resort

is situated right on the coastline, a ferry leaves from here assuming weather conditions allow.


Ferry from Ibiza to Formentera: Times and costs
No need to worry about how to get to Formentera from Ibiza because there are numerous trips throughout the day: every half hour in fact from the early hours of 6:30 am, until the even earlier hours of 1:00 am!
In the opposite direction, the first ferry from Formentera to Ibiza leaves at 5:45 am. You can be in Formentera until the absolute last hour of the day, as 30 minutes past midnight the ferry does the last leg of its round trips to Ibiza.
As for prices, you can get a ticket for the ferry from Ibiza to Formentera for only 20 euros to access these 60 daily crossings per day.
What to see and do: Formentera tours from Ibiza
An excursion to Formentera from Ibiza can include a multitude of plans. Formentera tours from Ibiza might include some of the below so you can pay for the ferry and tour guide simultaneously, but if you prefer to travel solo, here are just some of the activities you can do to spend a great day on Ibiza's sister island:


Ses Illetes beach is one of the most beautiful beaches in the world and one of the most representative landscapes of the spectacular coast of Formentera. The beach covers more than 450 metres of coastline so, while small, this is sizable for such a small island. The beach is divided in two by a small rocky area in the middle.




Ses Salines Natural Park

is located between the islands of Ibiza and Formentera, comprising the southern area of the former and extending to the north of Formentera. This includes the marine landscape between the two - a true underwater paradise for divers - and extends onto the land with incredible wildlife including lizards, mice, and 210 different species of birds.



Caló d'es Mort is a very small beach but full of charm. Its barely 70 metres are reason enough to make this beach a must-visit on your trip plan, to enjoy the white sand and turquoise waters. Definitely add this stop on your Formentera tour from Ibiza, when you come!



La Mola Lighthouse, located on the eastern end of Formentera, is magical. Sat on the edge of a cliff, 120 metres above sea level on the Altiplano de la Mola, this is also the highest point on the island: at 192 metres above the sea. Can you imagine the views?




Sunsets to remember


Just like sunsets in Ibiza, those of its little sister island are just as stunning! Perhaps the best-known sunset in Formentera is the sunset at Cap de Barbaria. This is an imposing lighthouse that stands on an 80-metre-high cliff. There are dozens of nice spots to watch the sun go down in all honesty, such as Cala Saona, La Savina or the La Mola viewpoint.
Now you know how to get to Formentera from Ibiza and the top things to see, what are you waiting for to visit the Balearic islands this summer? You can get to know Formentera, Ibiza and lots of beautiful water in between!
Back
Book in the official website Invisa Hotels
And enjoy exclusive advantages as a My Invisa Client
Upgrade
room*
Free Wifi
in the room
Sea View
room *
Exclusive
Offers
* According to availability