Ibiza in December: unique plans to enjoy Christmas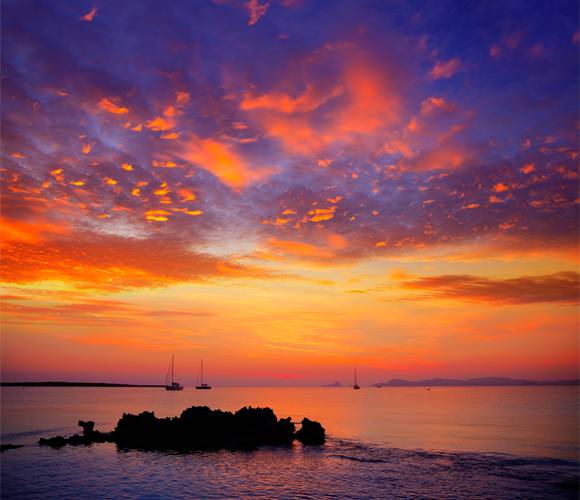 Dreaming of a white sands Christmas?
Ibiza in December is certainly not a traditional Christmas destination, but it's beautiful, relaxing, and safe for the holiday season.
Ibiza's sea-level landscape, with mountains no higher than 500 meters, and warm Mediterranean sea softening the climate means you won't see a snowflake here but will rather have mild and sunny Ibiza weather in December. What's wonderful about this island is that whether you visit at the height of summer or during the Christmas holidays, you will always have plenty of things to do.
Since the island enjoys great weather even in winter, Christmas in Ibiza evokes a different atmosphere than the rest of the world. But the principal feeling is that of joy and reunion, as locals return to spend the holidays with their family and young university students also return to Ibiza in December.
Enjoy the outdoors
When much of the northern hemisphere is shrouded in wintery darkness, Ibiza's natural, rural landscapes are basking in sunshine. If you prefer not to walk or cycle, it's easy and reasonable to rent a car and travel along the scenic routes of Ibiza.
Hikers will love Ibizan hills as in December, Ibiza is not snow covered but it is dotted with white. Almond flowers are dazzling white or pink and delicately flower briefly in early Winter, so you can stroll through scenery that's ideal for a film set and escape city life in the fresh air.
Shrubs and mountain plants also thrive here and during the Christmas holidays in Ibiza you'll see purple fields of wild thyme, frígola, and heather before the almond trees bloom. Just after this, the trees will be bearing fruit like apricots, oranges, cherries and plums. Visiting Ibiza in December will lead to the most original social posts and memories of your trip, thanks to the wealth of colourful flora on the island.
Head to the beaches even in Winter, the water is not cold, even during the Christmas holidays in Ibiza. At this time of year, however, you'll find clear skies and seas, and few people in the coves and sandy beaches of Ibiza.
Taste local delicacies
Many businesses remain open through the whole winter, because the mild weather can be enjoyed by the locals who frequent the boutique bars and family-friendly restaurants along the coast line.
One of the pull factors to Ibiza at Christmas is the island's gastronomy. Here, you'll find many dishes that originate in the Mediterranean diet but carry a unique island flair. At Invisa, our hotels include the tradition and Ibizan culinary customs in our restaurants because we value the local fresh ingredients that our visitors appreciate so much.
Of course, no one should come to Ibiza and not eat seafood, but the typical Christmas dish is called Salsa de Nadal. Enjoy this unique Christmas dessert in a cozy restaurant with an open hearth. If you have eaten Spanish turrón, the flavour will be familiar to you. Made with almonds, cinnamon, sugar and other spices, as well as eggs and chicken stock or the juice from cooking meat, the pudding is unique and unforgettable. This desert with a custard-like texture is eaten throughout the Christmas season in Ibiza with sweet bread or cake. If you visit Ibiza in December, this is one of the dishes you have to try!
Do some festive shopping
Throughout the winter season, several European-style Christmas markets pop up to sell gifts and food, mulled wine and often, Santa Claus visits to meet his fans in Ibiza and check in on their Christmas lists. Here's where you'll find gifts and carols, workshops and even mince pies.
Take in a show
If you are travelling with kids, some Christmas activities in Ibiza include dance shows and magic. This special December schedule isn't known yet, but we're sure that even under these circumstances, Christmas in Ibiza will be wonderful
Back
Book in the official website Invisa Hotels
And enjoy exclusive advantages as a My Invisa Client
Upgrade
room*
Free Wifi
in the room
Sea View
room *
Exclusive
Offers
* According to availability