Ibiza Food: 7 Yummy Spanish Dishes for Summer 2021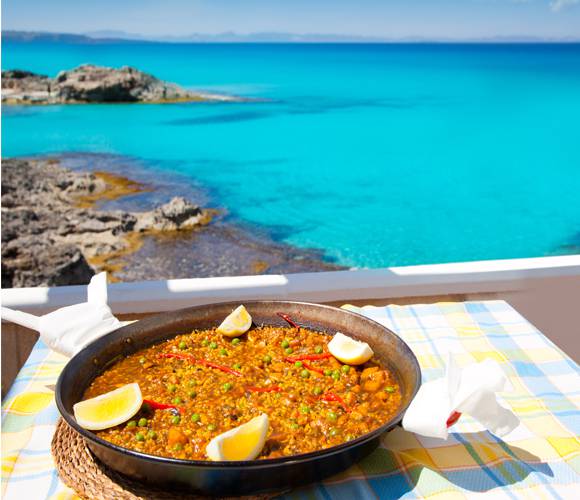 If Spain is known for anything aside from summer holidays, it's our cuisine. The delicious origins of many Spanish dishes and fresh ingredients available, especially in the sea-surrounded Ibiza, is a major attraction for the thousands of tourists who come to visit every year.
The Mediterranean island is known for being a paradise of turquoise waters, tiny coves in remote places and charming towns, but our gastronomy takes the cake (pun intended!). Here, you'll find the best restaurants for all sorts of palates, where you can experience authentic days and evenings out, taste special dishes and, almost invariably, enjoy stunning views.
When you start planning your trip in detail, including where and what to eat in Ibiza, come back to this blog for tips on what to choose from the menu.
What are Ibiza's typical dishes
The exquisite taste of Ibizan food is thanks to the high quality products chefs use on the island, who always take advantage of the local resources available. Traditionally, many typical dishes are seafood, garnished with garden vegetables.
Typical dishes and Ibiza food you can't miss
1. Fish stew
The guisat de peix or bullit de peix, as locals here call this famous food, is one of the most delicious delicacies of Ibizan gastronomy. A recipe from yesteryear, bullit de peix will leave you speechless. Its origin lies in the ancient fishermen of the area, such that it is always made with freshly caught fish, seasoned lightly and served with potatoes or sometimes rice, which would be made with the fish broth. There's a reason this is one of the most popular specialties in Ibiza, and you can find it in most of the island's restaurants. Don't leave Ibiza without trying the traditional fish stew!
2. Seafood paella
The Ibizan paella is an authentic jewel of Spanish dishes. A classic dish and world-renowned, a paella never fails to remind visitors of all their holiday memories on the mainland and Spain's stunning islands. Here in Ibiza, the fresh seafood and fish stock gives it a lot of flavour and you may choose to add lobster as a treat, something that is hard to come by in a paella on the mainland. All this truly makes the experience memorable, emotionally and physically satisfying.
3. Cured sausage
One of the Ibizan foodstuffs that you can have at any time of the day is sobrasada. This is a raw cured sausage that is made with different parts of the pork meat and then seasoned with paprika, spices and Ibiza salt. It can be eaten in various ways, such as starters before meals, combined with sweet or salty flavors on toast, and it is also used as an ingredient in many dishes that we'll explain next. Many visitors to the island who love traditional spanish food take a sobrasada back home to enjoy themselves, give as a gift, or as a souvenir of an unforgettable summer in Ibiza.
4. Meat stew
An Ibizan stew called sofrit pagès, that can only be found here, is a warming meal that mixes different kinds of meat including sausages, potatoes, and vegetables from the island's local crop. While this is usually considered a winter meal, as it is served hot and is very filling, you can find it all year round on the island. In fact, sofrit pagès is one of the most popular dishes in Ibiza among locals as well as visitors.
5. Bread pudding
The best known dessert in Ibiza is called Greixonera Ibicenca. You'll find this on the menu of almost all the restaurants in Ibiza. It is a surprisingly simple dish, along the lines of a bread pudding, which is probably why everyone likes it so much. The main ingredient in this cake is ensaimadas, which is a sort of pastry. Just like bread pudding is made with day-old bread, Greixonera Ibicenca is made with day-old ensaimadas. Unlike bread pudding, however, locals consider this a refreshing dessert, to be consumed in summer. As a tourist, regardless of the time of year you visit Ibiza, you must dry this sweet dish.
6. Spanish cheese cake
The Flaó or cheese cake is another of the tastiest Ibizan desserts. This cake is made with cottage cheese or cream cheese, depending on the chef, as well as different ingredients such as mint leaves. This makes the filling taste exquisite and this cool pudding really is the star dessert of Ibizan food, ideal to eat overlooking a beautiful sea view, during your holidays in Ibiza.
7. Ibizan muffins
Although they are called muffins or magdalenas, Ibizan muffins are nothing like the rich sponge cakes that most of us know. Ibizan muffins have a puff pastry base and are filled with almond paste. If you can manage not to eat them before reaching home, these magdalenas, some of the most emblematic sweets on the island, are the ideal gift for any family member when you get back to show off your tan.

The chefs that are making Ibiza food world-renowned
On top of the traditional dishes, Ibizan gastronomy is continually being reinvented by great chefs such as Álvaro Sanz, José Miguel Bonet, David Reartes and Matthieu Savariaud. These professionals in the kitchen never stop trying new recipes with local products and high quality elaborations.
Now you're an expert in what to eat in Ibiza, consider trying these dishes at the most recommended restaurants. Some of the top restaurants where you can taste the wonderful creations of these geniuses of Ibizan cuisine are Es Tragón, Es Ventall, Pomona Ibiza and Es Terral, true temples for gastronomy lovers. In these restaurants, you can find everything from health and wellness evoking food as well as rich, indulgent dishes fused with traditional Ibizan signature cuisine.
Es Tragón is the only restaurant on the list with a Michelin Star 2021 in Ibiza so is worth highlighting. One of the most striking aspects of this spot is that it is located in a country house surrounded by nature. The head chef, Álvaro Sanz Clavijo, offers clientele famous extra sugary touches combined with the traditional cuisine of the island.
A pro tip is that most places require a reservation, and your Invisa resort staff can help you with this. When not looking for an indulgent meal out, we recommend that you enjoy your holidays to the fullest, choosing from fresh and varied dishes in one of our hotels. You can choose whichever setup best suits your needs (bed and breakfast, half board, full board or all-inclusive) this summer, and your family's preferences.
Whichever restaurant you visit, Ibiza is the ideal place to spend your holidays, where you can enjoy both its landscapes and its gastronomy. The most renowned restaurants are unmissable, but there are so many other options on the island to taste and enjoy every single day. We can't wait to welcome you to our beautiful island!
Back
Book in the official website Invisa Hotels
And enjoy exclusive advantages as a My Invisa Client
Upgrade
room*
Free Wifi
in the room
Sea View
room *
Exclusive
Offers
* According to availability