Ibiza in June: 7 reasons to visit at the start of summer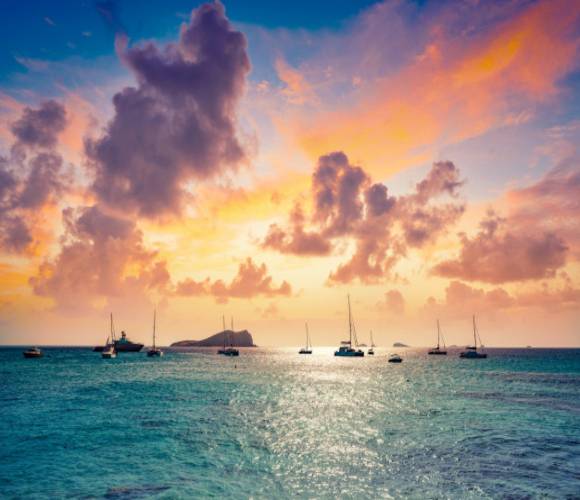 Is it a good idea to travel to Ibiza in June? The answer is a resounding "yes"!
The island of Ibiza can be a wonderful holiday destination throughout the year, since it has attractions and beautiful nature during all four seasons of the year. That said, setting sail to Ibiza in June has many advantages. Here are 7 reasons to visit in the sunniest month of the year!
1. About to travel to Ibiza in June? Enjoy fewer tourists, more tranquillity
If you travel to Ibiza in June you'll see that we're not quite into the high season. From July onwards, we receive )very happily!) more visitors, but June is best for those who don't have kids that need to work around their summer holidays.
So, if it's not quite the tourist season, what can you do In ibiza in June? In the sixth month of the year, you'll still find everything open. The tourism season begins on May 1 and ends on October 30, so enjoying Ibiza's charms in June guarantees you'll be able to enter all the attractions, nightclubs, and bars, but you'll have a little more space to yourself before peak season in June and August. Plus, you can easily stroll the old town, theme parks, and beaches without crowds or waiting in line for entrances.
2. Enjoy the warmth of Ibiza in June
Not everyone is sure whether it will be cold when trips to Ibiza are scheduled at certain times of year. Even though all year round, temperatures are pleasant, even in the sea, June is a warm month and average temperatures in Ibiza in June tend to be 26-29 at their maximum and no lower than 18-20 celsius.
The chances of rain in June is minimal. The days of June in Ibiza are warm, and though the sea gets even warmer in July and August, it's already optimal for the first dips of summer if you travel to Ibiza at the beginning of the season. If Ibiza travel is on your list for 2022, you can choose from cooler mountainous areas, ideal areas for hiking or warmer corners where you can spend a great day enjoying sun and sports.
Daylight is also heavenly at this time of year, reaching up to 11 hours of sun usually so you'll have more than enough daylight to explore to your heart's content, until enjoying sundown with a cocktail.
3. The island offers better prices ahead of July
Another advantage of choosing Ibiza in June is that flights tend to be a little cheaper than the height of summer. Essentially, when school is out, prices tend to rise. The same is true for hotels, who are not quite at 80% occupancy in June, which means you might get a deal — even if you wait till the last minute!
4. More rooms available in Ibiza in June
If you have decided to spend a few days enjoying the sun, sea, and sand in Ibiza in June, you're lucky that the resorts to choose from will be greater in number than in the months of July and August, when availability is lower.
The hotel occupancy survey of 2019 (pre-pandemic) by the FEHIF reflected that in the month of June, hotel occupancy was just over 87%. The northern area in Ibiza usually registers the highest occupancy levels, meaning Santa Eulalia is usually an even better option if you're looking for peace and quiet.
Don't miss out and book soon, to ensure your spot in the best rooms in Ibiza!
5. Ibiza travel always guarantees easy connections
We're blessed on this island to count on unbeatable connections. With an airport and two ports with ferry connections to both the peninsula and the rest of the islands, travellers have optimal connections to choose whatever best suits your budget, time limitations, and preferences.
6. Easy parking, more tranquillity in Ibiza in June
Continuing with the transport theme, one of the top pieces of advice most people give is to rent a car or motorcycle. There are excellent bus services, and you may even want to rent a bike to explore, but as the days are warm you might enjoy the air conditioning of a vehicle. Moreover, this will allow you to explore at your pace. Renting a car is still a perfectly viable option when it comes to parking too.
There's no need to rush about, but no one enjoys trawling car parks looking for spots, right? So the good news about Ibiza travel in June is that you'll find spaces everywhere. Take it easy if you do rent a car though! Ibiza is hilly, plus you'll want to enjoy the landscapes all over the island as you cruise from place to place.
7. The night of San Juan. A magical night in Ibiza!
Another advantage of being in Ibiza in June is being able to enjoy, first-hand, the tradition of San Juan night, which has a very special meaning.
As is true in practically all of Spain, celebrations are also held in Ibiza on the night of San Juan, June 23 and 24. This date is especially festive in the town of Sant Joan de Labritja, where bonfires are lit, and people run and jump over them in order to drive away bad experiences. There is also music, wine, and great food, so put the night of San Juan on your list of things to do in Ibiza in June!
Whatever you plan to do in Ibiza in June, The advantages of travelling to Ibiza in June are numerous. All you have to do is choose the days you want to spend here and experience all the island has to offer. Enjoy your holidays in Ibiza and spend them in a beautiful Invisa resort!
Back
Book in the official website Invisa Hotels
And enjoy exclusive advantages as a My Invisa Client
Upgrade
room*
Free Wifi
in the room
Sea View
room *
Exclusive
Offers
* According to availability