Ibiza in a motorhome: 5 tips for all campervan fans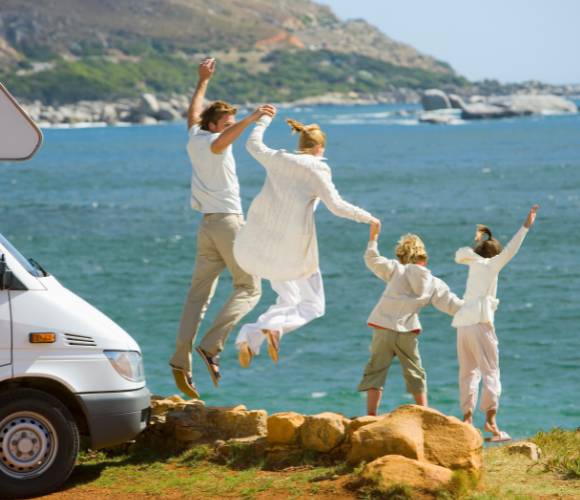 Travelling all over Ibiza by motorhome is enriching for adventurers who enjoy visiting new places on four wheels.
There are many ways to visit and enjoy the island and driving a motorhome is an ideal option to savour time in nature, and test out the multitude of idyllic corners that this Mediterranean treasure holds for sleeping, hiking, and sunbathing.
Across Ibiza, vans can be an excellent solution to reconnect with the bohemian life that has been so characteristic on this island in recent decades. After a ferry trip, you will be able to enjoy the Ibizan geography aboard your own motorhome. Let's start planning your adventure!
1. Locate your port connections
The arrival to Ibiza for motorhome fanatics or van owners is by sea. The main ports that connect to Ibiza are Valencia, Barcelona, Palma and Denia. We highly recommend, when planning a motorhome trip in Ibiza, to book a ferry ticket at least two months in advance.
When you book, note that you'll need to know the exact measurements of your vehicle to register it for the crossing. On the day of your crossing, it's recommendable to arrive 90 minutes or more ahead of time, and bring everything you need for the trip. While this time is similar to arriving at an airport, you can take your own snacks and drinks through security on a ferry!
2. Campsite options in Ibiza
Staying overnight in a motorhome in Ibiza is easy and legal if you camp at one the available sites specifically for campervans and motorhomes. You can choose from 5 options in Ibiza, closest to whatever you want to spend your time doing: Cala Nova, La Playa, Es Cana, Cala Bassa and San Antonio.
Camping in public places is prohibited throughout Spain, so campsites are the only places you can spend the night in your own campervan, and none of them, to date, accept pets.
3. Drinking water stations
If you have travelled in your own campervan, you'll know that refill stations are worth location before arriving at your destinations, as not everyone knows how to point you towards them! Luckily, there are two places we can recommend, and more are being installed in Ibiza for motorhomes. Your best bets are the Santa Eulalia well and the Repsol gas station in San Rafael. Stop off at the latter on your way to some of the best terraces in Ibiza!
4. Where can you discharge sewage?
The island of Ibiza does not have any point for sewage discharge but you can find campsites and gas stations off the island, on return to the mainland, that offer sewage discharge. The most recommended policy is to pop into a site near your port before boarding the ferry, and then returning to the same spot when you return to Spain.
5. The best parts of Ibiza to see in a campervan
Visiting Ibiza by van or motorhome means being able to visit a multitude of beautiful places. Some of the most outstanding that you can drive right up to are in Pou des Lleó, Santa Eulalia del Río, the Ses Salines natural park, San Antonio and Cala Bassa.
In our opinion, Cala Comte stands out among these recommendations for one of the best beaches in Ibiza. It has a beautiful car park and is an ideal place for a stopover to have a swim in the sea. Of course, remember that you will not be able to place any exterior element, just park your motorhome for a rest.
Alternatives to your own motorhome
If you lack a vehicle of your own but do want the camping experience, there are several sites in Ibiza, where you can choose and rent your own. Motorhome hire in Ibiza is perfectly possible, or you can reserve before your arrival.
However, if what you are looking for is a trip to Ibiza with all the comforts and none of the tasks involved in a motorhome, Ibiza has beautiful resorts. Invisa Hotels has a wide range of accommodations where you can enjoy all the attractions of Ibizan island with every creature comfort you can imagine.
Whatever you choose for you and your party, travel responsibly and enjoy your trip!
Back
Book in the official website Invisa Hotels
And enjoy exclusive advantages as a My Invisa Client
Upgrade
room*
Free Wifi
in the room
Sea View
room *
Exclusive
Offers
* According to availability