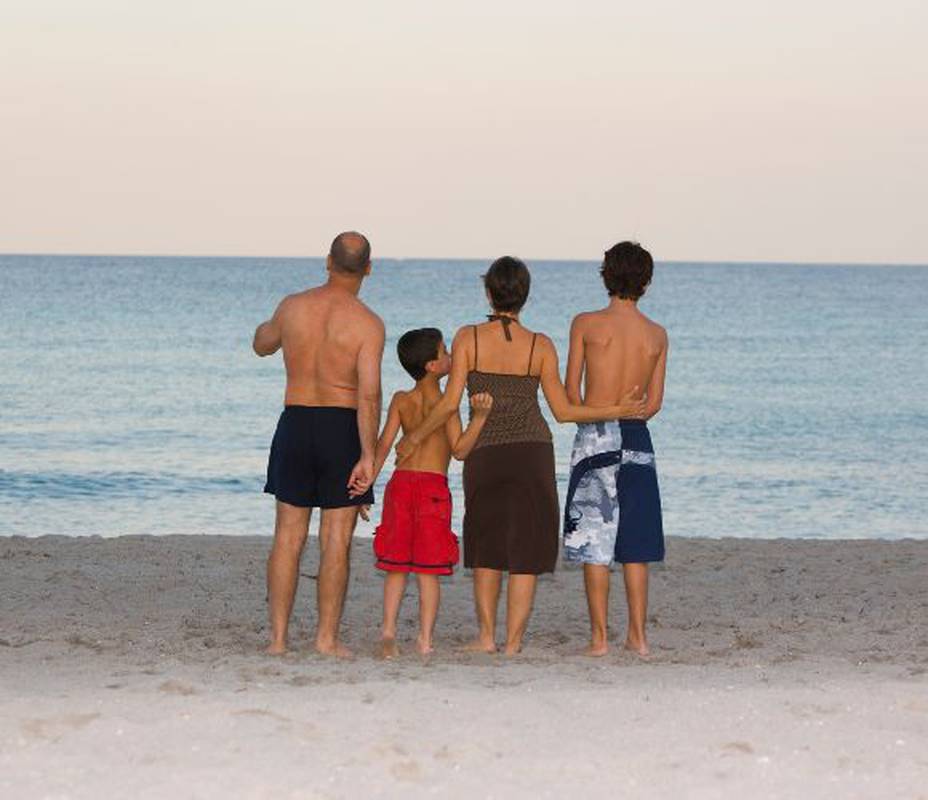 Visiting Ibiza with children: A good or bad idea?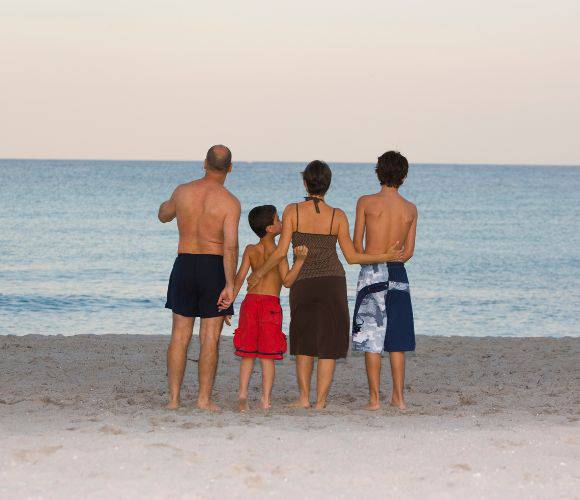 It's normal to wonder if it's sensible to travel to Ibiza with children, and especially to Google "what to do in Ibiza with children" because you want them to have the best time on holiday! Luckily, you can also have the best time here, as the hotels in Ibiza you can choose from to stay in with children are plenty, and Invisa's family-friendly resorts are all over the island.
We're getting ahead of ourselves! First, let's focus on what there is to do in Ibiza with kids: Ibiza is not only for nightlife or couples, there are a multitude of activities and days out that adapt to the little ones.
The main decision to make carefully is to choose the time of year at which you'll travel carefully. Spring, autumn and the first days of summer are the best dates to enjoy a few days on the island with children who might be sensitive to the sun. Autumn is cooler and winter might be even better if you're interested in activities and less sun-soaked beach trips.
What to do in Ibiza with children: 7 stops!
Plan your trip to Ibiza with children around these 7 stops, all perfect for days out with the family.


Learn about pirates in Dalt Vila




If you begin with a visit to the centre of Ibiza, in the Dalt Vila area, you might choose a walking tour to stroll around the city, as long as you tip your guide. Tell them your kids are super interested in pirates and smugglers and they'll tell you all the stories!
For children it can be a lot of fun to learn how piracy in the Mediterranean marked the area for centuries, and the structures that were built to repel attacks. You will be able to observe how the influence of Berbers, Vandals, Muslims and Romans all impacted the town centre's founding in the 7th century. Plus, views from Dalt Vila are divine, and you can take incredible family photos on the battlements, once the kids are tired of running along them.
2. Farm and harvest at Can Musón
This ecological and school farm in Santa Eulalia offers a large number of activities for the little ones. It is an old farm house and gardens, covering over 65,000 square metres.
You'll find organic vegetables and fruits being grown and it's also somewhere that you can observe the breeding of many different native animals. Children can get in contact with nature here, in a safe environment, and gather their first notions of how to take care of the planet through the learnings at Can Musón.
3. Explore flora and fauna at Ses Salines
One of the treasures of the Mediterranean is great for a walk with the family. Ses Salines was declared a Natural Park in 2001, and the reserve is immense, covering 3,000 hectares on land and 13,000 in the sea. It actually extends from the south of Ibiza all the way to the north of Formentera. Are you getting an idea of all the kinds of wildlife you might spot in Ses Salines?
Spending a day on this coastline means more than a beach day. You can explore the extremes of the underwater posidonia meadows that surround the islands, that are actually the reason for Ibiza having a very special ecosystem. It is a great idea for children to learn about the rich biodiversity that Ibiza has.
4. Water park in Ibiza
If there is something that drives children crazy, it is water parks. On the island of Ibiza you will find a very outstanding one, the Aguamar Water Park. Located in the southeast of Ibiza, in Playa d'en Bossa (Sant Josep de Sa Talaia), it opens its doors from May to October and offers attractions for all ages. You can not miss it!
5. Aquarium Cap Blanc
This aquarium in Sant Antoni de Portmany is another of the activities to do with the family in Ibiza. It is open year round, only with slightly reduced hours in the winter season.
Inside the Aquarium Cap Blanc you can enjoy a multitude of marine species such as groupers, julias, octopi, rays, sea sponges, invertebrates and even see some shark eggs. This aquarium is the headquarters of the CREM (Centre for the Recovery of Marine Species), an organisation that promotes awareness of the problems that affect the marine world and especially a proponent of the loggerhead turtle.
6. Can Marçà Cave
Another fun adventure to set sail on in Ibiza with children is to visit Can Marçà, an impressive cave that's over 100,000 years old. It is located inside a cliff in Port de Sant Miquel, in the north of Ibiza and can be accessed by sea or by land.
It was discovered by smugglers and, for a long time, they used it as a den to store their merchandise. The tour is usually brief, about 40 minutes, which is enough for the children to have fun seeing the stalactites and stalagmites without getting bored usually.
7. Formentera, a visit to the neighbour

An excursion to Formentera is a must for anyone travelling to Ibiza, but especially if it is a family trip. There are many ferries throughout the day and the boat ride will be another rewarding experience for the little ones. Once on dry land, your kids will be able to enjoy one of the most precious natural treasures of the Mediterranean Sea. It's an exciting excursion for all ages!
The best options for hotels in Ibiza with children
The list of things to do in Ibiza with children is extensive, as you'll see! Spending time with your family, parents and children enjoying the island's landscapes, exploring the biodiversity of the area with fun activities... You can do all this and much more on this incredible island.
The best place to stay are the hotels in Ibiza with children. The quietest destinations on the island and where you will be most comfortable with your family are in the east of the island, in the areas of the beaches of Es Canar and Es Figueral.
The island of Ibiza is waiting for you and your family with open arms, so that you can enjoy some unforgettable days. Get going and start preparing a great trip to Ibiza with children!
Back
Book in the official website Invisa Hotels
And enjoy exclusive advantages as a My Invisa Client
Upgrade
room*
Free Wifi
in the room
Sea View
room *
Exclusive
Offers
* According to availability