How should you organise the perfect Ibiza wedding?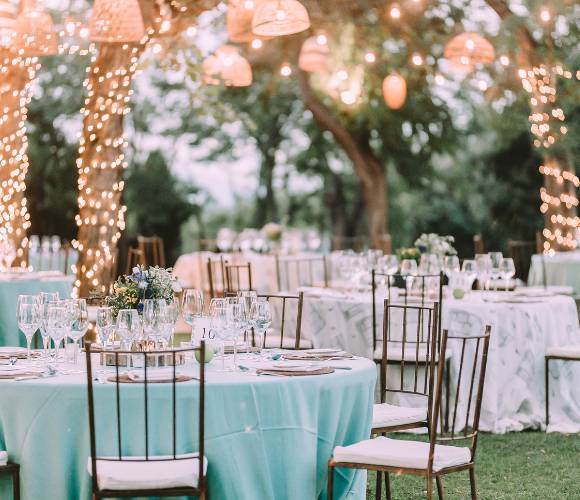 Getting married is such a special moment, and what better place to do it than in one of the most magical places in the world, Ibiza? An Ibizan wedding will remain etched in the memory of all the guests and those who say yes on this island that serves as a paradise in the Mediterranean.
One of the main characteristics of an Ibizan wedding is simplicity. Less is more, here. Guests, decorations, and settings are all white and bright.And the best bit about an Ibiza wedding is the relaxed attitude and tranquillity, making for an unforgettable wedding with the ocean as your soundtrack. Let's answer all your questions about getting married in Ibiza!
Where should you celebrate an Ibizan wedding?
There are several ways to celebrate an Ibizan wedding. The top of the list for many is on the beach. These types of celebrations are perfect if you say your "I do" into the waves, with the sea breeze and sun, bathing your guest's faces with emotion.
Another alternative is to celebrate in one of various beautiful churches on the island. The religious architecture in Ibiza has always had a simple style, white walls, and without much detail, which is perfect to adorn them with flowers or decorations. Some of the most popular churches to host weddings in Ibiza are those of San Lorenzo, Santa Inés, San Miguel or the small church of Sant Francesc, next to Las Salinas.
If neither a church or beach convinces you for the ceremony, you can also install an altar in any tourist spot with views so that the union between the two people is certified symbolically, simply make sure to research this ahead of time.
Romantic, paradisiacal decoration
The decoration at an Ibizan wedding can be themed so that there is a similar feeling throughout the event. Typical Ibizan spaces can be built so that the guests are comfortable with cushions and low tables dotted with candles and flowers.
On banquet tables, we recommend using natural fabrics such as linen and elements typical of the sea, such as shells and stones, always illuminated with large white candles.
An Ibizan wedding is synonymous with nature and, therefore, natural materials suit the banquet tables and chairs best. The tableware, obviously, will be white first and foremost to give that airy feel as you dine.
An original idea for dessert carts is for them to be made of wrought iron painted white, thus giving a romantic and bohemian touch.
Dress code: Come in white
The dress code at an Ibizan wedding is comfortable, casual and white. For men, a white shirt and linen trousers of the same colour are ideal. If you don't have trousers made of that fabric, people do wear plain or patterned denim to match the crisp white shirt. White is king, but it is not a requirement at all weddings.
In women, the variety of options multiplies. Finding the right outfit involves choosing fresh fabrics such as cotton or linen, especially those that have a hippie air. Two pieces can be an excellent alternative for guests to be comfortable on the day.
By wearing white, guests can focus on accessories, such as shoes, bags, jewellery and ties belts to draw attention. From a distance however, photos appear perfectly harmonic because everyone matches.
Spring and summer, the ideal dates
The sun is always out in Ibiza but, although the weather is pleasant all year round, the best time to celebrate an Ibizan wedding is in spring or summer. This is when the sun is at its highest and you're near guaranteed a sun-kissed wedding day or honeymoon.
We of course make sure to provide shade if you use an Invisa resort for your wedding, and drinks will be flowing so that your guests stay hydrated. The warm weather relaxes guests and even eases many health conditions, so you're ensuring your invitees have the best time.
Banquet with Mediterranean cuisine
Weddings in Ibiza always take advantage of fresh products of the Mediterranean. The casual air that Ibizan weddings give off invites you to opt for a buffet-style meal throughout the event.
This option is dynamic and informal such that it matches perfectly with the vibe of an Ibiza wedding. A wedding banquet allows for mingling and dancing between snacks, and older or more conservative guests will of course have tables and chairs available so they needn't be on their feet all day..
And the honeymoon... without leaving the island!
Once the sun has set on your Ibizan wedding you can stay to enjoy the beautiful sunsets for a few more days! Ibiza is a dream honeymoon location, with a multitude of romantic corners, water sports offering to have fun with your loved one, experiences to live out in nature, and plenty of adults-only hotels.
Whether you want to celebrate your wedding in Ibiza or spend an unforgettable honeymoon here, contact us and we will welcome you with open arms at Invisa Hotels.
We are here to help you and whatever aspect you need, we're here for you, to make sure you enjoy your Ibizan wedding!
Back
Book in the official website Invisa Hotels
And enjoy exclusive advantages as a My Invisa Client
Upgrade
room*
Free Wifi
in the room
Sea View
room *
Exclusive
Offers
* According to availability