Ibiza in 3 days: What to see and do to savour a short trip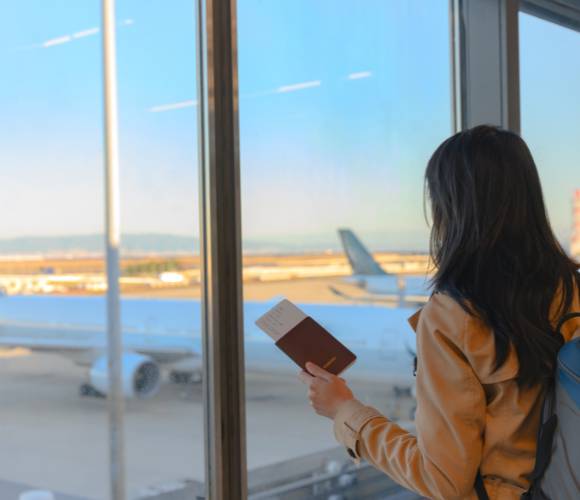 Be it an express trip, a last-minute getaway, a need for some disconnection, or just using up a leftover day of PTO, you need to know what to see in Ibiza in 3 days. Welcome! Here's where you'll find out only the best, top-rated things to see in Ibiza in 3 days of paradise.
To make the most of your whistle-stop tour, we suggest focusing on the eastern part of the island — one of the most beautiful parts of Ibiza and home to many lesser-known attractions and secret corners.
Day 1: Cala Blanca and sunset in Cala Llonga: Unmissable coves to see in Ibiza in 3 days
You should start your journey with "adventure" mode activated. Head to spend a morning at the beach in one of the most remote places of this wonderful Mediterranean island — far from the crowds and other bathers — Cala Blanca.The white cove must be on your list of things to see in Ibiza over 3 days. It is located 3 kilometres south of Santa Eulalia.
Cala Blanca can be accessed on foot from the Siesta urbanisation or from Valverde, right next to Cala Llonga. Walking along the trail until the end, you'll come across a mysterious tunnel carved into the rock that, another 100 metres along, will take you to this untouched corner of the island of Ibiza.
Notably, this little cove is not easily accessible until you can walk well and unaided, but this means you will not find beach bars or any type of service, making it completely isolated and tranquil. For this reason, we don't advise going alone, nor with children. There are much better suited Blue Flag beaches in Ibiza for that purpose!
Once you arrive, you'll see the stretch of sand runs about 400 metres long, and only three metres wide. On Cala Blanca's narrow shore you'll find large stones partially covered with posidonia; a true herald back to the untouched, virgin island that Ibiza once was, and marked by the most famous flora in the Balearics, the meadows of posidonia underwater actually helped Ibiza earn its title as a UNESCO World Heritage Site.
Worked up an appetite with all that walking and paddling in the turquoise water? On the way back, pass through the village of Valverde again and stop at the island-famous restaurant La Casita. This is a place with a mixture of Ibizan and Austrian influences, inspired and created by Johannes Greiter, an Austrian who came to Ibiza on vacation in 1976, fell in love with the island, and stayed in Ibiza more than 3 days! The cuisine has an international flavour, but with local products as a base. The figs used in recipes are grown next to the restaurant, and much of the produce is locally sourced.
Well fed and happy, it'll be time to spend the afternoon preparing for one of the most magical moments of any day in Ibiza — the sunset. A few miles away from Cala Blanca is a shorter, wider beach called Cala Llonga, which is 200 metres long and 90 metres wide. Decorated with fine sand but the same blue waters, you'll find a more ambient vibe in this cove, with more people joining you to see the beautiful sundown.
As if this isn't enough to fill your Instagram with stunning pictures, there's more on our list of "what to see in Ibiza in 3 days"!
Day 2: The top things to see in Ibiza in 3 days must include Es Figueral Beach, Las Dalias and the Torre d'en Valls
On your second day, start at Es Figueral beach. One of the most attractive points in the east of the island of Ibiza, it is also an accessible, family beach with a very good atmosphere and a multitude of services such as parasols, hammocks and beach bars. You can also try your hand (or foot) at several water sports, ranging from tame to daredevil.
Find these beaches following the road, 15 kilometres from Santa Eulalia and 4 from San Carlos. Or, stay close to the stunning beach at an Invisa resort with all the amenities you could possibly want.
One cannot leave hippie markets out of the mix of things to see in Ibiza in 3 days. So, after spending the morning on the beach, in the afternoon we'd recommend a trip to the famous Las Dalias market. It's only a short drive or taxi ride from San Carlos, in the direction of Santa Eulalia, and many would call it a hippie stronghold that evokes the 60s, barely affected by the passing of the years.
From June to September Las Dalias opens on Saturdays at 10 am and usually closes at 8:30 in the evening. An extension to the fun happens at Las Dalias Night Market, which in 2005, it was decided not to halt the hippie vibes too early on Sundays, Mondays, or Tuesdays. Plus, all through summer, music and night time festivities take place from 7 pm. Do note that, if you love music, several festivals take place in Ibiza including jazz and art. Not everything is club music!
Next, grab an air conditioned bus or your rental to the Torre d'en Valls for another dreamy sunset. Once construction of the tower finished in 1763, this defensive bastion protected the east of the island by warning the population of the incoming pirates, as the guards watched over the sea. For centuries, the Mediterranean was a nest of pirate activity, and looting was the order of the day. In addition to appreciating this piece of history, this location affords spectacular views of the islet of Tagomago. If the sky is clear, you can even see Mallorca on the horizon. Don't miss this off if you plan to visit Ibiza for 3 days!
Day 3: Last stop on the whistle-stop tour of Ibiza in 3 days! Santa Eulalia
In this guide on what to do in Ibiza in 3 days, we had to add some cultural tourism to the mix. In Santa Eulalia del Río, the main urban centre of the eastern part of the island, there are museums, galleries, and shopping experiences that rival Dalt Vila.
Start your last day in Ibiza by visiting the Puig Missa viewpoint, where you'll find a magnificent fortified church, one of the oldest in Ibiza. This construction dates back to the 16th century and its architecture embodies the characteristics of typical Ibizan buildings: Simple, clean and all white.
Within this same town, you'll find the Ethnographic Museum of Ibiza, located in the 300-year old Can Ros country house. Ethnography is the study of culture at home and abroad, through immersion or participation, which makes this permanent exhibition interesting for all those fascinated by Ibizan social history. It displays jewellery, garments, farm utensils, musical instruments and weapons, to name only some of the treasures that can be seen. The museum's schedule from April 1st to September 30th is from Tuesday to Saturday, 10 am to 2 pm and again after the siesta from 5:30 pm to 8 pm. On Sundays it opens from 11 am to 1:30 pm, unless it is a bank holiday.
Whatever time you finish your tour of this beautiful town and museum, finish your tour of Ibiza in 3 days at Cala Boix, the only black sand beach on the island.
If you really want to enjoy your stay in the eastern part of the island, you have the option of staying in hotels such as the Invisa Hotel Cala Blanca and the Cala Verde, both located on Es Figueral beach. An alternative is the resort on La Cala in the centre of Santa Eulalia.
Looking to spend just 3 days off in paradise? Come to Ibiza, we'll be waiting with open arms!
Back
Book in the official website Invisa Hotels
And enjoy exclusive advantages as a My Invisa Client
Upgrade
room*
Free Wifi
in the room
Sea View
room *
Exclusive
Offers
* According to availability