What to see and do in Ibiza this summer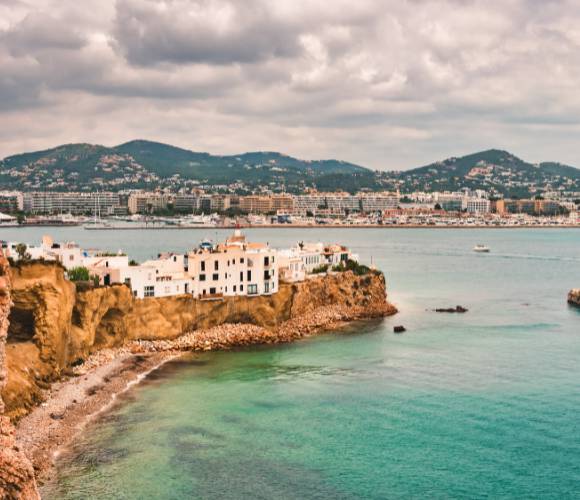 Already at the airport, on your way to the paradisiacal Balearic islands and looking up: what to do in Ibiza? Maybe you're more prepared and are planning your activities in Ibiza ahead of the trip!
Either way, here's everything you need to know. We spoke to all those in the know on the island to make sure we share the most up-to-date things to do in Ibiza for summer 2022.
What is there to see in Ibiza? Dalt Vila, melting pot of cultures
Let's start with the top cultural plan in Ibiza, so you're aware of the history and stories behind all the architecture and sites you'll visit while on holiday. Dalt Vila is a crossroads of historical paths, to which many civilizations have contributed: the Phoenicians, Carthaginians, Romans, Arabs, Catalans, Ibicencos and, much later, the migrating hippies!
The walled city is the political, commercial and cultural epicentre of the island. Located on a small hill, the Puig de Vila, within its walls are some of the most important buildings on the island, such as the Cathedral of Santa María de las Nieves, the Town Hall which is located in the Can Botino building, a former Dominican convent, and the Museu d'Art Contemporani d'Eivissa.
This, the old part of the city, is where you can immerse yourself in culture and history by taking a walking tour. You can stop off to shop and take pictures in beautiful alleyways, and visit some air conditioned museums at the height of the sun. Along the walk, you'll undoubtedly go up the city walls, imposing on the city centre, and that was declared a World Heritage Site by UNESCO in 1999.
As you walk along the bastions that served as a defence against the continuous attacks the island was subjected to, you'll see why it has lasted so long, and is the best preserved fortified enclosure in the Mediterranean, top of the list of what to see in Ibiza.
Where should I go in Ibiza? There's 130 miles of coastline to choose from!
Ibiza covers an area of 220 square miles and its full coastline measures 28 miles north to south, along which there are dozens, if not hundreds of dreamlike beaches and coves to explore. Some are well catered to and easily accessible for people of all abilities, others are more remote and require a little hike to reach.
Here are 5 beach areas that we'd recommend for families and groups of all sizes, as they're the safest, best communicated with the rest of the island, and have the most things to do in Ibiza activity-wise.
Es Canar
Es Canar is an easily accessible beach situated in Santa Eulalia, the quieter part of the island. Located on the east coast, this spot is a good option to go for a swim and spend the day with the family, as it has only a slight slope into the sea so you can paddle safely and calmly.
Es Figueral
Sunbathing or swimming surrounded by the fig trees of Es Figueral is also highly recommended. Es Figueral means "land of fig trees'', because the fields here are planted with orchards of fruit trees. The beach really consists of two adjoining beaches, separated by an islet attached to the coast by a tongue of sand.
Beaches of San Antonio
In the municipality of San Antonio, there are plenty of things to do in Ibiza's sun and surrounded by sea and sand. The beach areas to look up are Cala Saladeta, Cala Salada, Caló des Moro, Cala Gració, Cala Gracioneta or Platja des Pouet. You'll find easy access to most of these, even with a pushchair or a wheelchair, and there are many water sports to do here. Find more information on that below if you're interested.
Beaches of Santa Eulalia
Another plan in Ibiza you should make is to visit other beaches in the Santa Eulalia area. On top of Es Canar, the most well-known, there is Aguas Blancas, Cala Boix, Cala Llenya, Cala Llonga, Cala Martina and Cala Mastella, to explore. You'll find older couples and quieter travellers in this area as it is far from the party central of Ibiza.
San Vicente Cove
In 2022, the beaches awarded a Blue Flag in Ibiza include this cove, located in Sant Joan de Labritja. The aforementioned Cala Llenya, Es Canar and Es Figueral also have the distinction that indicates extensive safety and excellent amenities. San Vicente is a fine-sandy beach surrounded by Ibiza's typical turquoise sea.
What is there to do in Ibiza? Well, excursions of all kinds!
Another of the things to do in Ibiza is to take trips on and off the coast. One of the most recommendable is an excursion to Formentera. Being in Ibiza and not taking the quick hop over to Formentera is essentially a crime! The little sister of Ibiza is so well connected by ferry, with routes back-and-forth throughout the day, that there's no excuse not to take the trip.
By staying on Ibiza but wanting to see islands, you can take a trip to Es Vedrá. This area is one of the most magical trips on the island and the views of the islet are spectacular.
If you're more of a walker and less about taking a boat trip out, the answer to the question, "what to do in Ibiza," is definitely hiking. Cala d'en Serra, Canal d'en Martí and Balàfia are great spots to explore if you want to take a long and challenging walk, and there are plenty of trails in Ibiza for beginners or those who prefer a stroll in nature.
Fun plans in Ibiza: Water sports!
Holidays are always a great time to try a new activity, and in Ibiza water sports lovers will feel in their element. Ibiza's coast and waters are perfect for sports such as paddle surfing or snorkelling because the waters are calm and warm.
There is also a wide range of adrenaline-charged activities to do here, and you can rent equipment and coaching at many of the beaches listed above, such as water skiing, windsurfing and flyboarding, among others.
Shopping plans in Ibiza: Stroll the markets
If there is one characteristic that Ibiza has over many similar holiday destinations, it is its markets. They are numerous here, varied, and can be found all over the island. These are the best places to get some summer fashion, art work, or souvenirs to take home.
Las Dalias Market
This, the most famous market on the island, is open in summer every Saturday and Sunday from 10 am. Through June to September, it also opens on Mondays and Tuesdays until 7 pm and in August on Sundays 'til 7 pm.
Hippy Market in Punta Arabí, Es Canar
From April to October, this market is held every Wednesday from 10:00 am to 6:30 pm.
sant Joan de Labritja Market
Every Sunday from 10.30 in the morning, the town square of Sant Joan is filled to the brim with people who come to enjoy one of the most authentic events on the island of Ibiza.
San Rafael Craft Market
The San Rafael craft show is open throughout the summer, until Thursday, September 8, 2022. Its opening hours run from 7:30 pm to 10:30 pm.
Sant Jordi's Market
Every Saturday from 8 am to 3 pm, you'll find this early-bird market at the Sant Jordi racecourse.
The Forada Market
About 9 miles from Ibiza's centre, is this market that opens throughout the year, every Saturday between 10 am and 4 pm.
A gourmet plan in Ibiza: Don't miss out on these restaurants
To the already recommendable gastronomic offering of Ibiza, two new restaurants have been added. The good reputation of Spanish cuisine is never let down in Ibiza.
The first new opening is Zuma, which came to Ibiza after enjoying huge success in other capitals around the world, and this new restaurant will mirror the original's award-winning contemporary Japanese cuisine.
Chef Mario Sandoval, who holds two Michelin Stars, is leading the second project: ASAL. This new venue is split into three main areas: a garden terrace for outdoor dining, the chef saloon for indoor dining and a DJ lounge with cocktail bar to relax and connect with people.
The repertoire of activities that you can do in Ibiza this summer is incredible. There are so many answers to what to do in Ibiza that you'll undoubtedly want to stay longer. Come enjoy the sun with us this summer, and keep an eye on our blog for even more details and things to do in Ibiza in 2022.
Back
Book in the official website Invisa Hotels
And enjoy exclusive advantages as a My Invisa Client
Upgrade
room*
Free Wifi
in the room
Sea View
room *
Exclusive
Offers
* According to availability