Advantages of staying in an Ibiza beachfront hotel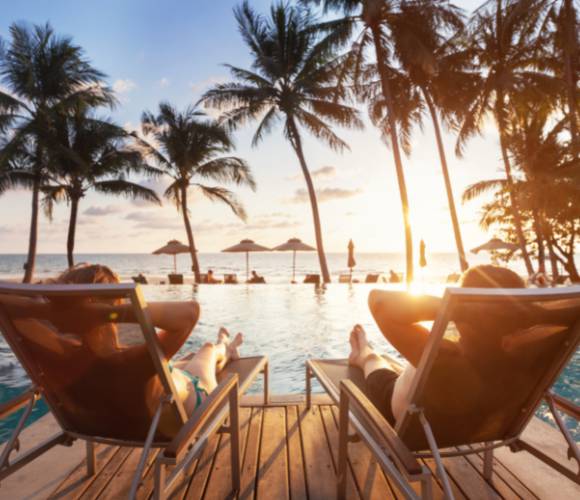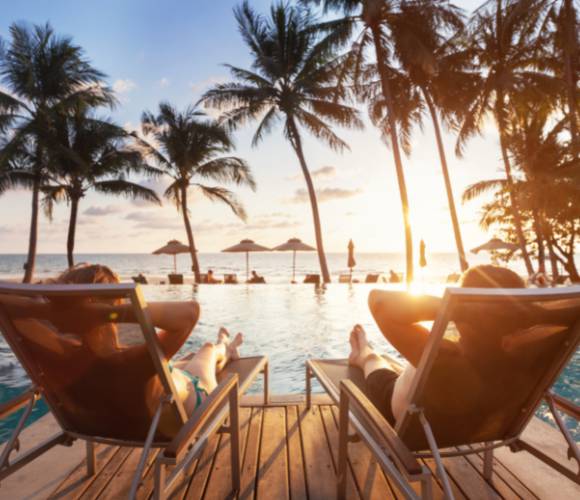 There's no beating a beachfront hotel. They are not ample in number, however, so sometimes, you need to look harder to find the perfect resort that also happens to be beachfront…
Never fear, Invisa's here! We've gathered the top tips to help you both persuade the rest of your party to join you on the seaside as well as the top hotels on Ibiza's beachfront.
Keen to find the best beachfront hotel in Ibiza? Keep reading:
Why book a hotel on the seafront?
Staying in hotels in Ibiza on the beachfront has many advantages. Are you travelling with someone who needs a little convincing? Show them this list!
1. Easy access
From a beachside resort, guests can enjoy the beach without having to use any means of transportation to get there. This is very convenient whether you are travelling with children or adults, or decide not to travel with your own vehicle. No need to worry about walking long distances or driving to get to the coast, plus the beachfront locations that Invisa chooses for our resorts are all well communicated with transport links.
2. Privileged views
Sight is one of the senses that you should spoil the most during holidays, and a hotel on the beachfront offers spectacular views of the sea. Sunset and sunrise watching right from your room is incredible, and you can spend a night or two watching them from the hotel bar for variety!
3. Combine beach and pool
Another advantage of staying so close to the sea is that it can be perfectly combined with the hotel facilities.Hopping from pool to beach as you please is one of the attractions of this type of accommodation. Moreover, you can please the whole tour group with the choice, for those who love and hate sand… And access additional services such as spas, restaurants, bars and room service to make your time at the beach more comfortable and pleasant.
4. No rush at mealtimes
Being so close to the beach means journey times are cut down so you can enjoy breakfast, lunch, and dinner without rushing. In a matter of minutes, you can go from floating in the sea, to finding yourself sitting down for lunch or dinner at the hotels in Ibiza beachfront.
5. Access to water activities
Staying in a hotel on the beachfront gives access to a wide variety of water activities such as surfing, water skiing or diving. This is ideal for those looking for adventure on the water during their Ibiza holidays. In addition, many hotels on the island greatly facilitate visitors who want to contract a tour guide or equipment. Come to a beachfront hotel and enjoy some excitement!
6. Peaceful atmospheres
Beachfront hotels tend to have a relaxed and calm atmosphere. They are ideal for those seeking a holiday of rest and relaxation. The sound of the surf and the sea breeze can help reduce stress and improve your mood. Who wouldn't love that?
7. Close contact with nature
A wide variety of outdoor activities awaits any guest who chooses a beachside hotel. You can walk on the sands of Ibiza, go snorkelling, have a picnic on the beach, or simply sunbathe in a haven of peace and tranquillity.
Hotels in Ibiza on the beachfront: Invisa Hotels
Anyone who talks about beachfront hotels in Ibiza is talking about Invisa Hotels. Our resorts are either directly beachfront or a matter of metres from the Mediterranean Sea. Here's our top pick of beachfront resorts:
Now you know exactly where to go when looking for beachfront hotels, you've taken all the searching and comparing out of the equation! Dive straight in, and enjoy your next holiday, only in an Ibizan beachfront hotel.
Back
Book in the official website Invisa Hotels
And enjoy exclusive advantages as a My Invisa Client
Upgrade
room*
Free Wifi
in the room
Sea View
room *
Exclusive
Offers
* According to availability