5 steps to a company event to remember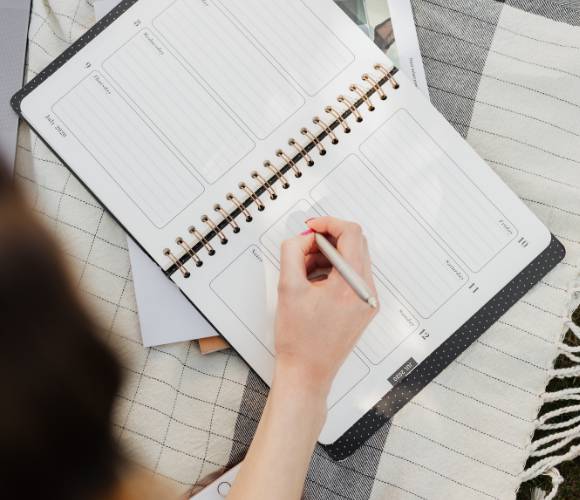 Are you in charge of organising a company event? You're probably wondering where to hold a business event that meets everyone's expectations, and that's what the MICE sector sets out to solve. This aspect of tourism encompasses Meetings, Incentives, Conventions and Events, and professionals in MICE specialise in making optimal, punctual, and productive company events.
To not only meet but exceed everyone's expectations, from C-suite to interns, Ibiza is the best place to hold a company event. The island is well communicated with the mainland, has ample tourist resources and infrastructure to both accommodate and gather your staff in one place. Not to mention, it's beautiful and has excellent weather year round, which puts everyone in a good mood!
If your staff are happy, you're more likely to see integration and collaboration — the whole point of company events! Here are the 5 steps to organise successful business events, without the headache. Ask yourself these questions as you plan, and read our responses to inform your answer!

1. Where shall we hold our company event?
Where you'll hold a company event is one of the most important considerations for your task. Let's consider options for each type of event:


Conferences: If you plan to invite many people from all over the world, and from different companies, you may have chosen Ibiza simply for ease of travel. Now that you've settled on the turquoise seas of Ibiza as your backdrop, you'll want to find a place to take on as many guests for the day-time business event and their accommodation. Resorts are an excellent solution to transport worries, and Invisa is fully equipped to cater to large groups.


Reunions: When a company chooses Ibiza for its team reunion, we know they're considering a day or two of sunbathing at either end of the trip! Should you want to really increase integration, provide the option of a few close-by resorts or hotels to your conference centre, which will facilitate team-building moments as attendees walk to and from the day-time activities. By splitting teams up into different hotels, you'll encourage them to bond with others outside their usual meetings.


Rewards: Should you be offering a company event as a purely recreational trip, as a reward for your teams' hard work, make sure you provide them with spacious and comfortable rooms, and excellent restaurant options nearby. Even if you're not mapping every hour of their day as you might for an educational company event, you'll want to facilitate their movement to and from fun activities.



2. Does the space meet my presentation needs?
Many company events involve at least one presentation. So when selecting your venue, share these points with the onsite organisers so that it's clear what your expectations are, and they can either confirm they meet your needs, or provide solutions ahead of time:


"We need professional grade sound, recording, and lighting equipment so that a large audience can see and hear the presentations."


"We're happy with projection space that connects to laptops and a microphone."




"We need to hold a rehearsal, at no extra cost, to avoid surprises on the day of the company event."


"We expect you, the hosts, to ensure everything is working on the day."


If done well, your audiovisual impact will be massive, and your guests will leave the company event feeling like their presence was valuable and their needs were considered. This is where close collaboration with the MICE sector at your destination comes in handy.

3. How should we invite attendees to the business event?
Never skimp on invitations to a business event! The style and format of the invitation must be consistent with your company's brand image, whether it's internal or not. Corporate elements such as colours or language should be carefully applied to stay on-brand. Moreover, you need to use these branding elements to your advantage, to link colours and formats with the location, as well as your copy. For example, if your company's colours are blue:


Let's gather somewhere with seas as blue as our logo!


Or if your sells leisure goods:


We're hosting this conference somewhere you can put our equipment to good use: Ibiza!


These elements are what can make company events, especially external conferences, stand out when expensive paper, direct mail gifts, and in-person invitations are less common.

4. What scheduling considerations will impact my guests?
How you organise the day or days is your biggest opportunity to show how welcome your guests are. We've all been to a company all-hands and felt totally unconsidered. If the events team neglects to consider your dietary needs, sleeping preferences, privacy, and even attention span, you feel worse about the company than before the trip.
The MICE sector advises business event organisers to keep conferences to no more than 3 hour stints, maximum 6 hours of speaking events in a day. Experts emphasise the importance of listening to guests' needs. They are giving you their time, so your company image hangs on how much they enjoy, and get out of your company event.
Catering is best if constant, so that no one is left waiting for a meal or hungry. Provide snacks and refreshments throughout the day, which are considerate of different dietary needs and cultures. Also, make sure meal times offer plentiful networking opportunities, don't cut them short at 1 hour! This is what visitors come to business events for, in the end.

5. How might my guests want to blow off steam after the business event?
One of the best tips that you can find within the MICE sector is the great importance of the hours before and after the event. As the main organiser, you might find some people arrive with ideas of how they'd like to spend their free time, but there should be a low-effort option for everyone, every evening or morning if the presentations start late.
Ibiza is ideal for company events that provide networking and team-bonding opportunities, because the options to do more than just go out for dinner are endless. Why not set up a sunset boat sail for your best performers? Are there any fun hikes you could lead for people who want to do a little exercise after sitting and listening all day? A very fashionable option at company retreats is to offer sunrise yoga.
If you have access to all the attendees before the event, pool your ideas and let them vote on what activities they'd most like you to organise.

Now you're ready to get organising, drop Invisa a line if you'd like tips on locations or catering. We're always happy to help!
Back
Book in the official website Invisa Hotels
And enjoy exclusive advantages as a My Invisa Client
Upgrade
room*
Free Wifi
in the room
Sea View
room *
Exclusive
Offers
* According to availability