Make your new years resolutions a reality: Travel to Ibiza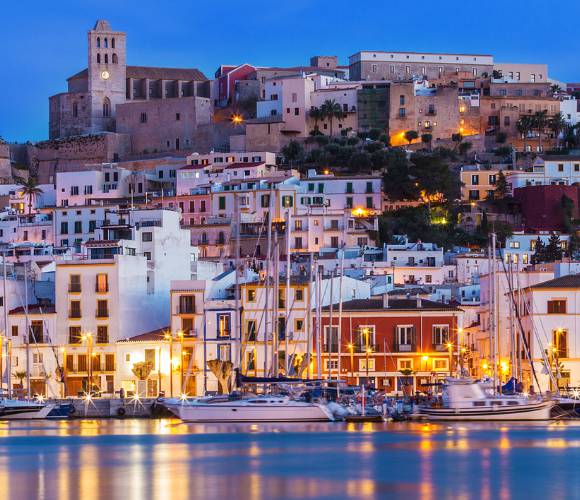 This year, 2023 is a time for a new purpose, new plans, new experiences. All those things you've wanted to do can happen if you plan in time.
Those who put "travel more" on their list should travel to Ibiza first. Why? Because it's easy to reach, covered with beautiful spots, tons of things to do, and also reasonable for those travelling from Europe.
Our top tip: Plan in advance. Here are the things you need to plan for to make it the most memorable new years resolution realisation ever!

Why is visiting Ibiza a wonderful new years resolution?
It's key to choose a fabulous location for your trip, and Ibiza has dance clubs, music concerts, and bars for the young, be it at heart or in real life! However, if you prefer to spend time in nature, there's so much more to do for anyone who is happy to walk, bus, or drive around all the incredible sites to see in Ibiza.

Plan your year 2023 and buy flights cheaper
In life, but especially when travelling, planning has many advantages. The reasons you might hold dear are the benefits to your pockets. If you book in advance, at least 21 days ahead of time, you can save money on flights in Europe. Many will recommend booking 4 months in advance, for the best price.
If saving money is top of your resolutions list for the year 2023, book off-season. Prices are much lower in the spring, autumn and winter season. Plus, there are fewer people who travel to Ibiza on those dates so we do recommend making your trip October to March.

Make a new year resolution to book the perfect hotel
In addition to flights, accommodation is the next part of any trip to book. It's recommendable to book at least one month in advance to get the best prices.
While many suggest using search engines and comparison sites to find the right hotel at the best price, something few know is that if you call the establishment directly you can find discounts based on availability and occupancy at that time. A room cancellation at the last minute can open you up to a special price.
Similarly, if you have already decided to travel to Ibiza, start your search for accommodation directly on the Invisa Hotels website. There are resorts all over the island, plus you can choose from family-friendly or adult-only spots.

When is it best to travel to Ibiza?
Choosing the best time to travel to Ibiza in the year 2023 depends on what you want to do. As we've mentioned, prices in mid and low seasons are more affordable than in the high season – summer. However, there's a lot more to consider.
Do you want to see flamingos on the island for example? July to October is the best time to see them in Ses Salines Park. More interested in dolphins? Bottlenose dolphins visit the island in winter. On the other hand, should you be looking for the clubbing scene and lots of sunbathing, we do recommend heading to Ibiza in the summer.

Take more time to plan your trip in detail
Fulfilling your New Year's resolutions, when you already have your flight and your hotel in Ibiza booked in advance, you will have more time to plan your trip to the island in detail. Some say the suspense is part of the fun! Consider these activities:


Paddle surfing and snorkelling


Cove hopping and beach tours


Hiking or cycling the hills


Swimming in the pool or shallow sea at blue flag beaches


Walking the walls of Dalt Vila


Museum and art galleries


Archaeological site tours


That's right, there are so many archaeological spots to explore! In addition to its beaches, Ibiza also has a rich history and culture that is worth exploring.
The old part of Ibiza, Dalt Vila, is a UNESCO World Heritage Site and an ideal place to walk around. You can admire how the different civilizations that have passed through the island have left their mark on the architecture. You can also visit several museums and art galleries, such as the Ethnographic Museum of Ibiza and the Archaeological Museum of Ibiza.
Once you've planned everything that you will see when you travel to Ibiza, you will not have to worry about anything other than enjoying yourself.

Make time for relaxing in Ibiza
No doubt another new years resolution was to take time for yourself. Many of us commit to meditating or scheduled thinking time. So while the list of the best places to see in Ibiza is extensive, ensure you enjoy nature, the white sand beaches and crystal clear waters, with some relaxing days.
Some of least busy coves in Ibiza are Sa Caleta, Cala Molí, Cala Jondal, Cala d´Hort, Cala Salada, Cala Comte, Cala Bassa, Cala Tarida and Es Cavallet. We recommend planning some time into your trip to cruise in a boat to these coves or to simply contemplate the beauty of the sun meeting the sea from the sand.
If walking is your meditation, nature lovers can enjoy the beautiful landscapes of Ibiza by hiking and cycling along the natural trails, or by taking a boat trip along the island's coasts to admire the marine life and panoramic views.
Make your New Year's resolutions a reality, start planning your trip to the island now and brighten the year of 2023 with a special trip. It will be a way to recharge energy and disconnect from the world, ust as you resolved to do. Travel to Ibiza!
Back
Book in the official website Invisa Hotels
And enjoy exclusive advantages as a My Invisa Client
Upgrade
room*
Free Wifi
in the room
Sea View
room *
Exclusive
Offers
* According to availability