Spring in Ibiza: Easter, spring break, and holidays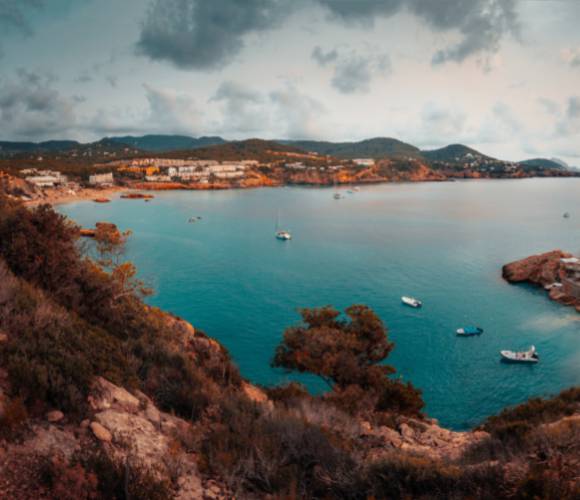 Summer is usually the season of the year when people think of going to Ibiza, but this is an inaccurate assumption, there's more to life than clubbing and more to Ibiza than summer nightlife! Ibiza in spring is also an ideal destination to enjoy a few days of rest and relaxation, or even some nights out if you come closer to the high season. Have you thought about spending Spring in Ibiza?
Sports, nature, traditions, good weather and a dose of calm is typical of Ibiza in April. In fact, much of what we're going to outline below is relevant in autumn as well as the beginning of the year, and even into the late winter. No doubt you'll be convinced and reserve a room before you're finished reading this guide to Easter in Ibiza!
6 elements of an Ibiza spring break that make it unmissable:
Ibiza weather: April is very pleasant, and many take this into account if they enjoy warm weather but not sweating buckets at midday. The Ibiza weather in April, May, and June is cooler in the evenings but invariably dry and sunny.
In April, temperatures reach around a maximum of 19 degrees and a minimum of 11, while in May the maximum goes to 24 degrees and a minimum to 14. In the spring months there are few days of rain, on average they do not exceed four a month.

Many people, therefore, prefer to visit before the summer season. There is more tranquillity in the air and you can enjoy this pearl of the Mediterranean during a less busy part of the tourism season. Here are all the details!
1. Enjoy the beaches
Wondering if you can take a dip in the sea in Ibiza in spring? The answer is yes. The warm days of Ibiza in April and May are ideal for swimming and snorkelling.
At the beginning of spring, sea temperatures are around 20º, an enviable temperature that the Mediterranean Sea gives this island and only slightly cooler than the air temperature, just enough so you feel refreshed.
Spring is also an ideal time to enjoy the beaches with more privacy. Some of the best beaches to visit in spring are Cala Comte, Cala Bassa, Playa d'en Bossa, Cala Jondal and Cala Salada, which many people love to visit in summer and it can be harder to find a spot to stretch out a towel on a weekend in summer.
2. Easter in Ibiza, more than Easter Eggs!
Take advantage of your Easter holidays in Ibiza. In addition to enjoying all the virtues of the island, the tradition of the Holy Week processions take place and offer a fascinating look into local life over the centuries.
From April 2nd to the 9th of 2023, the island will host a number of processions. The largest procession takes place on Good Friday from the town centre. Members of the church walk from the main Cathedral through Dalt Vila, a World Heritage Site.

You will also find processions in the towns of Santa Eulalia and San Francesc, in Formentera, only a ferry ride away. Most of the processions are held between Holy Thursday and Easter Sunday.
3. Experience fresh air and nature
Ibiza is known for its stunning natural landscapes. Spring is an ideal time to explore them because you'll find multiple hiking and cycling routes with only a few other explorers to share them with, and the sun in the morning and evening is not too hot to interrupt the beauty of the island.
You can visit the Natural Park of Ses Salines or that of Es Amunts to enjoy the native fauna and flora. Another day-out we'd recommend for spring in Ibiza is to visit the valley of Santa Agnès, an area that is characterised by a white and pink blanket of petals that flower from Ibiza's stunning almond trees.
4. Ibiza's walkable, charming towns

We've already mentioned that Easter in Ibiza is ideal for strolling through its many picturesque places and seeing processions, but you should also visit the walled city of Dalt Vila, and discover its narrow cobbled streets, impressive views of the sea, and incredible eateries who'll be just winding up to the high season, and keen to receive you.

We also recommend that you visit San Antonio, Santa Eulalia and San José. These are unique places that look even more beautiful in the flower and blossom halo that spring in Ibiza is known for!
5. Ibiza Marathon
On April 1st 2023, the sixth edition of the Santa Eularia Ibiza Marathon will be held. Thousands of runners are already signed up and this event creates a great healthy sports and leisure environment on the island. You can go and watch to simply cheer on the athletes if you're not a runner!
Athletes from different countries will land in Ibiza to participate in the event. It has three distances (marathon, 22 km and 12 km). Are you into marathons? Dare to participate in this unique race with stunning views all the way!
6. Culture on an Ibiza spring break
Ibiza is known for its vibrant cultural scene. Why visit in Spring? You can visit the Archaeological Museum of Ibiza, to discover the rich history of the island, or attend one of the various hippie markets that are perfect early in the year when the artists have been hard at work all winter.
Opening of our hotels in Ibiza
In Invisa Hotels, we resume peak activity in spring. We believe that this season is ideal to enjoy Ibiza and so we offer a variety of styles of hotel in which to stay. From April the 1st, our resorts La Cala, Es Pla and Cala Blanca will be available, while Ereso and Cala Verde will also open on May 11th. Top up your tan for summer with a sunny trip to Ibiza in spring!
Back
Book in the official website Invisa Hotels
And enjoy exclusive advantages as a My Invisa Client
Upgrade
room*
Free Wifi
in the room
Sea View
room *
Exclusive
Offers
* According to availability