7 romantic places Ibiza has tucked away for you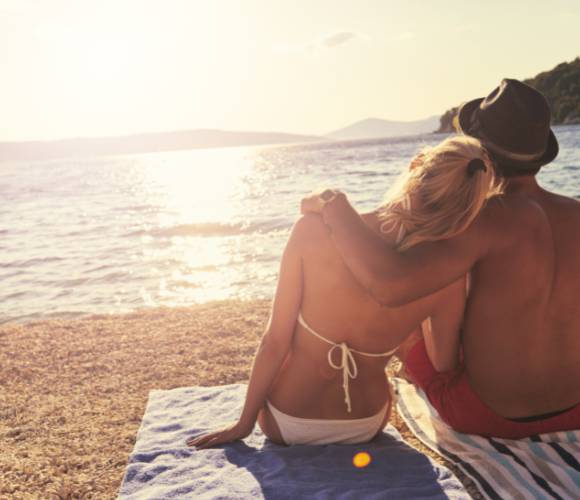 Nothing unites and strengthens a couple like travelling. Shared experiences are more impactful than Cupid's arrows.
Watch the sun go down, walk along the beach, celebrate your love in elegant restaurants, or dance the night away in Ibiza. All the romantic things to do in Ibiza can be done year round too, as the island always enjoys pleasant weather and unique activities are being launched every year. So plan to visit these romantic places in Ibiza for an unforgettable holiday!
7 romantic things to do in Ibiza
The sun, the sea, the sand. The culture, the cuisine, the colours… All these elements make time spent in Ibiza perfect for small groups. Discover 7 recommendations for how to spend your days on the island!
1. Sun Kissed beaches
Ibiza is famous for its white sand beaches and its stunning sunsets. A walk on the beach and a picnic under the sun can perfect plans for a romantic weekend, but you may also want to enjoy some water sports to bond with your partner. While at the beach, look into paddleboard rental or snorkelling. Nothing compares to memorable experiences that you share with your loved one.
Some ideal places for relaxing and paddling are Es Portitxol (a hidden cove shaped like a lake), the views of Es Paller d'en Camp (between the beaches of Es Figueral and Aigües Blanques) or watching the sunset, framed by the islet Es Vedrá. While you can do gentle water sports from these coves, the larger beaches like San Antonio are best for equipment rental.
2. Refreshing boat trips
One of the most sought-after romantic activities for seaside holidays is renting a boat. From a small sail ship or a catamaran, you can explore the coasts of Ibiza, soak up the sun and gaze onto the sparkling sea. Without a doubt, a trip around Ibiza by boat is a classic way to spend the day on an Ibiza romantic getaway.
If this plan interests you, we recommend renting a boat at the ports of Portinatx, San Antonio, San Miguel or Punta Xinxò. These are the best catered and therefore the most popular points to start a boat trip and organise an unforgettable day on the waters.
3. History in Dalt Vila
When you've had enough of the beach and turquoise seas (it might take a while!), head over to the old town of Ibiza, where the cobbled streets and picturesque shops are an idyllic backdrop to an afternoon stroll, some light shopping and perhaps a bite to eat.
Dalt Vila is the product of multiple civilizations, whose historical paths crossed in Ibiza. This, the old part of the city is not only one of the romantic places Ibiza hides, but it's satisfying for history buffs. Immerse yourself in culture, surrounded by the imposing walls that were declared a World Heritage Site by UNESCO in 1999, then visit the cathedral and multiple art galleries and museums.
4. Relaxation and spa treatments
There are several spas and wellness centres on the island that couples might arrange together, or separately for some time to recharge and come together afterwards. You might take advantage of the trip to Ibiza to surprise your partner with a spa voucher and enjoy the experience together — a gift that guarantees a smile and a special time spent together.
5. Invigorating hiking
After all that relaxing, why not a brisk walk together? Ibiza is home to a wide range of hiking paths. Enjoying nature as a couple is romantic, or you can also get your hearts racing with more challenging paths. Any Ibiza romantic getaway should include a little movement!



You can take the Sa Talaia route, from San José, which is very close to Cala d'Hort. This takes you to the highest point of Ibiza, a summit of 475 metres.




Another interesting walk can be along the path from the Torre de Ses Portes. On this hiking path, you'll look onto beautiful landscapes all the way, until you reach the defensive tower of Ses Portes.




Alternatively, start in San Antonio and walk to Cala Salada, or choose a path along the Santa Eulalia River.



Which will be your choice for a stroll?
6. Rich wine tasting
Ibiza is home to several vineyards where locally produced grapes make a relaxed afternoon to be enjoyed as a couple. Our favourite is the winery Sa Cova, which is set in a beautiful location to sit and enjoy good wine and an excellent meal.
You can also explore vineyards at Can Rich de Buscastell, which offers a tour to visitors or that of Can Maymó, famous for those participating in wine tourism on the island. These are not only ideas for romantic dinners in Ibiza but recommended activities for any group of adults visiting the island!
4. Gourmet dinners
After your wine tasting, it's time for a romantic dinner! Ibiza has seen world-renowned chefs settle on the island and open high-quality restaurants for all to enjoy. The most exclusive eateries offer gourmet dinners with sea views, perfect for a romantic dinner with your loved one.



In the San Antonio area, we recommend going to Villa Mercedes, Sa Capella, La Mesa Escondida, or Can Pou.




In the centre of Ibiza, Dalt Vila, you'll be very comfortable dining as a couple at Kyupiddo, La Velada, or La Scala.




In the area of Santa Eulalia, stunning restaurants for a romantic dinner in Ibiza include Amante, La Paloma, and Nagai Restaurant.




Staying in the north of the island? Definitely book a table at La Luna Nell'Orto.



With such wonderful options to choose from, all you need to do is reserve your romantic dinner in Ibiza. Let us know if you'd like help from your resort staff to make a reservation, we'd be happy to help.
An Ibiza romantic getaway can involve a combination of any of these 7 ideas. Most importantly, choose a great resort to spend the nights by staying at Invisa. We'd love to make your trip as calm or fun-filled as you like!
Back
Book in the official website Invisa Hotels
And enjoy exclusive advantages as a My Invisa Client
Upgrade
room*
Free Wifi
in the room
Sea View
room *
Exclusive
Offers
* According to availability